Posted: 12/5/20
Calling all Scale-Crawler owners! We have found your next must-have upgrade part
Pro-Line is no stranger to the scale-crawler scene, but back in January 2020, they dove even deeper into the tiny-truck segment by introducing their Big Bore Scaler Shocks. I recently outfitted my Axial Wraith 1.9 with these shocks and I couldn't be more pleased with the fit, finish, look, and feel!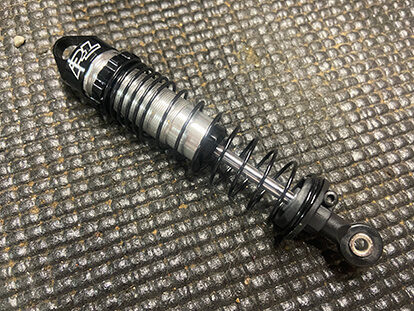 Simplicity
Most engineers will agree that the simplest design is often the best design. As a result, Pro-Line didn't elect to rewrite the book when designing their Big Bore shocks. What their team did was take the best aspects of current scale crawler shocks and introduce improved design characteristics that crossover directly from the off-road racing scene. Their latest shock design is still a standard oil-filled "bladder" shock, but now boasts of CNC machined aluminum caps, collars, bodies, and bottom caps. They also feature hard chrome coated steel shock shafts and x-ring seals. All of these design elements provide a zero-leak, smooth, low-friction shock. We also like the fact that you receive dual-rate springs that are "captured" by the lower spring perch. You will not be disappointed!
Versatility
Pro-Line's Big Bore shocks are designed to fit the most popular 1/10 scale crawlers that call for 90 millimeters of overall shock length. Also included in the package are +5mm shock ends to increase shock length to 95mm, ideal for drivers and/or platforms that require extra travel (such as the Axial Capra). The shock itself has the capability of collapsing down to 64mm (or 69mm if using the +5mm shock ends) if/when you remove the rubber bump-stop. Pro-Line also offers an optional "tuning assortment" of springs should you require softer and/or firmer spring rates. Is there anything these shocks can't do?
Make the Switch!
Pro-Line Big Bore shocks arrive preassembled in the box with some additional accessories that may (or may not be) required to retrofit your model. Note that the Axial Wraith 1.9 pictured throughout this article did NOT require the use of any of the included eyelets, shock limiters, or the +5mm shock ends. Note that you will need to select your preferred oil viscosity and fill/bleed the shocks before installing them onto your vehicle (a 10-minute process). I elected to run 30 weight TLR brand oil as it provides a very plush feel. These shocks are sold as pairs, so be sure to order two a quantity of two (2) packages to complete one 4X4 vehicle.