RC Helicopters
Shop the best RC helicopters in the industry! Blade RC offers helicopters for all experience levels. We also offer a full line of RC helicopter parts, technology and accessories to compliment your passion for RC Flight.

New and In Stock! Blade InFusion 180 BNF Basic
The Blade InFusion 180 is a new design engineered for next-level durability and performance.
Order Now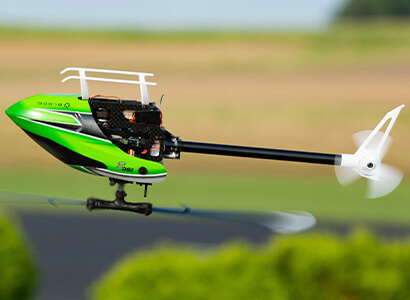 150 S Smart
For those looking to hone their skills on a collective pitch machine, the Blade 150 S kicks the flight experience up a notch.
Shop Now
Fusion 180 Smart
A high-performance 3D machine featuring the latest advancements in Spekrum technology.
Shop Now
Blade 230 S Smart
SAFE technology, progressive flight modes, and Smart technology built in - learning on this collective pitch heli is a breeze.
Shop Now
Helicopters
Our selection of RC Helicopters are quality built and designed for maximum performance, durability, and fun. We have RC helicopters from Blade® and accessoires from other Horizon Hobby brands that you love. Check out the best remote control helis from Horizon Hobby!
View More