RC Planes
Conquer the air with Horizon Hobby's RC airplanes. Shop remote control airplanes by type, completion level, or size. We also carry a full line of replacement airplane parts, batteries, chargers, tools and accessories to compliment your passion for RC flight.

Latest Arrival! E-flite Carbon-Z Cessna 150T 2.1m
In Stock Now! Upgraded with Smart electronics and taildragger landing gear for new capabilities and flexibility to fly from a wider variety of surfaces.
Order Now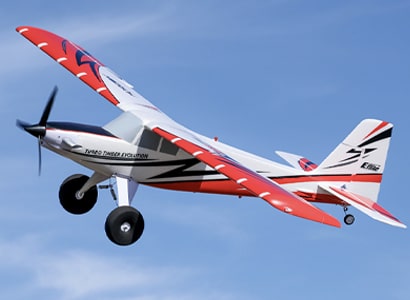 Limited Quantities!
Our on hand units are selling fast - order the E-flite Turbo Timber EVO PNP version TODAY! A new Timber legend with upgrades delivering more durability, convenience and capabilities than ever before!
Order Now
Don't Miss Out!
These birds are flying fast! The E-flite Night Radian 2.0m features high-visibility LEDs and upgraded to include Smart technology and telemetetry capabilities.
Order Now
Next Step Airplanes
For those looking to graduate from their trainers - shop our top suggestions for your next airplane!
Shop Now
Airplanes
The Horizon Hobby RC Plane category is your one stop shop to conquer the air. Here you'll find airplanes in multiple different completion levels and sizes. You will also find many different types of rc airplanes including RC beginner planes, also known as trainers, as well as RC Jets, Float Planes, Scale Civilian, Scale Military, 3D, Aerobatic, Sport and Non-scale planes from every skill level.
View More