RC Radios

Selling Fast! Spektrum iX14 Radio
Hurry, Limited Quantities Remaining! The Spektrum iX14 now joins the series as the perfect intelligent transmitter for intermediate to advanced level pilots who fly mid- to high-end performance RC aircraft, including EDF jets and giant-scale turbine jets.
Order Now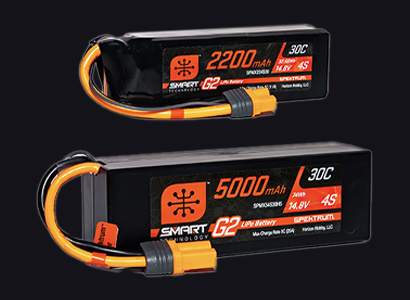 Spektrum Smart G2 Batteries
Gen 2 features make these powerful LiPo packs even simpler and safer to use together with your Smart charger.
Shop Now
Spektrum DX5 Pro 2021
Available as transmitter only or matched with an SR2100 DSMR receiver, the DX5 Pro 2021 delivers the performance and comfort of a pro-class radio at a price that won't break your hobby budget.
Order Now
Spektrum SAFE Receivers
Pair your next build with the confidence of AS3X & SAFE technology.
Shop Now
Radios
Our selection of RC Radio Systems are quality built and designed for maximum functionality and reliability. We carry the next generation in RC Transmitters, Recievers and Servos for Land, Sea and Air. Most include built-in smart technology from Spektrum™. Check out all the remote control products online at Horizon Hobby!
View More