RC Radios

Control with Confidence
Now back in stock! Spektrum's highly rated iX14 Radio is the intelligent transmitter RC pilots love. Users enjoy an intuitive touchscreen interface, superb ergonomics, and fast boot times.
Order Now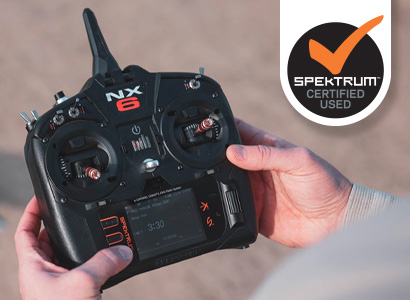 Spektrum Certified Used Transmitters
Our expert electronic service technicians have inspected, repaired, or replaced damaged or worn-out components to guarantee that your Spektrum Certified Used Transmitter is 100% functional and range-tested.
Shop Now
"DX5 PRO Great Investment" ★★★★★
"Now that my major RC vehicles I run uses DSMR, SR315 receiver I can use just one remote for these vehicles, not worry about taking 3 remotes to have fun. " Reviewed by Al T.
Order Now
Spektrum NX10 Transmitter
NX10 exclusive features include Hall Effect gimbals and a powered serial port for external modules.
Order Now