RC Boats
Shop RC Boats by hull type, boat type, or just browse them all! We carry a large selection of batteries, chargers, replacement parts, and accessories to go along with your next RC Boat.

In Stock & Ready for Patrol
The new Pro Boat 1/25 scale PCF Mk I boat is ready-to-run and filled with display-worthy detail for Vietnam vets and history buffs to admire!
Order Now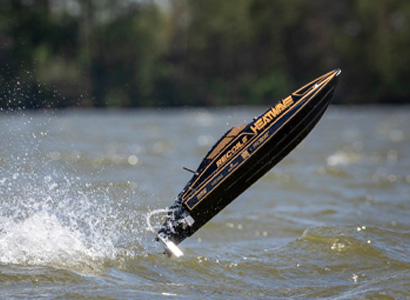 Self-Righting Boats
Designed to be as stable as possible with a self-righting feature if your boat goes belly up in the water. When you activate the throttle, the boat flips back over in a matter of seconds.
Shop Now
Catamaran Boats
Modeled after offshore race boats, catamarans are a good choice for both sport and racing. They run best in smooth water conditions but can also handle a bit of rough water.
Shop Now
Monohull Boats
Monohulls, or more commonly referred to as V-Hulls, are the best choice for beginners. These boats are not only fast but also stable, so they are great for handling waves.
Shop Now