UL-19 30" Hydroplane Brushless RTR

UL-19 30" Hydroplane Brushless RTR
This is the brushless hydroplane you've been waiting for. At 30 inches, the UL-19 features sleek lines and unbelievable performance using the latest GP inboard hydroplane design. It's the fastest boat of its kind on the market and comes equipped with aluminum running gear and a stainless-steel turn fin. Let the fun begin!
Fiberglass Hull with Matching Canopy and Removable Vertical Fins
Powerful Waterproof Electronics
Stainless Steel Two-blade Propeller
Aluminum Adjustable Propeller Strut
Aluminum Break-away Rudder
UL-19 30" Hydroplane Brushless RTR
|

Free financing w/Easy Pay

ⓘ
Earn
points on this item
ⓘ
Product Details
In The Box
(1) UL-19 30" Hydroplane Brushless RTR Boat
(1) Dynamite® 120A Brushless Marine ESC 2-6S (installed)
(1) Dynamite® 2000Kv 6-Pole 3650 Marine Motor (installed)
(1) Spektrum™ SLT3 2.4GHz Transmitter
(1) Spektrum™ SR315 3-CH DSMR® Receiver (installed)
(1) Spektrum 3kg Servo (installed)
(1) User Manual
Needed to Complete
(2) 2S-3S 5000mah, 100C LiPo Battery with EC5™ or IC5™ connector
(1) Compatible Battery Charger
(4) AA Batteries for Transmitter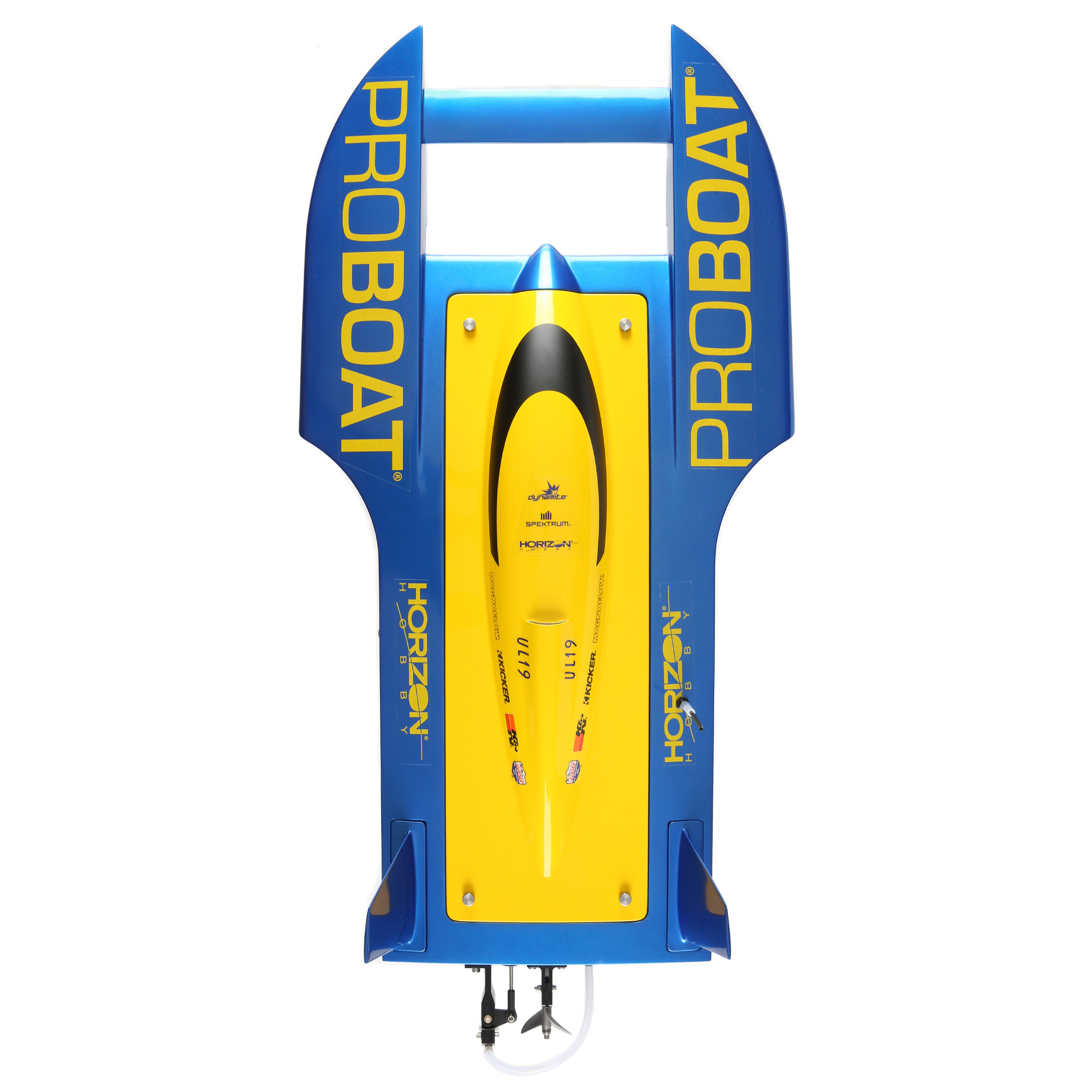 Features
Fiberglass hull with matching canopy and removable vertical fins
Powerful waterproof electronics
Dynamite® 2000Kv brushless motor
Spektrum™SLT3 2.4GHz rransmitter
Stainless steel two-blade propeller
Interference-free connection
Aluminum adjustable propeller strut
Aluminum break-away rudder
Stainless steel turn fin
Overview
You asked for it and now it's here, the ready-to-run Pro Boat® UL-19 30-inch Brushless Hydroplane. Its design is ultra sleek, with no turbine housing or rear spoiler. You can cruise up to speeds of 50+ mph on 6S power thanks to the 6-pole water-cooled motor and 120A ESC. A waterproof Spektrum™ 3kg servo lets you take corners at full speed without fear! On top of that, the UL-19, which is built to NAMBA race specifications, comes equipped with all the aluminum running gear you need and a stainless steel turn fin. This is adrenaline-pumping, heart-pounding action you won't soon forget!
Video Overview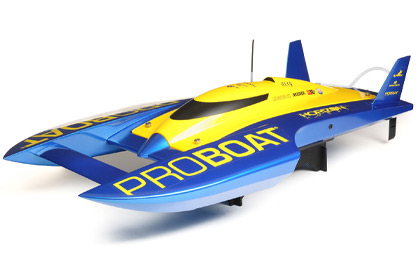 Lightweight, Durable Fiberglass Hull With Matching Canopy And Removable Vertical Fins
Because the hull is lightweight and durable, you can push this hydroplane to max speeds in race condition waters. The canopy, like the hull, is constructed of hand-laid fiberglass. The vertical fins are removable and replaceable. In case of a bad crash, they will simply break away without damaging the hull.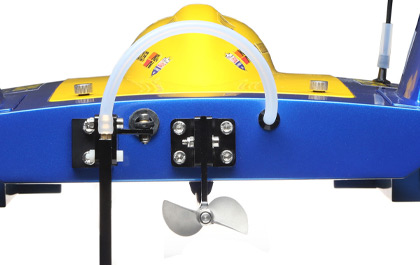 Stainless Steel Two-blade Propeller
An aggressive boat like the UL-19 deserves an equally aggressive two-blade propeller. The UL-19's propeller lets you take full advantage of the hull's performance. It features a high-pitch, high rake stainless steel propeller that produces a tight thrust cone that results in better propulsion and higher speeds that won't overload the electronics. You'll be able to reach speeds on 4S that could only be reached on 6S by other boats.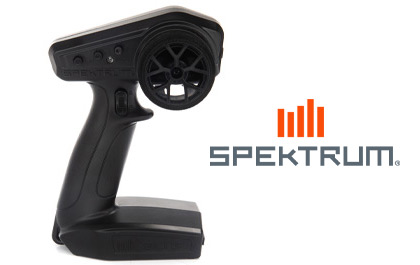 Spektrum™ SLT3 2.4GHz Radio
The 3-channel SLT3 transmitter offers all you need for dependable, confident control. User-adjustable features include steering and throttle trims, steering rate, and throttle limits. The control layout is amazingly intuitive — all controls are perfectly positioned to be quickly accessible when needed and out of the way when not in use. The SLT3 transmitter's overall low weight lets you drive all day without fatigue. Its steering wheel is foam-covered for a no-slip grip. There's also a handy mount for attaching a lanyard, so you can focus on driving without worrying about dropping and damaging your radio.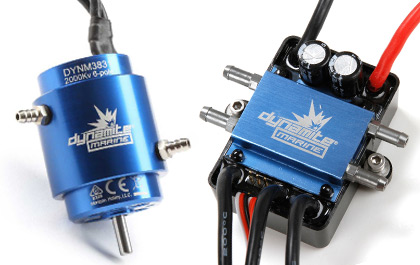 Extreme Power From Waterproof Electronics
The UL-19 uses a Dynamite® water-cooled 120A, 2-6S ESC that can handle more amperage than needed to run the boat with authority and speed. The new 2000Kv 6-pole motor features a large rotor that greatly increases motor torque.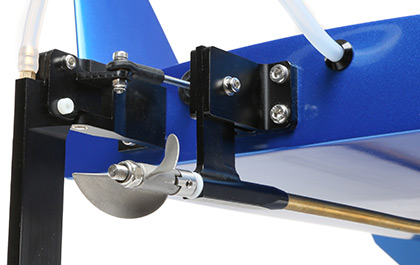 Aluminum Adjustable Propeller Strut
Use the aluminum adjustable propeller strut to tune the boat to various water conditions, from glass smooth to windy and choppy. The square-bottom propeller strut allows more precise adjustments by acting similar to a trim tab usually found on Deep-V boats.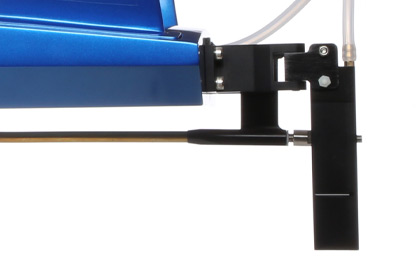 Aluminum Break-away Rudder
The aluminum rudder features a break-away design that will safeguard the transom if the hydroplane hits an immovable object on the water or runs ashore.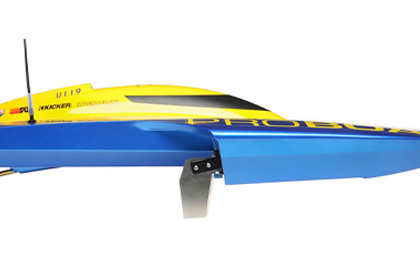 Stainless Steel Turn Fin
The stainless steel turn fin will keep the boat glued to the water whether you're going straight or full throttle through a turn.
Product Specifications
| | |
| --- | --- |
| Beam | 16" (406 mm) |
| Trim Scheme Colors | Blue and Yellow |
| Radio | Included |
| Battery | Sold Separately |
| Drive System | Flex Shaft |
| Motor Size | 3650 6-Pole Marine Motor 2000Kv (installed) |
| Product Length | 30" (762 mm) |
| Steering | Rudder |
| Hull Height | 6 in (152.4mm) |
| Motor Type | Brushless |
| Speed Control | Included |
| Completion Level | Ready-To-Run |
| Hull Material | Fiberglass |
| Propeller Size | 1.7 x 1.6 (43 x 63.5mm) |
| Product Weight | 5 lbs (2300g) |
| Approximate Assembly Time | No assembly required |
| Charger | Sold Separately |
| Receiver | Included |