RC Radios
Searching for the perfect beginner or professional-level RC radio? Look no further! Whether you're into RC cars, RC helicopters, RC boats, or RC airplanes, our Spektrum radios offer easy programming, superb ergonomics, and the latest technology, providing you with a user-friendly experience.

Deals on Spektrum Surface Radios
Save big on select Spektrum radios for Cyber Week! Sale ends December 3rd or while supplies last.
Shop Now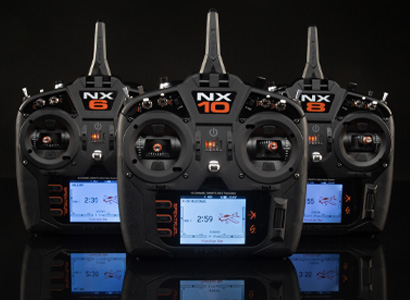 NX Air Radios
NX transmitters incorporate many of the latest exclusive Spektrum™ innovations for a level of ease, efficiency and performance you'll find in no other transmitter.
Shop Now
iX Air Radios
Spektrum developed the iX series of Android based transmitters for pilots seeking powerful functionality along with next-level connectivity.
Shop Now
DX Surface Radios
DX surface transmitters deliver performance and comfort with multiple models featuring 5-channels and an array of auxiliary switches for lights, winches and more.
Shop Now