RC Radios

Highly Rated Spektrum iX14 Radio
The Spektrum iX14 now joins the series as the perfect intelligent transmitter for intermediate to advanced level pilots who fly mid- to high-end performance RC aircraft, including EDF jets and giant-scale turbine jets.
Order Now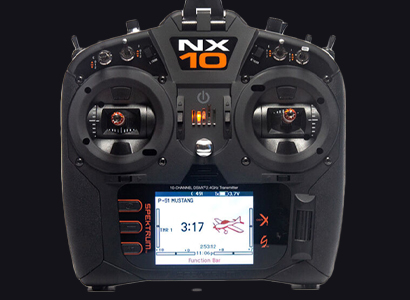 Spektrum NX10 Transmitter
NX10 exclusive features include Hall Effect gimbals and a powered serial port for external modules.
Order Now
"Love this remote" ★★★★★
"I've only used this remote a few times and love it already. So many feature i'll probably never get the chance to use. I mainly use this for my hydro boats but will be acquiring some off road trucks and some crawlers soon" Reviewed by Mcarson27
Order Now
Top Selling AS3X/SAFE Receiver
The Spektrum AR8360T is a full range 8-channel receiver with built in AS3X stabilization, which counters the effects of wind, turbulence and torque using a 3-axis MEMS gyro and exclusive flight control software tuned by expert RC pilots.
Order Now