Another Great Heli!
Review by Heli G. on 4 May 2018
review stating Another Great Heli!
The Fusion 270 has the most locked-in feel of any helicopter I've flown in the 300 class. It tracks great in the wind and feels a lot like my larger Goblin 420. The color scheme is great for visibility, though I did add a bit of prism tape to the blades. Normal mode is fine for take-off and landing, but I switch to idle-1 for circuits (I don't fly 3d). I pre-ordered this heli so I had it early. The only issue I've encountered is that the landing gear stance is a little narrow for the grass field I fly off. Be sure to take off and land with the nose into the wind and don't loiter on the ground at zero degrees of pitch. A slight breeze might tip it over if you are on the ground and don't have a little negative pitch applied. I made the landing gear a little taller and wider (see picture) using an extra set of landing gear and found this to help a great deal on uneven grass. When I land, I bring the collective down smoothly and keep it going down after touchdown until I have a bit of negative to keep some downward pressure on the gear. On my last landing today with the modified gear it was quite windy, but this technique worked great. I could see the a little side-to-side movement after touchdown as the flybarless unit corrected, but this seems normal. It was only a slight amount. The flybarless unit is designed to fly, not sit on the ground. Always a good idea to hit throttle hold right after touchdown. ;-) In the air with the wind the heli flies super smooth through high bank turns. I use a D/R of 75%/25%. This is a great heli to just leave in the trunk. I fly mine with a DX6G2.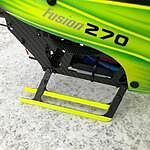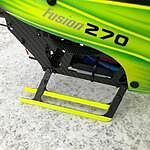 On Fusion 270 BNF Basic with SAFE Technology
Gorgeous looking, Smooth, & Stable
Review by Trust S. on 25 Mar 2018
review stating Gorgeous looking, Smooth, & Stable
I'm glad HH came out with the Fusion models as the lines are sleeker and colors are more vibrant. I like the clean look of no boom support, the stylish landing gear, and angled look from the side view. The belt driven tail helps the heli sound smooth and quiet compared to the louder chatter of torque tube tails. It's very stable in a hover and in flight. Can be fast with plenty of power (the governor feature on the esc is a plus). Can do smooth 3d with ease. Nice to have the bailout/panic function which works great. Try new moves up high and it's a real life sim. The canopy takes a little practice to take on/off which is to be expected with the 2 extra body mounts up front, but nothing bad. Not a beginner's heli (it's not a crash and pick up and fly again), so HH's marketing for the intermediate to advanced pilot is spot on. If you can fly well (for example, with the 230s or 130s), then this is a great next heli. Nice to have the BNF, be up and flying in minutes. I'd like to see main blades painted all white as a parts option for better disc visibility but not a deal breaker. Glad I made this purchase. Great job HH, Blade RC, James Haley and the crew who made it happen.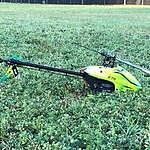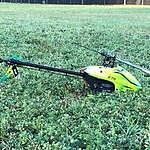 On Fusion 270 BNF Basic with SAFE Technology
Rocketrider
5.0 star rating
Very good purchase
Review by Rocketrider on 25 Mar 2018
review stating Very good purchase
Kind of hard to not admit this is a great easy little helicopter to bind and fly. Good job getting this product up and running. Had a little trouble getting bail out working on my DX7. Run times can get short when you ring it out on idle up 2. I must say the tail was predictable and locked in. Plenty of punch out power and great color for aspect in the sky. Perfect park flyer!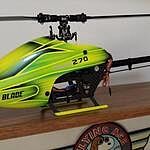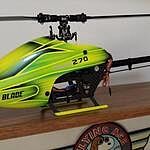 On Fusion 270 BNF Basic with SAFE Technology
I Had Zero Problems? GREAT MODEL.
Review by Young G. on 19 Aug 2019
review stating I Had Zero Problems? GREAT MODEL.
I can not understand how people are having issues with this model, I just got my BNF this morning, I programmed my DX9 per the manual and flew it on a 2200 3s & 1500 4s absolutely ISSUE FREE. Absolutely ZERO tipping, not even close. I spooled it up normally and took it off just like I do my 180, 360 or 480 The model is extremely smooth and trouble free. I love the way it handles, the gyro gain was fine, no tail wag, no drifting. I mean yeah, the sled needs to be wider, it isn't the most stable sled in the world, but I had no problems with this thing, I hate that so many people are giving it a bad-rep.
On Fusion 270 BNF Basic with SAFE Technology
270 Fusion BNF
Review by Paul M. on 4 May 2018
review stating 270 Fusion BNF
I'm happy with myFusion 270. I park fly in the neighbors pasture and my front yard - mostly sport flying in IU1 with some basic 3d. 5:40 easy on 1300mah packs.
Plenty of power, tail holds full pitch climb-outs which is a huge improvement over my 180 CFX (still has a tiny wag in hover, even with lowering the gains). It handles wind as good as a 450 and turns smoothly like a 700 when it's calm.
Good intermediate choice for someone wanting 450 performance with rescue (only used once - worked great but you still need to manage collective pitch). Setup straight from the manual - no expo in the tx and still not as twitchy as my 450L. Very good parts quality (especially for $).
On Fusion 270 BNF Basic with SAFE Technology