Wow!!!
Review by Joe S. on 3 Aug 2019
review stating Wow!!!
First off, hands down the best truck I own. This thing is a tank! A friend of mine and our kids got a few trucks from the LHS and we've been enjoying the hobby since then. We have some 4wd SCTs, a few 2wd Mts, a couple buggies. I get this truck out everyone stops and jus watches it in awe. I kept seeing this monster in the store and absolutely had to have it after watching reviews online and seeing what it could take. I Called Horizon up, they helped me get the color I wanted since the store was out, and this beast showed up on my door step 2 days later. Punch on 7 and it does standing backflips no matter what terrain you're on. I have to say, I have broken a few things but they were completely my fault, can't blame the truck on those. All in all this thing takes a beating every single time I take it out, it puts a smile on everyone's face, and we can't really ask for more than that. Thanks Arrma/Horizon for making such an awesome truck!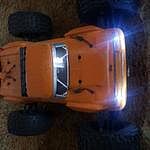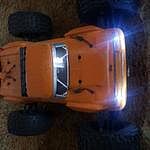 On 18 OUTCAST 6S BLX 4WD Brushless Stunt Truck with Spektrum RTR
Truckboattruck
5.0 star rating
Awsome!
Review by Truckboattruck on 15 Aug 2019
review stating Awsome!
This thing is awesome. I just got a kraton and I cant stand how boring it is. The outcast rips wheelies, is very easy to jump and handles jumping very well. I would not get this for a beginner. It is a challenge to drive which in my opinion is how it should be. I found very little help online in making a decision to purchase between kraton and outcast. I hope this helps. Outcast= Sport, jumps, wheelies and yes, just as fast as the kraton in 300ft which is more then enough, snappy power
Kraton= Super easy to drive, does good power wheelies, very linear power and very fast in a long stretch.
On 18 OUTCAST 6S BLX 4WD Brushless Stunt Truck with Spektrum RTR
Rmxplaypark
4.0 star rating
ARRMA OUTCAST TOUGH
Review by Rmxplaypark on 3 Nov 2019
review stating ARRMA OUTCAST TOUGH
This Truck is Tough and Fun, Wheelies Great and Jumps Good, Backflips and Stunts Take some time to get and a ramp will help with that.
Considering the Trees and Rock's the only Breakage in 4 runs out is the Drive Cup on 1 side front and 1 shock bottom eye not bad on Part's...but the Ball Joints in the C-HUBS on the Front do like to Pop-Out on Impact's.. easy to fix but a Nuisance to have to do ..
Having Fun Laughing Playing and RCing
On 18 OUTCAST 6S BLX 4WD Brushless Stunt Truck with Spektrum RTR
Traxxasallthewaynow
4.0 star rating
Fun truck
Review by Traxxasallthewaynow on 12 May 2019
review stating Fun truck
First check your wheelie bar screws I had one come out within 10 mins lost the wheel so ordered a new wheelie bar. I did check tires and such to make sure things were tight but skipped the wheelie bar. Other than that the truck is a blast. Turned the punch up to 7 and standing backflips are not an issue with stock gearing in grass. It'll take some getting used to the truck is wheelie happy. Everytime I bash I'm going to have to take this and my xmaxx I dont think I'll be able to leave it behind. It is my first arrma and other than the wheelie bar it seems great.
On 18 OUTCAST 6S BLX 4WD Brushless Stunt Truck with Spektrum RTR
Great basher
Review by Rip M. on 17 Aug 2020
review stating Great basher
This truck is an awesome basher. I am only running mine on 4S, but it is still a blast. It will ride a wheelie for as long as I want it to. I do recommend this truck for a serious basher, as long as you are willing to upgrade it slot. There are plenty of stock parts that will not hold up for serious bashing. (E.G the suspension mounts, the chassis, sometimes the shock towers.......radio). I f you want something that performs almost the same as this truck, but you don't want to need to upgrade it to much, definitely go with the Outcast 4S.
On 18 OUTCAST 6S BLX 4WD Brushless Stunt Truck with Spektrum RTR