Posted: 4/12/22
One of the most frequently asked questions about radio control cars and trucks is, "How fast do they go?" A huge variety of RC vehicles is available, including some that can reach speeds of 50, 60, or even 70 miles per hour. You can also find fast RC model cars capable of triple-digit speeds when equipped with option parts and high-performance electronics and batteries.
These figures refer to actual speed. Because of their size, remote control car and truck models look like they're going much faster. A 1/8 scale RC vehicle moving at 60 MPH actual speed will seem to be moving at more like 170 scale miles per hour!
Beginners to the RC hobby should not choose anything that fast for their very first RC car. High-speed RC cars require good reflexes and control skills. But if you're ready for the challenge, you can find fast RC cars and trucks in every vehicle category. Our experts have provided the following recommendations for models that deliver the most thrilling speeds for their type.
Best RC Vehicles for Off-Road Speed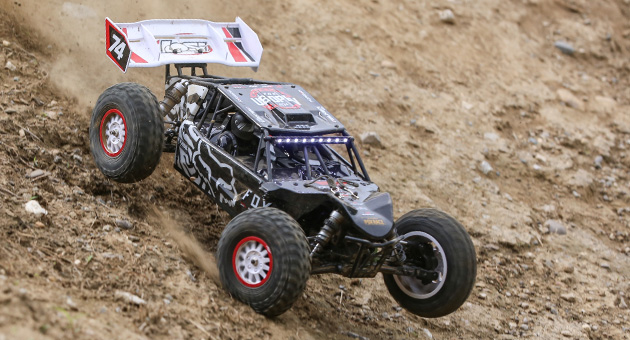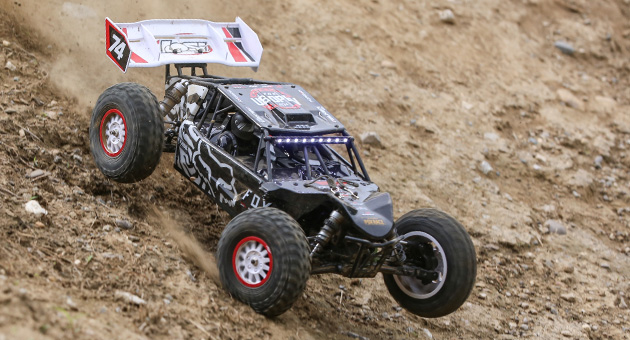 Losi® TENACITY® DB Pro 1/10 Scale 4WD Desert Buggy
If you want a fast RC off-road vehicle that also has realistic scale looks, check out the ready-to-run Losi TENACITY DB Pro 1/10 Scale 4WD Desert Buggy. The TENACITY DB Pro is an evolution of the Team Losi Racing® TEN, one of the most durable and high-performance off-road platforms ever designed. Right out of the box, the TENACITY DB fast RC buggy is equipped with a Spektrum™ brushless power system capable of 50 MPH or higher speeds when using a 3-cell LiPo battery. It looks as fast as it drives, with a body inspired by full-scale desert buggies and officially licensed Fox Racing and Lucas Oil trim schemes plus Falken Wildpeak MT tires on Method wheels. The TENACITY DB stands out whether streaking across the backyard or blasting desert berms!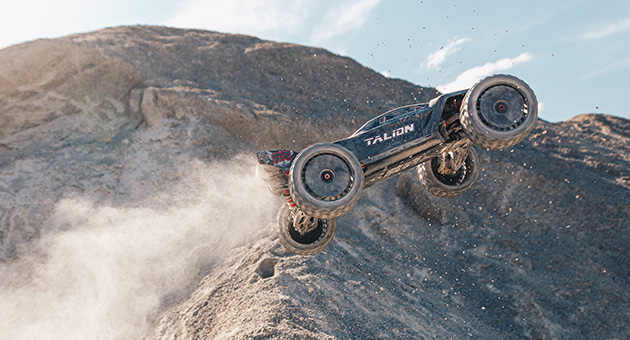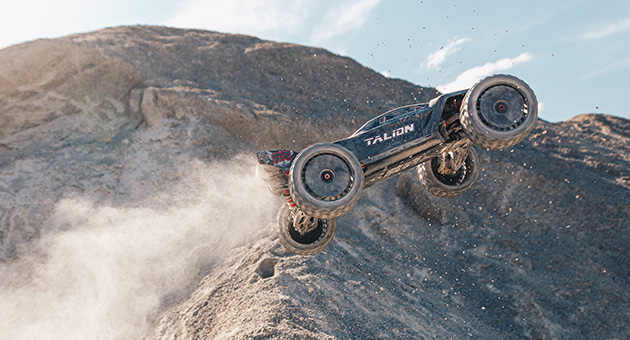 ARRMA® TALION™ 6S BLX Extreme Bash 1/8 Scale Speed Truggy
For a larger scale off-road vehicle with even greater speed potential, the ARRMA brand has several highly recommended choices. The 1/8 scale TALION 6S BLX Extreme Bash Speed Truggy earned distinction by being the first ready-to-run ARRMA EXB (EXtreme Bash) vehicle to include a Spektrum radio and 6S brushless power system. With that equipment, this fast radio control truggy gives you the muscle to blast over dirt, asphalt, and grass at 70+ MPH. The radio's AVC® (Active Vehicle Control) technology also provides automatic handling assistance to help you stay in control while moving at such high speeds.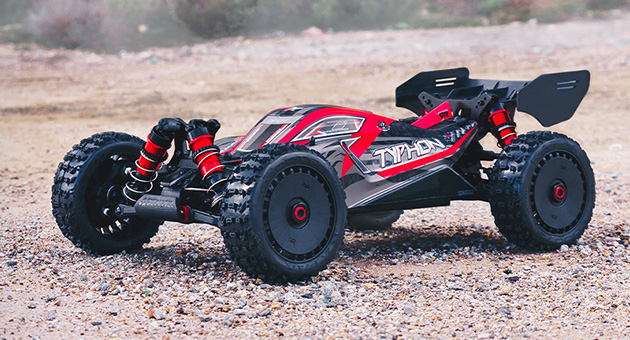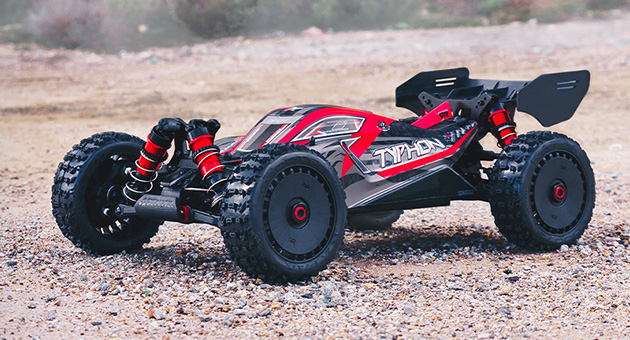 ARRMA TYPHON™ 6S BLX 4WD 1/8 Scale Speed Buggy
Fans of big, fast RC off-road buggies should take a look at the 1/8 scale, ready-to-run ARRMA TYPHON 6S BLX 4WD Speed Buggy. Like the TALION, it also includes a Spektrum brushless power system for 70+ MPH speed potential using a 6S LiPo battery and the recommended optional high-speed pinion gear. The TYPHON also comes with a 3-channel Spektrum SLT3™ radio that has throttle limiting. This feature lets you limit the throttle to only 50% or 75% of the vehicle's full speed capability, so you can gradually gain the skills for fast RC driving.
Best RC Vehicle for On-Road/All-Road Speed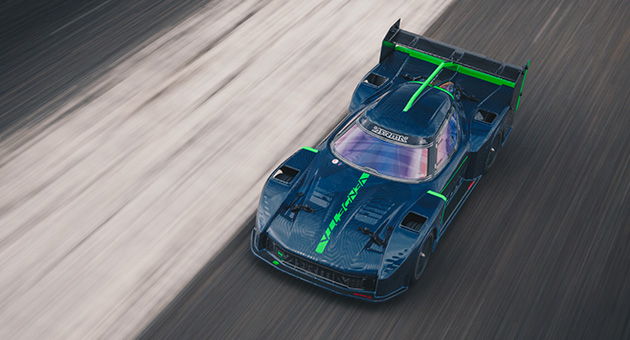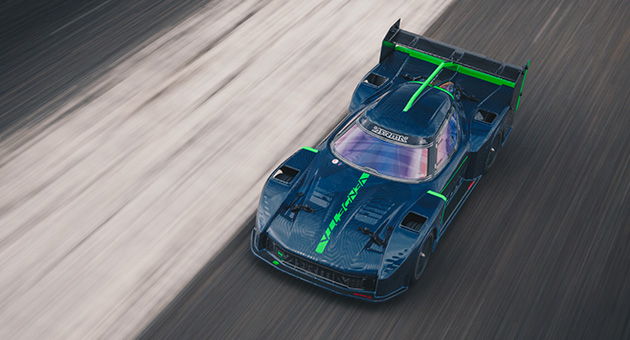 ARRMA VENDETTA™ 4X4 3S BLX 1/8 Scale Speed Racer
Looking for a fast RC car that you can take on smooth surfaces as well as off-road? For that kind of versatility, our experts pick the ready-to-run, 1/8 scale ARRMA VENDETTA 4X4 3S BLX Speed Racer. The VENDETTA runs well over on-road surfaces, and with its high ride height, can also handle rough streets, speed bumps, flat dirt, and other light off-road surfaces. As for speed – with its Spektrum power system, supplied optional speed pinion gear, and a 3S LiPo battery, the VENDETTA is capable of 70+ MPH straight out of the box.
High and low downforce wings on the aerodynamically tuned body keep it glued to the track. The dBoots® Hoons Elevens all-road tires find incredible traction in all surface conditions, while a large rear double diffuser reduces turbulence and drag. As a result, the VENDETTA is a fast RC car that most intermediate level drivers can race with success.
Best RC Vehicle for Speed Runs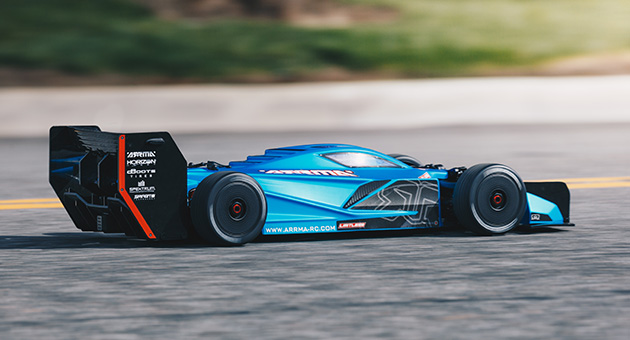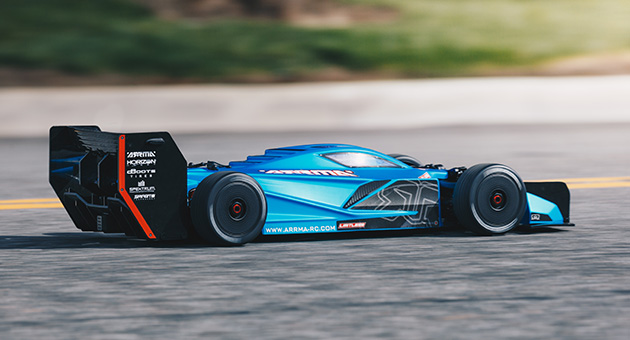 ARRMA LIMITLESS™ 1/7 Scale 4WD Speed Bash Roller
Experienced drivers often want to select their own electronics for their fast RC vehicles. If that's you, give the ARRMA LIMITLESS 1/7 Scale 4WD Speed Bash Roller a look. It's a great all-road RC vehicle that can be customized for as much speed and power as you wish, depending on your choice of required gear — transmitter and receiver, steering servo, electronic speed control, motor, and one or two battery packs.
The LIMITLESS speed basher excels on all roads, in all conditions, including loose gravel, asphalt, or short grass, and sun, rain, or even ice. It has a low drag body with front and rear wings that can be customized to tailor the downforce however you like. To further enhance the aerodynamics, the chassis includes a front splitter to balance downforce distribution and a rear diffuser that increases downforce and grip, enabling you to corner fast and with confidence.
Best RC Vehicle for Fast Rock Racing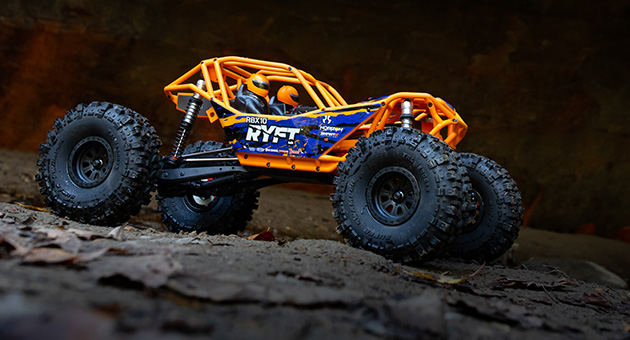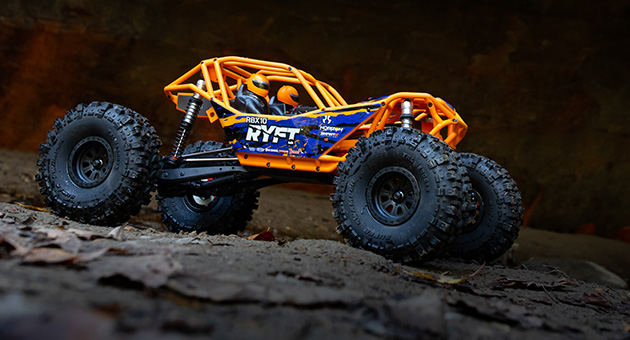 Axial® RBX10™ Ryft™ 4WD
Speed and climbing ability are both priorities in the world of rock racing. Full-size rock bouncers refuse to stop — or to back down on the throttle — when faced with steep climbs and massive rocks. The same holds true for the ready-to-run Axial RBX10 Ryft 4WD fast RC rock racer.
The Ryft is suitable for beginner and intermediate RC drivers attracted to the rock bouncing style of off-road action. Its robust, custom tube chassis withstands the hard knocks of moving over dirt, gravel, rocks, and more at the high speeds produced by its 4S-capable brushless motor. These features, along with the full-time 4WD transmission and AVC traction control, make the RBX10 Ryft an exciting RC vehicle for climbing over hills, launching off of ledges, and sending over trails at full throttle.
Best RC Vehicle for Large Scale Speed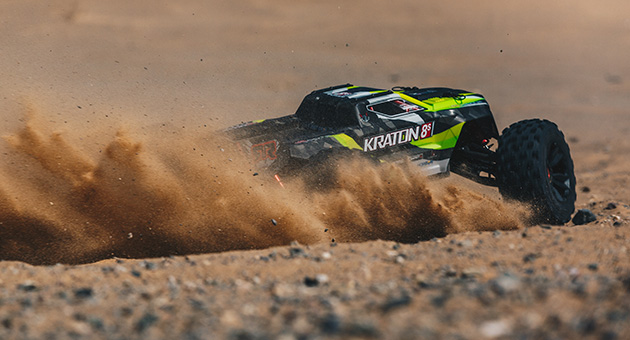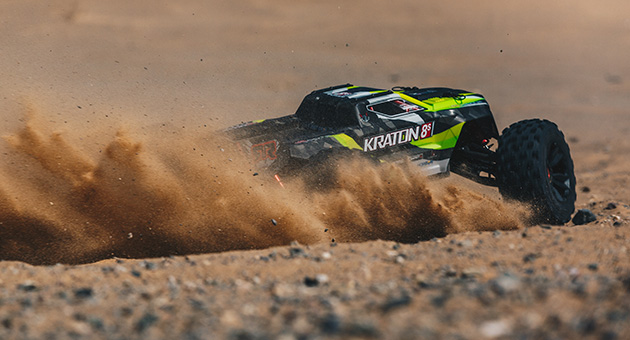 ARRMA KRATON™ 8S BLX 4WD Speed Monster Truck
The 1/5 scale, ready-to-run ARRMA KRATON 8S BLX 4WD Speed Monster Truck is a triple threat — fast, huge, and engineered for brute power and toughness. Measuring over two-and-a-half feet long, with 55+ MPH speed potential using two 4S LiPo batteries and an optional pinion gear, it's the perfect fast large-scale RC monster truck for experienced drivers interested in big-time bashing.
Not only is the speed capability of the KRATON amazing, but you'll be able to use it all. The supplied Spektrum radio equipment allows you to dial-in extra stability with its AVC (Active Vehicle Control) system to carve corners and nail jumps without letting up on the throttle. Plus, it lets you take full advantage of the innovative telemetry technology found in the included Spektrum SMART Firma™ brushless motor and ESC.
Best RC Vehicle for Racing Speed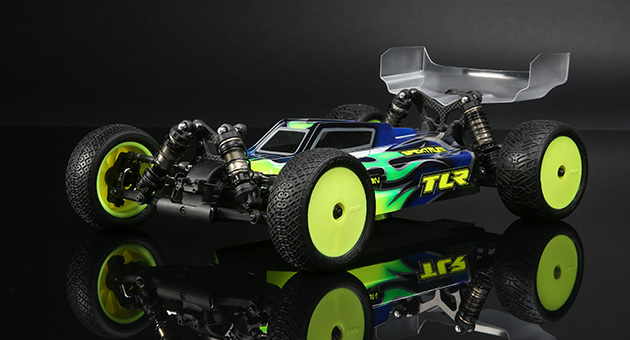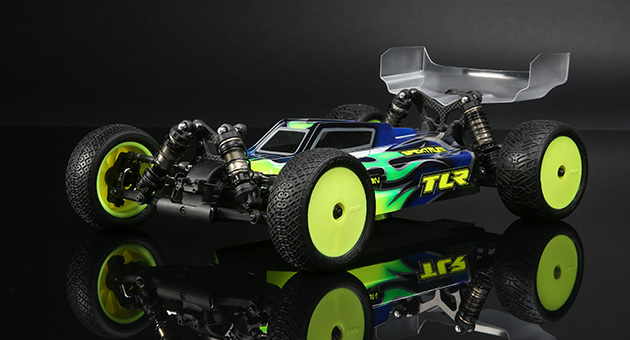 Team Losi Racing® 22X-4™ 1/10 4WD Buggy Race Kit
It may be an understatement to say that the 1/10 scale Team Losi Racing 22X-4 4WD Buggy Race Kit is performance-oriented and podium-ready. Its speed capability was proven when it dominated and won the 2021 ROAR Nationals. Forty years in the making, the 22X-4 is the fast RC buggy that racers' dreams are built on!
The Team Losi Racing engineering team developed the 22X-4 platform from the ground up with a lightweight design and reliable shaft drive. Its long list of impressive features includes a fully adjustable suspension, adjustable motor and battery position, many carbon fiber components, and more. Top speed depends on the driver's choice of motor, ESC, and 2S battery. As a foundation for fast buggy racing, the 22X-4 is top of the line.
Best RC Vehicle for Gas-Powered Speed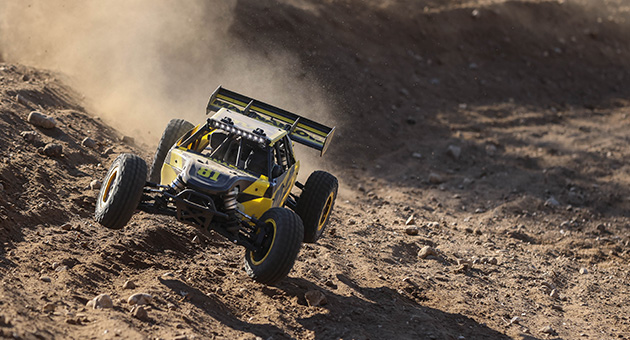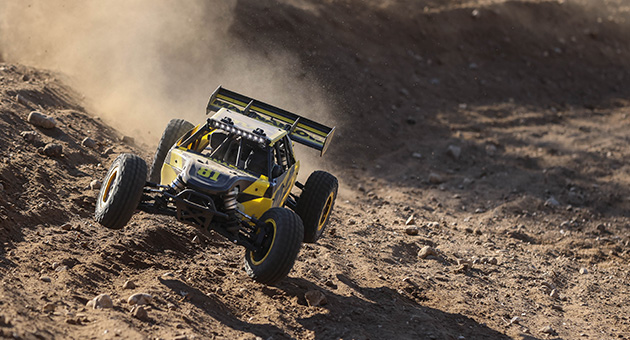 Losi DBXL 2.0 1/5 Scale 4WD Gas Buggy
For speed, size, and gas-powered realism, it's hard to beat the ready-to-run Losi DBXL 2.0. Approaching three feet in length and weighing over 34 pounds, this 1/5 scale, fast gas-powered buggy delivers loud and proud RC off-road excitement with its roaring Zenoah® 32cc engine. A high-flow air filter enables the engine to breathe to achieve maximum horsepower. The full-time 4WD 5mm drivetrain, gearboxes, and heavy-duty construction allow it to pulverize the terrain at ballistic speeds. The Losi DBXL 2.0 4WD Gas RTR is the ultimate in large-scale RC driving speed and excitement.
Ready for a Fast RC Car?
The radio control cars and trucks mentioned in this article all come highly recommended for their built-in high speed capabilities. By adding option parts and upgrades, and by experimenting with different power set-ups, you can make almost any fast RC car go even faster. Start by choosing the vehicle that fits the way you like to drive. Then hit the throttle and have a blast!