Discontinued
|
This Item is No Longer Available

V900 BNF Basic with AS3X and SAFE Select, 900mm
Discontinued
|
This Item is No Longer Available

V900 BNF Basic with AS3X and SAFE Select, 900mm
V900 BNF Basic with AS3X and SAFE Select, 900mm
EFL74500
View Alternate Product Details
Product Details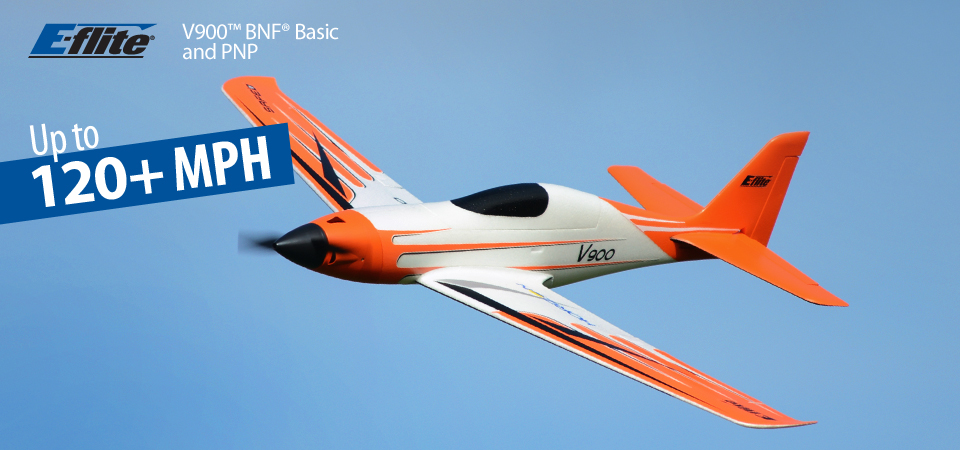 The V900™ high-speed sport airplane is the fastest prop-driven E-flite® airplane yet! Right out of the box it can reach top speeds of 120+ MPH on 4S, and even 100+ MPH on 3S, without the need for upgrades or prop changes. It's designed to whip heads by flying fast and looking good with slick aerodynamics, composite reinforced EPO construction and a vibrant trim scheme that stands out on the ground and in the air.
If you have a need for speed—adrenalin pumping, righteous SPEED—then you're going to love the E-flite® V900 airplane. The factory-installed high-power brushless motor and 60-amp ESC deliver unlimited vertical performance and incredible top speeds up to 120+ MPH without the need for upgrades or modifications. The lightweight yet stiff and durable airframe is equipped with digital, metal-geared servos to offer precision and reliability you'll appreciate flight after flight. No glue is required for assembly, and you can be flying in just the time it takes to charge a battery. So whether you're an intermediate pilot and this is your first high-speed airplane, or you're an experienced speed addict, you can be in the air and flying FAST in almost no time at all. But the V900 airplane doesn't just fly fast—it's well-behaved and slows down nicely for smooth approaches and landings, plus it's capable of aerobatics including huge loops, rolls, knife edge and more.
Video Overview
On The Fly

AS3X Receiver with Optional SAFE Select Technology
This Bind-N-Fly® Basic model is equipped with an AS3X® (Artificial Stabilization–3-aXis) receiver that works behind the scenes to smooth out the effects of wind and turbulence. The result is a sense of stability and precision that makes you feel like you're flying a larger and expertly tuned aircraft.
If this is your first high-speed airplane or you want an extra margin of safety while familiarizing yourself with the airplane, you can enable the optional-use SAFE® Select technology built into the receiver. No programming is required. Simply change up the binding sequence as directed in the manual.
If you don't want to enable the SAFE Select features, just bind the receiver normally and it will function like a standard AS3X receiver.
With SAFE Select features enabled, you get:
Pitch and Bank Angle Limits
These envelope limits keep the airplane from rolling or pitching upside down. They also prevent excessive climb or dive angles.
Automatic Self-Leveling
The airplane instantly returns to and holds level flight when the sticks are released and in the center position. It also helps keep the airplane level when hand-launching.
Easy Switch Assignment-No Programming Required
The simple procedure for assigning a transmitter switch to turn SAFE Select features on and off doesn't require any programming and takes just a few seconds.

Needed to Complete
Full-range, 5+ Channel DSMX®/DSM2® Transmitter
1800–2200mAh 3–4S Li-Po Flight Battery
Suitable Li-Po Battery Charger
What's in the box?
(1) E-flite V900 BNF Basic RC Airplane
(1) Spektrum Receiver with DSMX, AS3X® and SAFE® Technologies
(1) 60A Brushless ESC
(1) Brushless Outrunner Motor
(4) Digital, Metal Geared Servo
(1) User Manual
Versatile Brushless Power
The V900 is factory-equipped with a versatile high-power brushless power system that gives you the option to choose just how fast you want to go. Simply drop in a 3S battery to reach speeds up to 100+ MPH. Or, to go beyond that and reach top speeds up to 120+ MPH, install a 4S battery—no modifications or upgrades are necessary—not even a prop change is required.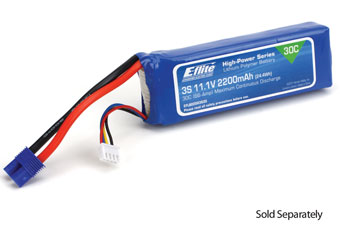 Strength and Precision
Speed is nothing without the right balance of strength and precise control. The V900's stunning and sleek airframe is molded in EPO that's composite reinforced so it's stiff and durable, yet is also lightweight. Plus it's equipped with digital, metal-geared servos that deliver the precise control and reliability you need to enjoy flying FAST flight after flight.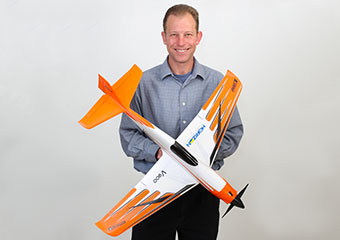 Ease and Simplicity
No glue is required for assembly, and the V900 can be ready to fly in the time it takes to charge a battery. The compact size makes it easy to transport and store, or you can easily install and remove the carbon-fiber reinforced, one-piece wing if needed. The wing also features an integrated and reinforced grip for easier hand launches and added protection when landing.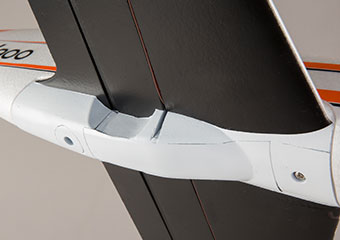 Product Specifications
| | |
| --- | --- |
| Completion Level | Bind-N-Fly Basic |
| Speed Control | Included |
| Wing Area | 203.7 Sq In (13.1 Sq Dm) |
| Material | Foam |
| Motor Size | 15 BL outrunner 1260kV |
| Product Length | 31.8 in (808.5mm) |
| Receiver | Included |
| Minimum Required Radio | 4+ channel |
| Power Type | Electric |
| Skill Level | Level 3 |