Flying heart attack
Review by Cfi T. on 20 Oct 2018
review stating Flying heart attack
This thing is a riot to fly. Only flown on admiral 4s and they fit great. Hundred yard knife edge. Huge loops. Very thrilling to fly. Flys much slower than you would think. I love full throttle zoom climbs then glide back to earth.You have to stay ahead of this one. Launch is uneventfull as long as you use safe mode. Set safe mode, set throttle at half(i cant hold on to it at full),as you throw it at about a 45degree angle give it full throttle. It flattens out and flys straight giving you time to get back on the sticks. Make sure you dont have any stick inputs BEFORE you switch off safe or it will dart that direction at 100mph. Fly mine thru a tree trying a half throttle launch...still flys great. One tough bird.
On V900 BNF Basic, 900mm
Amazing fast flyer
Review by Jax Q. on 29 Sep 2018
review stating Amazing fast flyer
The V900 is a winner. It is not for beginners. If you are new and want a fast fun flyer, grab an F-27, I love mine. The V needs a little tweaking to set up properly (cut the battery strap, fix the protruding wing bolt, reinforce fuse and wings, move elevator clevis up to top hole to get proper up elevator ( I crashed my new V900 because I did not have enough up elevator with the stock setup, fixes were easy enough though), make sure prop fits (may need drilling or cutting) but after the minor adjustments this is by far the best value for a solid, super fast flyer I have ever seen. 3s is fast, 4s is WILD. Safe works amazing well, even at high speed. The prop brake comes enabled, leave it on, props can easily break if no break is used. Overall A+, even though the wait for this new model took forever :)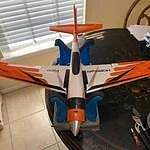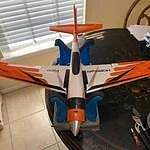 On V900 BNF Basic, 900mm
No need for a 4s
Review by TP51 on 17 Aug 2020
review stating No need for a 4s
I wanted a fast airplane, and I happened to choose this one. It was a costly choice, since this is my first hand launch airplane. 3 times in a row the plane dived into the ground with not enough throttle. I still didn't give up. 1 month later, after breaking at least 6 props and totaling the 1st motor. It finally started to turn around. I made sure I had enough power and had the safe engaged and it went up beautifully. Based on my experience. This is probably not your first hand launch plane. But if you have hand launch experience, this plane is absolute fun if you want something fast. I have never had such an adrenaline rush, when I am flying this speed demon. Very little throw on the elevator makes it easy to land. If you cut the throttle all the way down, when you are flying at full or close to it. It will want to float for a while, before wanting to come down; so you will want to cut your throttle around 20 seconds before touchdown. One note is when I am flying this on a 4s, the plane literally shakes and even the nose pitches down slightly. You are at high risk of losing control flying at full power on a 4s. Solution? Just buy a 3s with this plane. On a 3s you still have much more than enough power to keep this in the sky. Overall it started off bad, since this is a one of the difficult planes to launch. But I practiced repeatedly, and eventually, I found my groove and since then, I could not have more fun flying this plane. If you somewhat prior hand launch experience and you want something fast. The V900 is an excellent choice.
On V900 BNF Basic, 900mm
Nice Plane but not without a Few Problems
Review by Smokie on 5 Apr 2019
review stating Nice Plane but not without a Few Problems
The good:
-Fast!
-Easy to hand launch
-Very fast!
-Plenty of power. Great performance.
-Did I say fast!
-Great visibility. Love the paint scheme

Bad:
-Velcro battery stap was a nice thought but the buckle is hard to reach and the stap is glued in.
-Motor came disconnected. What! Needed to remove cowling.
-Difficult to align bolt for horizontal stab. Needs a countersink for self alignment.
On V900 BNF Basic, 900mm
Flyfast51
5.0 star rating
E-Flight V-900
Review by Flyfast51 on 4 Jan 2019
review stating E-Flight V-900
Awesomely fast airplane. I also fly an F27 Stryker and the V-900 is just as fast or faster than the Stryker. For the first flight I set full power and hand launched it at a 45 deg angle. It basically flew out of my hand and leveled off. I have 4 flights so far and it performed as described on a 3S 2200 mah battery. You must keep your eyes on the plane as it can disappear easily if you take your eyes off it. Make sure you have a long approach to landing path as it will float a long ways and land it in the grass.
Only gripe is the Velcro battery strap. I had to cut it out as the battery would not fit in the fuselage with strap it came with. I now Velcro the battery to the bottom of the fuselage.
On V900 BNF Basic, 900mm