Discontinued
|
This Item is No Longer Available

UMX Gee Bee R-2 BNF Basic with AS3X and SAFE Select
Discontinued
|
This Item is No Longer Available

UMX Gee Bee R-2 BNF Basic with AS3X and SAFE Select
Product Details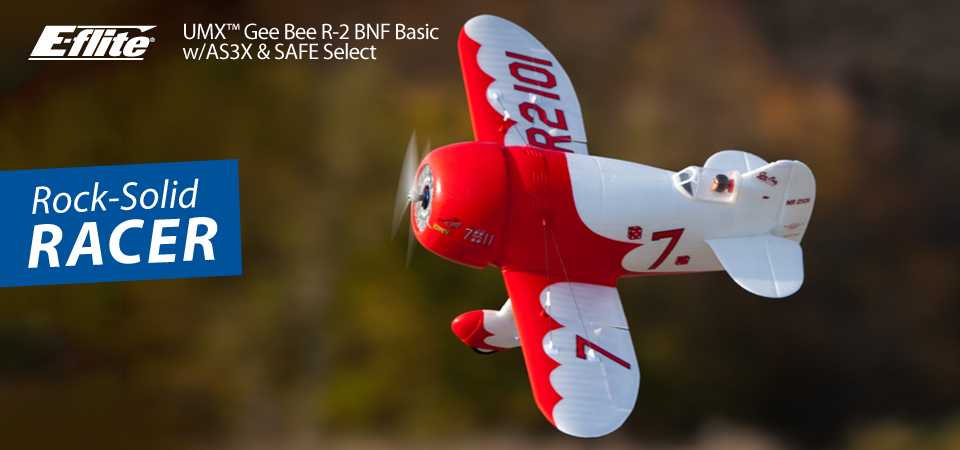 Gee Bee® aircraft were among the pioneering pylon racing designs that captivated just about everyone during aviation's Golden Age. Their cutting-edge, teardrop-shaped designs coupled with small wings and control surfaces required a skillful hand to fly well, but with the right pilot they dominated the race course. Back by popular demand, the E-flite® UMX™ Gee Bee R-2 returns with more power plus exclusive AS3X® and optional-use SAFE® Select technologies that make it faster, easier and more enjoyable for a wider range of pilots to fly than ever before.
The E-flite® UMX™ Gee Bee R-2 ultra-micro model is ready to groove through the skies just about anywhere because it features specially-tuned handling more in common with a friendly sport model than a short-coupled golden-age racer. Awe-inspiring with an authentic scale outline and abundant details such as flying wires and a pilot, this replica offers handling so remarkably smooth, you'll want to fly it every day. AS3X® technology works behind the scenes to help you enjoy the outstanding control you always wanted but never thought possible in a small airplane, let alone in a model of the Gee Bee. Optional-use SAFE® Select flight envelope protection technology features the assistance of automatic self-leveling and pitch and bank angle limits that make it possible to successfully fly such a unique design even if you're a relatively new RC pilot. Plus, it's equipped with a 3600Kv brushless motor that delivers more speed and thrust resulting in a model of the classic Gee Bee that's a dream to fly while offering an exciting and incredibly unique flight experience.

AS3X Receiver with Optional SAFE Select Technology
This Bind-N-Fly® Basic model is equipped with a 6-channel 2.4GHz DSMX® receiver featuring AS3X (Artificial Stabilization – 3-aXis) technology that works behind the scenes to smooth out the effects of wind and turbulence so you enjoy a sense of stability and precision that makes it feel like you're flying a larger, expertly tuned aircraft.
If you're a relatively new pilot or want an extra margin of safety while familiarizing yourself with the airplane, you can enable optional SAFE® Select flight envelope protection technology built into the receiver.
With SAFE Select features enabled, you get:
Pitch and Bank Angle Limits
These keep the aircraft from rolling or pitching upside down. They also prevent excessive climb or dive angles during takeoff and landing.
Automatic Self-Leveling
The airplane instantly returns to and holds level flight when the sticks are released and in the center position. It's also helpful if you ever want to hand launch the airplane.
No Programming Required
SAFE Select technology is factory set and automatically assigned to a switch so the assistance it provides can be easily turned on and off.

Needed to Complete
A full-range, 5+ channel DSM2®/DSMX® Transmitter
200–280mAh 2S 7.4V Li-Po Flight Battery
Suitable Li-Po Charger
What's in the box?
(1) UMX Gee Bee R-2 BNF Basic RC Airplane
(1) 6-Channel 2.4GHz DSMX® with SAFE® Select Technology
(1) Brushless 180, 3600Kv Outrunner Motor
(1) User Manual
Fully-Assembled
The UMX Gee Bee R-2 model arrives 100% factory-assembled and ready to fly right out of the box. It's equipped with Spektrum® 2.4GHz technology that binds to your 5+ channel DSMX®/DSM2® equipped transmitter so you can be flying within minutes of opening the box.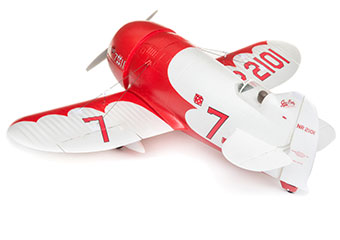 High-Power Brushless Motor
Under the convenient, magnetically secured battery hatch is a powerful 3600Kv brushless motor that delivers more power for added thrust and speed when using the recommended 2S 7.4V 200–280mAh LiPo batteries.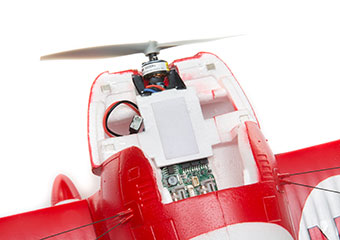 Abundant Scale Detail
You get all the detail of a full-featured replica that includes the look of stretched covering, flying wires, wheel pants and a pilot, yet the entire model is remarkably lightweight so the best flying experience possible shines through.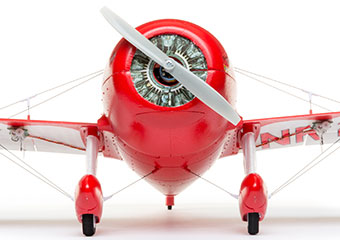 Product Specifications
| | |
| --- | --- |
| Recommended Motor Battery | 200-280mAh 2S 7.4V Li-Po flight battery (Sold Separately) |
| Completion Level | Bind-N-Fly Basic |
| Minimum Required Radio | 5 Channels (Transmitter Sold Separately) |
| Retracts | No |
| Motor Size | 180-size 3600Kv brushless outrunner |
| Product Length | 13.9 in (352mm) |
| Receiver | Included |
| Power Type | Electric |
| Wingspan | 20.1 in (510mm) |
| Flaps | No |
| Material | Foam |
| Speed Control | Included |