Discontinued
|
This Item is No Longer Available

Ultimate² BNF Basic with SAFE, 954mm
Discontinued
|
This Item is No Longer Available

Ultimate² BNF Basic with SAFE, 954mm
Product Details
Key Features
AS3X® technology with SAFE® Panic Recovery mode
Highly-tuned airframe by Mike McConville
Distinctive trim scheme by Mirco Pecorari of Aircraft Studio Design
Vortex generators to enhance 3D performance
Spektrum™ 6-channel AR636A DSMX® receiver (installed)
Powerful 10-size brushless power system (installed)
E-flite 40-amp brushless ESC (installed)
Accepts 3S 2200mAh Li-Po battery packs
4 × 13-gram micro servos (installed)
Constructed with durable Z-Foam™ material
Lightweight design with 3D-size control surfaces
Tinted canopy provides a sport-scale appearance
Matching wheel pants and aluminum main gear
Needed To Complete
Full-range 6+ channel transmitter with Spektrum DSM2®/DSMX® technology
Flight battery
Charger
Overview
While the Ultimate biplane made a historic impression with the full-scale community, the RC aerobatic crowd turned the aerobatic sensation into a blockbuster. Its revolutionary lines were unmistakable and the exhilarating performance it offered created a generation of aerobatic thrill seekers with a profound respect for airplanes with two wings. With the modern benefits of Z-Foam™ material and electric power clearly in mind, world-class designer and pilot Mike McConville has revisited the Ultimate platform to deliver a park flyer with everything the original had to offer, and more.
The E-flite® Ultimate2 biplane is the ideal choice for pilots looking for the ultimate aerobatic experience. It's a brilliant Mike McConville design that's a synergy of a highly-tuned airframe and modern aerodynamics, all complemented by a stunning trim scheme by Mirco Pecorari of Aircraft Studio Design. A high power-to-weight ratio, plus high-quality components help deliver a new biplane with an aggressive 3D flight personality. Four enormous ailerons offer blinding roll speed while the massive elevator and rudder surfaces can make spin and snap gyrations as wild looking as they are predictable. The included AR636A receiver takes a great-flying airframe to a whole new level of precision thanks to AS3X® technology that's been specially tuned for this model. If you don't quite pull off a maneuver, like a rolling harrier, Panic Recovery mode adds a virtual safety net that can return the Ultimate2 to upright flight.
All you need to start flying the Ultimate2 is a full-range 6+ channel transmitter with Spektrum DSM2®/DSMX® technology, a 2200mAh 3S 25C 11.1V Li-Po flight battery and suitable charger.
Technology that makes Aerobatics More Satisfying
The advanced AS3X® (Artificial Stabilization – 3-aXis) system built into the Spektrum™ 6-channel AR636A receiver is what helps give the E-flite® Ultimate2 an incredibly solid look and feel in the air. It works behind the scenes to help counter the effects of wind and turbulence by combining 3-axis sensing with specially tuned flight control software. As a result, a highly-tuned design like the Ultimate2 is made even better because your workload to fly smoothly is significantly reduced. In addition to AS3X, the Ultimate2 includes Panic Recovery mode, a feature of SAFE® (Sensor Assisted Flight Envelope) technology that allows you to try new maneuvers without worrying about losing your airplane. Just push the panic button and the Ultimate2 will instantly return to level flight.
Panic Recovery Mode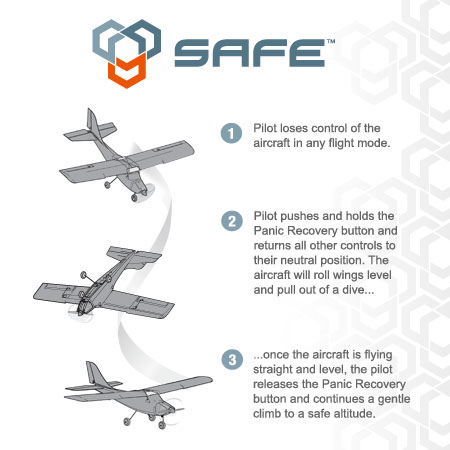 Tool-Free Field Assembly
With simple push-pin connections for the struts and one thumb screw in each wing, putting the Ultimate2 together is a snap.
AR636A Receiver
The installed Spektrum™ 6-channel receiver features uncompromised DSMX® 2.4GHz control, the amazing flight stability of AS3X® technology plus the SAFE® technology virtual safety net of Panic Recovery.
Brushless Power
Under the sleek cowl is a powerful 10-size brushless power system that features the fast throttle response of 1250Kv wind and a 40-amp brushless ESC.
3D-Size Control Surfaces
Four enormous ailerons, massive elevators and a huge rudder help you enjoy instant response at even slow airspeeds. Vortex generators near the leading edge also enhance 3D performance.
Z-Foam™ Material
Exclusive Z-Foam material makes it possible to create a design that's lightweight and surprisingly durable. Any repairs are simple to make with just about any fast-setting glue.
Video Overview
Product Specifications
| | |
| --- | --- |
| Completion Level | Bind-N-Fly Basic |
| Minimum Speed Control | 40A Brushless ESC |
| Recommended Motor Battery | 3S 2200mAh 25C (minimum) |
| Wing Area | 519 sq. in. (33.5 sq dm) |
| Minimum Required Radio | Full Range DSMX 6 channel computer radio |
| Motor Size | BL10 Brushless Outrunner |
| Product Length | 42.6 in (1082.3mm) |
| Power Type | Electric |
| Trim Scheme Colors | White with blue and orange |
| Wingspan | 37.6 in (954.4 mm) |