Discontinued
|
This Item is No Longer Available

Twin Otter 1.2m PNP, includes Floats
Discontinued
|
This Item is No Longer Available

Twin Otter 1.2m PNP, includes Floats
Product Details

VERSATILE AND CAPABLE
The DHC-6 Twin Otter was developed by de Havilland Canada in 1965. Designed as a rugged STOL (Short Take-Off and Landing) commuter aircraft, the Twin Otter carried passengers and cargo into harsh environments such as the sub-zero Antarctic and scorching North African desert. The line was shut down in 1988, after producing 844 aircraft. Viking Air Limited purchased the Type Certificates for all out-of-production de Havilland aircraft in 2005 and announced the Viking Series 400 Twin Otter Production Program two years later. By mid-2015 Viking delivered 75 new aircraft and re-established the Twin Otter as a successful commuter airliner — while nearly 500 of the original aircraft also remained in operation. The E-flite® Twin Otter 1.2m is a scale replica that makes the perfect first twin-powered model for intermediate to experienced RC pilots. It's versatile, easy to fly, and is outfitted with functional features that include LED navigation and landing lights, flaps, and optional-use floats.
Features
Scale replica of the STOL (Short Take Off and Landing) capable cargo and passenger carrying utility aircraft
Easy to take off, fly and land, making it a perfect choice for a first twin-powered model
Functional features including LED navigation and landing lights plus operational flaps
Scale details including molded-in panel lines, corrugated control surfaces and more
High-power brushless power systems with striped 3-blade counter-rotating props
A single 3S 1800–3200mAh battery delivers excellent power and long flight times
5-Channel control with six (6) factory-installed servos and linkages
Tricycle landing gear with steerable nose wheel for easy ground handling
Includes matching optional-use floats with steerable rudder for flying from water
Conveniently sized so it can be flown at soccer fields, large parks and in other suitable areas
Easy to install/remove one-piece composite-reinforced wing with thumbscrew and snap-in struts
Magnetically-secured top hatch for quick and easy access to the battery compartment
Lightweight and extremely durable composite-reinforced EPO airframe
Extremely fast and easy final assembly
THE PERFECT FIRST TWIN
For RC pilots who want a great first (or next) twin model, there's no better choice than the E-flite® Twin Otter 1.2m. It delivers exciting "bush plane" scale looks and performance along with the inherent stability of a high-wing design. The convenient size of the Twin Otter means you can transport it fully assembled for flying at a wide variety of locations with paved, grass or packed dirt surfaces, such as large parks, sports fields and RC flying fields. Your adventures won't stop there, though — remove the tricycle landing gear, install the provided floats, and now you're ready to fly off of large ponds and small lakes. Having two landing gear options included in the box only hints at this model's incredible value. Along with molded-in panel lines, corrugated control surfaces and a scale-inspired trim scheme, the E-flite Twin Otter comes with many functional features including operational flaps, LED navigation and landing lights, and props finished with black and white stripes that look awesome whether spinning or standing still. The Twin Otter 1.2m offers a truly unique flying experience that a wide range of pilots can enjoy.
Needed to Complete
(1) Full-range 5+ channel transmitter and receiver
(1) 3S 11.1V 2200–3200mAh LiPo with EC3™ or IC3™ Connector
(1) Compatible LiPo Charger
What's in the Box?
(1) E-flite® Twin Otter 1.2m with:

(2) 20A Brushless ESC (installed)
(2) Brushless Motor (installed)
(6) Sub-Micro 9-gram Servo (installed)

(1) Product Manual
Video Overview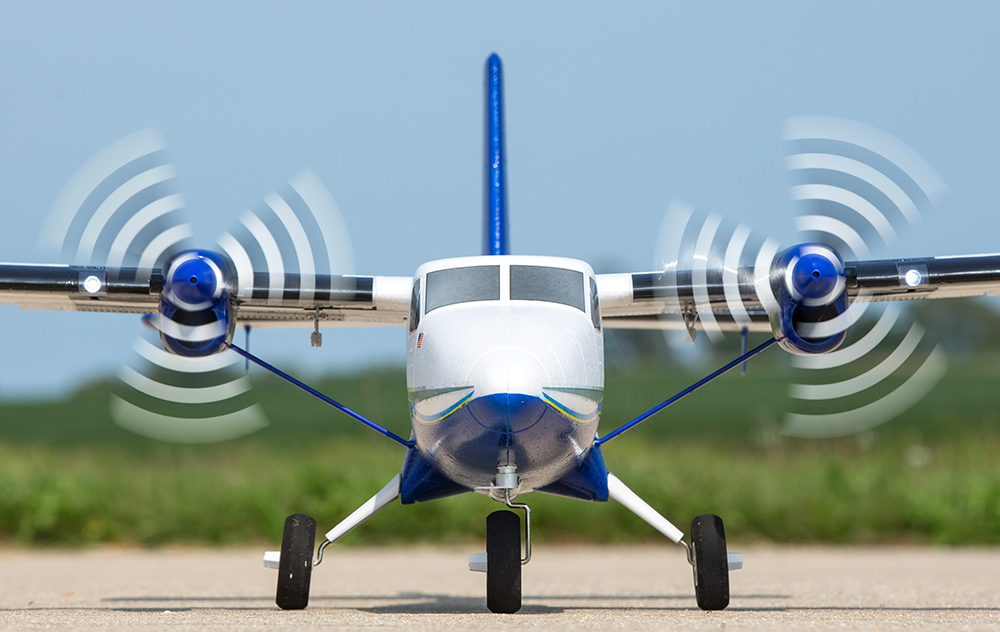 Twin Power
The factory-installed power systems feature high-power brushless outrunner motors equipped with three-blade counter-rotating propellers. The ESCs are wired so they can be powered with a single 3S 2200-3200mAh battery to deliver better-than-scale power and long flight times of up to 10+ minutes.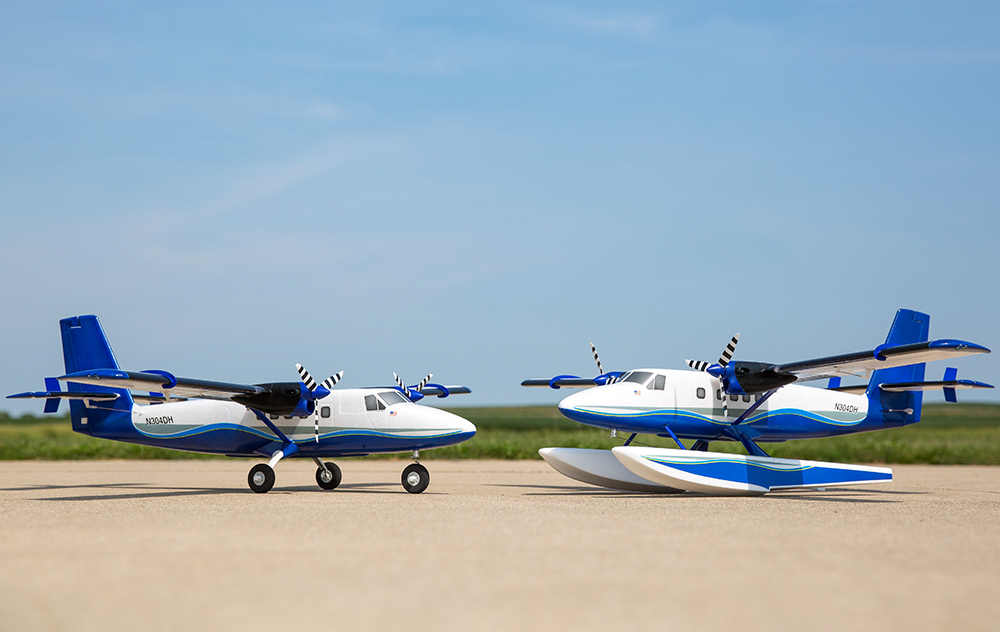 Versatile Gear Options
Equipped with tricycle landing gear that includes a steerable nose wheel, the Twin Otter offers excellent ground handling and can be flown from paved, grass or dirt surfaces. You can also fly from water using the included float set — it matches the trim scheme and features a water rudder for superb steering control. Both gear options are easy to install and can be swapped out in minutes.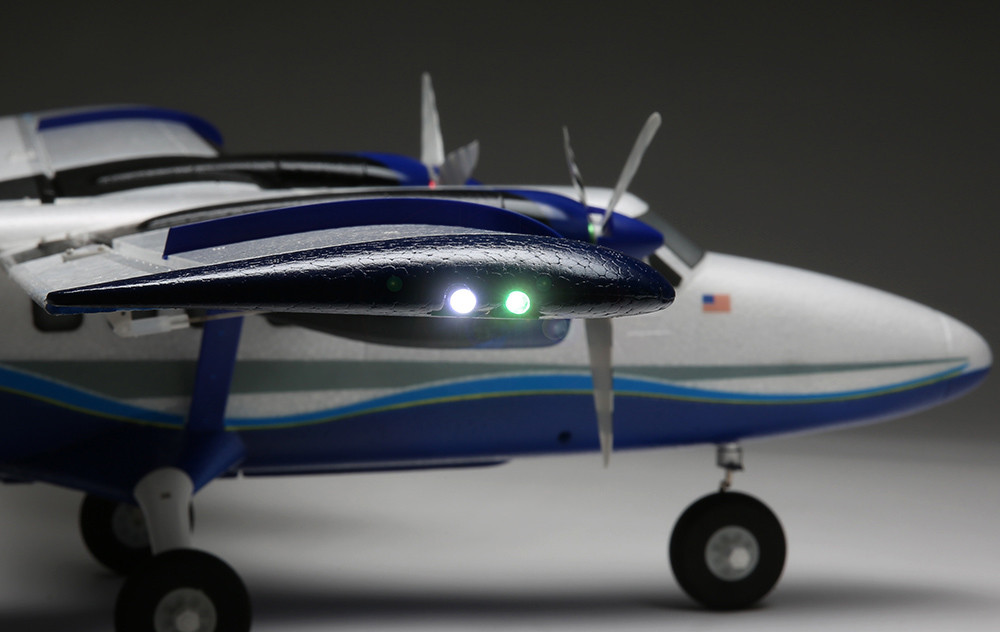 Functional Features
The realistic-looking LED landing and navigation lights are factory-installed and powered from the flight battery. Operational flaps offer improved slow-flight capability and performance while also making it possible to take off and land in shorter distances and at slower speeds.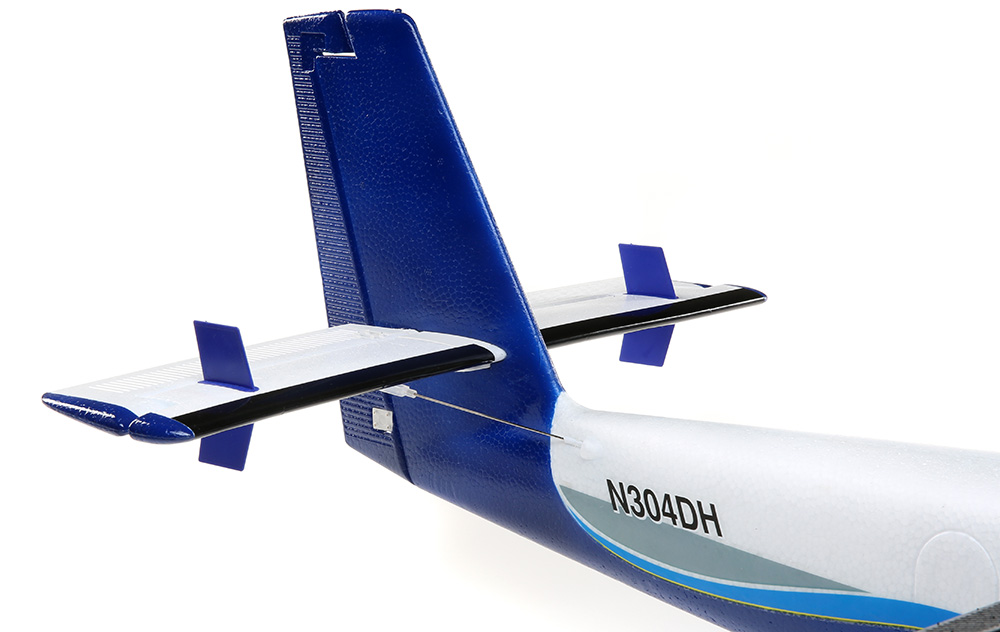 Durable Design
Construction with molded EPO material makes it possible to replicate complex details and shapes in a lightweight yet durable form. The result is an outstanding scale appearance that's easy to maintain and delivers the best flight experience possible.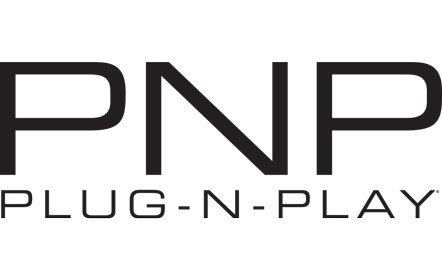 Plug-N-Play® Completion Level
This Plug-N-Play (PNP) model comes out of the box with a factory-installed power system and servos that are ready to connect to the compatible receiver of your choice (sold separately). Simply install the receiver, finish any final assembly, and fly!

Product Specifications
| | |
| --- | --- |
| LiPo Compatibility | 3S |
| CG (Center of Gravity) | 1.8" +/- 0.20" (45mm +/-5mm) from leading edge of wing measured at fuselage |
| Completion Level | Plug-N-Play |
| Propeller Size | 7 x 5.6 x 3 |
| Recommended Motor Battery | 3S 1800-3200 mAh |
| Landing Gear | Prebent wire, tricycle configuration |
| Speed Control | Included |
| Wing Area | 264 sq in (17 sq dm) |
| Product Length | 36.75" (933mm) |
| Charger | Sold Separately |
| Receiver | Sold Separately |
| Transmitter Range | Full |
| Airfoil Shape | Semi-symmetrical |
| Approximate Assembly Time | 1-3 Hours |
| Approximate Flight Time | 10 minutes |
| Flaps | Yes |
| Wingspan | 48" (1219 mm) |
| Wing Loading | 20-21.5 oz/sq ft |
| Power Type | Electric |
| Skill Level | Level 3 |
| Minimum Required Radio | 5-channel |