Discontinued
|
This Item is No Longer Available

Timber X 1.2m BNF Basic with AS3X and SAFE Select
Discontinued
|
This Item is No Longer Available

Timber X 1.2m BNF Basic with AS3X and SAFE Select
Timber X 1.2m BNF Basic with AS3X and SAFE Select
EFL38500
View Alternate Product Details
Product Details

Introduction
The original Timber® captured the thrill of incredible Short Takeoff and Landing (STOL) capabilities in a design featuring sporty flight performance and ultra-friendly handling. From low-time to very experienced pilots, nearly everyone enjoys flying the Timber–but some wish it had even more aerobatic capability. The E-flite® Timber X 1.2m combines the STOL capabilities of the original model with a new wing design featuring oversized ailerons and flaps, plus an enlarged rudder and elevator and a more powerful 3S and 4S compatible power system, to also deliver 3D performance you'd expect from an all-out aerobat!
Key Features
Incredible Short Takeoff and Landing (STOL) plus 3D capabilities
Enlarged and oversized control surfaces with double-beveled hinge lines
Six durable and factory-installed high-torque, metal-geared servos
High-power 3S and 4S compatible brushless outrunner motor and 50-amp ESC
Spektrum™ 6-channel receiver with industry-leading DSMX® technology
Unmatched stability and precision of AS3X® technology for smoother flight performance
Easy to fly with optional-use SAFE® Select flight envelope protection
Shock-absorbing landing gear with oversized tundra-style wheels
Functional and factory-installed LED landing, navigation and strobe lights
Lightweight yet durable composite-reinforced, hollow-core EPO construction
Optional-use leading edge slats for improved STOL and slow flight performance
Optional EDO-style floats (EFL5261, sold separately)
Needed to Complete
Full-range, 6+ Channel DSMX®/DSM2® transmitter
2200–3200mAh 3–4S LiPo flight battery (EFLB22003S30 or EFLB22004S30 recommended)
Compatible LiPo charger
What's in the Box?
(1) E-flite Timber X 1.2m with

(1) 50A Brushless ESC
(1) Brushless Outrunner Motor
(6) High-Torque, Metal-Geared Servos
(1) Spektrum AR636 6-Channel Receiver
(1) Set of Optional-Use Leading Edge Slats

(1) Product Manual
Overview
The E-flite Timber X 1.2m unleashes a new era of STOL plus 3D aerobatic capability. Based on the extremely popular Timber 1.5m model but featuring a new wing design, oversized control surfaces plus a 3S and 4S compatible power system, it offers an even wider flight envelope to deliver a truly "mild to wild" experience. Hollow-core EPO construction with composite reinforcement results in a lightweight yet strong airframe that's capable of handling extreme aerobatic maneuvers while keeping the wing loading low for impressive Short Takeoff and Landing (STOL) and slow flight performance. It's also equipped with high-torque, metal-geared servos plus the shock-absorbing landing gear of the original model so you can fly as aggressively as you want from almost any surface. You can even install the included leading edge slats for improved slow flight performance, or the optional floats (EFL5261, sold separately) so you can fly from water. Add in the LED landing, navigation and strobe lights plus many of the other popular features of the original, and the Timber X is a model almost every pilot can appreciate and enjoy!
Video Overview
On The Fly
See The Timber X In Action!

Bind-N-Fly Completion Level Advantage
Already own a Spektrum™ transmitter? Bind-N-Fly (BNF) aircraft make getting into the air quickly and with the best control experience possible easier than ever. They come out of the box with the power system, servos and a Spektrum 2.4GHz receiver installed so all you need to do is bind the receiver to a compatible transmitter, finish any final assembly, and fly!
This Bind-N-Fly Basic model is equipped with a Spektrum 2.4GHz DSMX® receiver featuring AS3X (Artificial Stabilization–3-aXis) technology that works behind the scenes to smooth out the effects of wind and turbulence so you enjoy a sense of stability and precision that makes it feel like you're flying a much larger, expertly tuned aircraft.
If this is your first model of its type, or you want an extra margin of safety while familiarizing yourself with the airplane, you can enable the optional-use SAFE® Select flight envelope protection technology built into the receiver. No programming is required. Simply change up the binding sequence as directed in the manual.
With SAFE Select enabled, you get:
Pitch and Bank Angle Limits
These envelope limits keep the airplane from rolling or pitching upside down. They also prevent excessive climb or dive angles.
Automatic Self-Leveling
The airplane instantly returns to and holds level flight when the sticks are released and in the center position. It's also helpful for keeping the wings level during takeoffs/launches and landings.
Easy Switch Assignment- No Programming Required
The simple procedure for assigning a transmitter switch to turn SAFE Select features on and off doesn't require any programming and takes just a few seconds.
If you don't want to enable the SAFE Select features, just bind the receiver normally and it will function like a standard AS3X receiver.
eXtreme Maneuverability
The Timber X 1.2m features a new wing design with a shortened span plus much larger ailerons and flaps, along with an enlarged elevator and rudder. Double-beveled hinge lines make it possible to deflect every control surface, including the flaps that can now travel in both directions, to high angles for outstanding control and eXtreme 3D aerobatic capability. Pockets in the rear of the fuselage and the included optional-use steel stabilizer joiner give you additional options to fine-tune the model's performance for even wilder 3D setups- or on low rates the controls can be as smooth and docile as they are on the original so you can fly as mild or as wild as you'd like!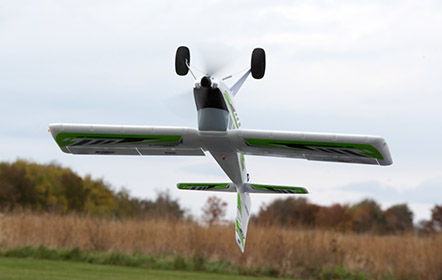 eXtra Power
The factory-installed brushless power system features a 50-amp ESC plus a specially-tuned motor and prop that deliver an abundance of thrust with a 3S LiPo battery, or eXtra power and vertical performance with a 4S battery without the need for any modifications or upgrades.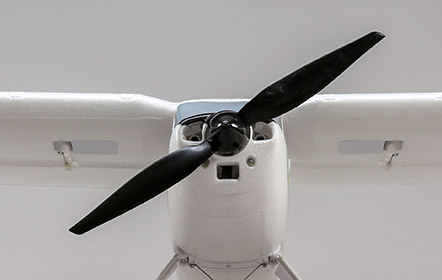 eXtremely Durable
Composite-reinforced, hollow-core construction with EPO material delivers a lightweight yet durable airframe. The Timber X 1.2m is also equipped with high-torque, metal-geared servos plus the shock-absorbing landing gear and oversized tundra-style wheels of the original model so you can fly aggressively from almost any surface.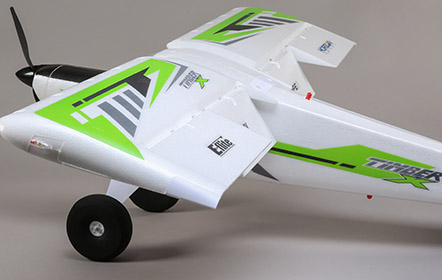 STOL (Short Takeoff and Landing) Capable
The new wing design has a shorter span yet almost as much wing area as the original, plus it features drooped wingtips and can be equipped with the included optional-use leading edge slats for improved slow flight and STOL performance. These features, along with the lightweight design, oversized flaps and high-power brushless motor make it possible to spring into the air or float down to land in as little as two feet or less.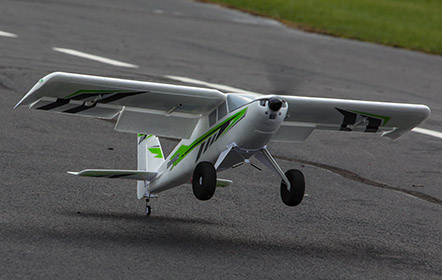 LED Lights
Like the original, the Timber X 1.2m comes with realistic-looking LED landing, navigation, and strobe lights that are factory-installed and powered from the flight battery.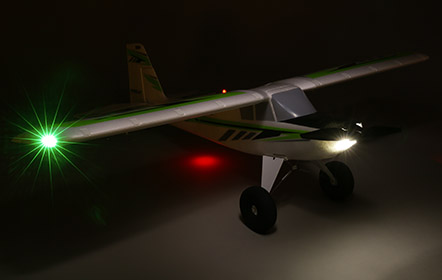 Optional Floats
Owners of an original Timber 1.5m model can use the float set it came with on the Timber X 1.2m, or the EDO-style float set is available separately and includes the required mounting struts plus a dual-rudder steering system for excellent handling and easy takeoffs and landings on water.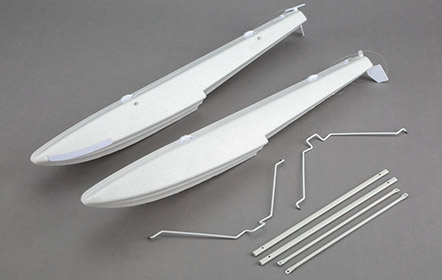 Product Specifications
| | |
| --- | --- |
| Approximate Assembly Time | Less than 1 Hour |
| Flaps | Yes |
| Material | EPO |
| Speed Control | Included |
| Motor Size | 10 Brushless Outrunner, 900kV |
| Product Length | 41.5 in (1055 mm) |
| Wing Area | 527.3 sq in (34.0 sq dm) |
| Outer Diameter | 0.4 in (10mm) |
| Power Type | Electric |
| Wingspan | 47.5 in (1200 mm) |
| Receiver | Included |
| Completion Level | Bind-N-Fly Basic |
| Propeller Size | 13 x 4 |