Triple T.
5.0 star rating
Grand Slam Baby!
Review by Triple T. on 30 Aug 2019
review stating Grand Slam Baby!
Okay, I've been into r/c airplanes since I was 18 - I'm 60 now

That does not make me an expert but, in my opinion the Timber X is truly awesome!!!

I only fly with 4S and although I haven't been able to fly it as often as I'd like, it never disappoints - my only complaint is the sore face muscles from smiling so big when I'm flying this machine - if my house was on fire I would take the Timber X with me. Yeah, of course I would go back for the wife! :)

Fly safe - have fun - take care! :)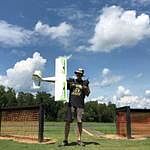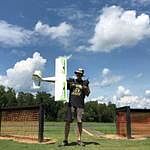 On Timber X 1.2m BNF Basic with AS3X and SAFE Select
Flyinggreek
5.0 star rating
Wow!
Review by Flyinggreek on 27 Jan 2019
review stating Wow!
Ok, so I maidened the Timber X and right out of the box, set up exactly like the manual says, straight to 3D and hard aerobatics. Inverted flight is a blast with the Timber X and it still has the same slow flight characteristics as the 1.5.
The 4S setup works awesome and has a massive amount of vertical authority.
Without the Slats installed, it doesn't slow down as nice as the 1.5 but you won't be disappointed at all with the X. Only adjustment I had to make was the right flaps servo arm was hitting the front of the servo box at full extension.

EFlite nailed the changes. Even without AS3X, it was super smooth and infinitely controllable. Good job EFlight. You guys hit the nail squarely on the head.
On Timber X 1.2m BNF Basic with AS3X and SAFE Select
My new go-to!
Review by Hammr412 on 13 Feb 2020
review stating My new go-to!
I don't buy anything that won't prop hang and I like minimal prep before I can fly. I wasn't in love with the looks, but here is my take:

It has the power on 4s to make 3D a true delight! I daresay it'll out-hang Eflite's Ultimate. It has taught me how to fly with torque roll-with enough agility that I'm not out of a plane if I mess up. Which I did! I smashed this thing into my barn roof. I only broke the prop and gear and scuffed the wing! This brings me to the fact that I'm not the biggest fan of the actual gear construction and battery hatch. I had difficulty getting the actual landing gear plastic back to sufficient rigidity to handle bumpy terrain. It's resilient I can fly it ANYWHERE. It flies more than my Precision Aerobatic Addiction because it's gear is so robust! My only other complaint is trying to pack a 4s into a tin for sardines.

It flies more than any other plane because I can STOL in my backyard without the worry of destroying my gorgeous Eflite Extra in the smaller flying space.

I did fall in love with the shape of the plane, especially with the wings a little forward! I love this bird.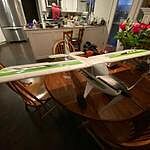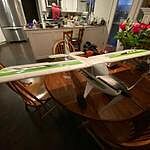 On Timber X 1.2m BNF Basic with AS3X and SAFE Select
Great Plane
Review by Andy S. on 30 Dec 2019
review stating Great Plane
I love to fly this plane, in 4s configuration it has tons of power and in 3s configuration its great to fly scale and has enough power to stay up. They only down side to this plane is the battery compartment is extremely small and you are very limited to batterys you can use.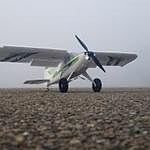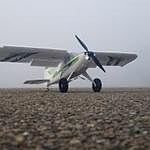 On Timber X 1.2m BNF Basic with AS3X and SAFE Select
A lot of fun for the value!!!
Review by Gpmx on 4 Feb 2020
review stating A lot of fun for the value!!!
As with most Horizon planes, I have nothing but great things to say about this plane. The broad range of capability is what I like best. Leave the plane in normal configuration and you can fly scale flight all day long. Put the flaps down for even slower and more fun take offs/landings. If you get bored then put in the metal horizontal stab, set up full span ailerons, and let it rip!! This plane is extremely capable in the right hands and can perform 3D maneuvers very well. I've flown in 15-23mph winds but due to the size and weight, plus it is foam, it gets thrown around quite a bit. The plane really excels in 5-12mph conditions. I always get a kick out of how many people pull up to our field with big trailers or trucks and spend 1-2 hours setting up their large-scale planes and pit area. By the end of the day, they end up flying their Timber X 2-3 times more than the large-scale planes, and I can't blame them. I would be quite nervous trying to enhance my skills with a plane that has several thousand dollars in value. With a price point of $249.99 and additional safety features of SAFE and AS3X, I never hesitate to throw this up in the air. Do not purchase as your first plane but if you are confident in 4 channel planes then you should be just fine. I would recommend started with a good amount of EXPO and then dial it back as you get comfortable. With zero expo, the plane can be quite twitchy and has a fast roll rate. I have 30+ flights and absolutely zero issues. I highly recommend 4S configuration with full span ailerons for the more advanced pilots. If you are looking to enhance your 3D practice/skills, try to hit the field early in the morning or late in the evening. Otherwise during the day this is a great scale flier when it's windier. If you are looking for an all-around capable plane, get this one and you won't be disappointed! Allows for quick fun in a small package. I can haul this the back of my SUV and don't have to take it apart. Throw it up in the air for a few quick flights after work and still be home at a decent time! This is exactly why everyone else at my field likes it so much, it requires no work and is all fun! Flight times are brief, around 5 minutes depending on the battery and type of flying. Recommend bringing a few batteries with you and it mitigates the short times. Yes, it is a foamie so it won't have the same durability as a balsa but overall it's well built. The foam does get indented and scrapped up over time but if you are careful it should last a very long time. Likewise, if you do need to replace for any reason, at this price, you could buy several of these before reaching the price of fully built balsa plane. There is definitely a reason this is a top seller for Horizon. I highly recommend this one. If I had to sell all of my planes and could only keep just one plane, it would be this one due to its broad range of capability. Happy Flying!!
On Timber X 1.2m BNF Basic with AS3X and SAFE Select