Sonicwake V2 36" Self-Righting Brushless Deep-V RTR

Sonicwake V2 36" Self-Righting Brushless Deep-V RTR
The Pro Boat® Sonicwake 36-inch Self-Righting Deep-V has exactly what you're looking for in a Deep-V design―speed and performance. Plus, it features a self-righting hull with sealing canopy.
Self-righting Hull Design
Spektrum SLT3 2CH 2.4GHz DSMR Radio System
Spektrum SR315 Dual Protocol Receiver
Spektrum 120A Marine ESC
4-pole Spektrum FIRMA 1900KV Water-cooled Brushless Motor
Sonicwake V2 36" Self-Righting Brushless Deep-V RTR
RC Club points earned on this item shown at checkout.
ⓘ
Product Details
In The Box
(1) Sonicwake V2 36-inch Self-Righting Deep-V
(1) Spektrum™ SLT3 3-Channel SLT Transmitter with SR315 Receiver (installed)
(1) Spektrum™ 120A BL Marine ESC (installed)
(1) Spektrum™ Firma™ 40x68mm 4-pole 1900Kv Motor (installed)
(1) Boat Stand
(1) Product Manual
Needed to Complete
(2) 100C+ 2S-3S LiPo Batteries with IC5® or EC5™ Connector
(1) Dual LiPo Charger
(4) AA Batteries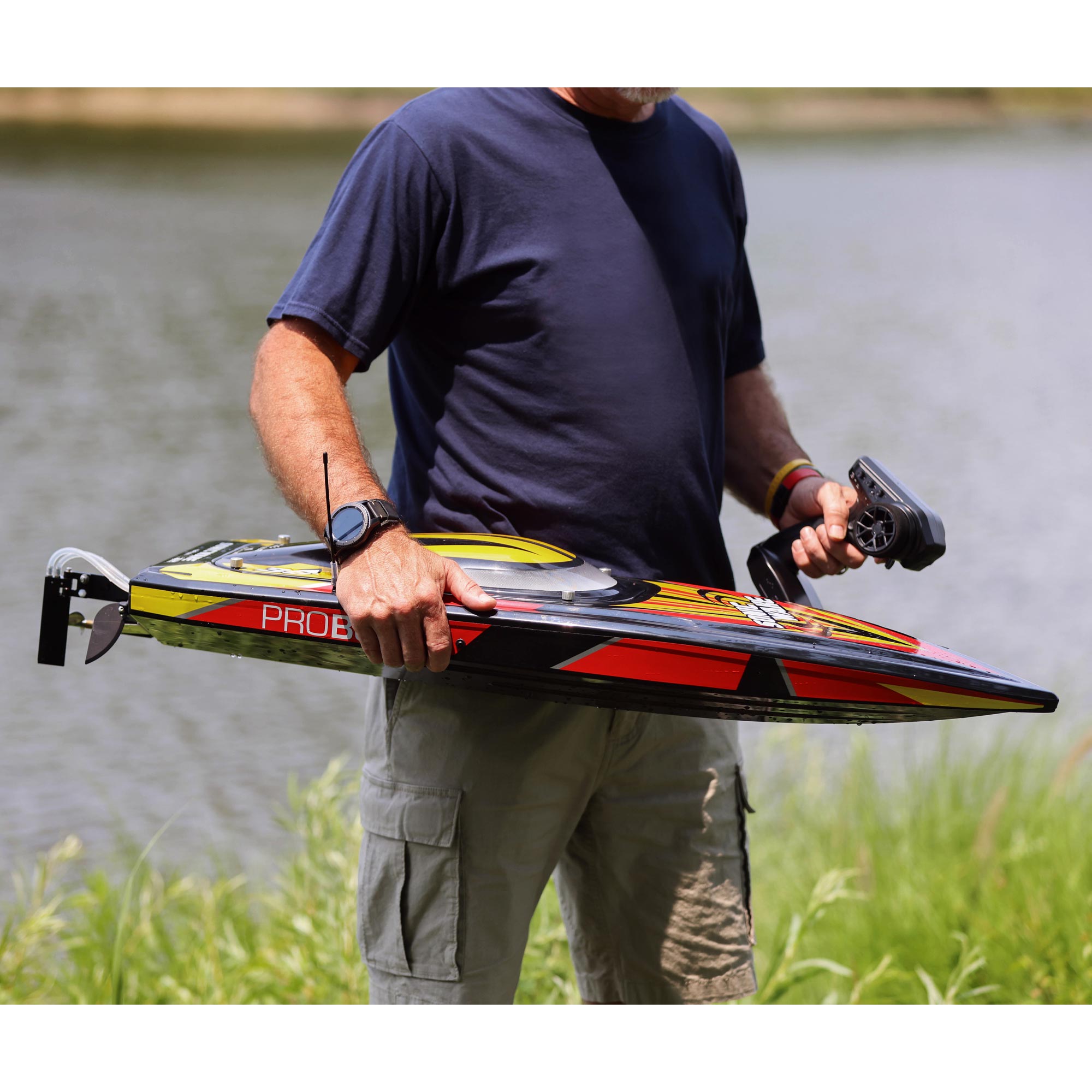 Features
Self-righting Hull Design
Spektrum SLT3 2CH 2.4GHz DSMR Radio System
Spektrum SR315 dual protocol receiver
Spektrum 120a Marine ESC
4-pole Spektrum FIRMA 1900KV water-cooled brushless motor
Sealed Canopy
Large turn fins, adjustable trim tabs, and large propeller strut
Aluminum Breakaway Offset Rudder
Screaming Across The Surface
Break through choppy water and go full throttle with the Pro Boat® Sonicwake 36-inch Self-Righting Deep-V. The perfect Deep-V for the beginner to the avid boater, it offers performance capable of hitting 50+ MPH and a worry-free self-righting feature that flips the boat back upright in a matter of seconds. The water-cooled 4-pole 1900Kv brushless motor invites you to go fast while the high torque, metal gear, and waterproof steering servo keeps you in control. It features improved dual water cooling, adjustable trim tabs, and larger turn fins. No matter your skill level, the Sonicwake features everything experts and beginners alike want in a Deep-V.
Video Overview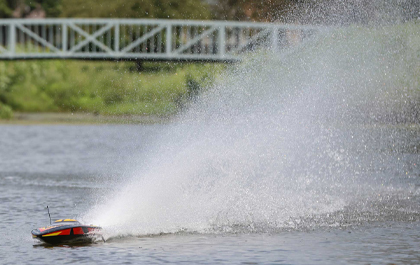 Serious Speed
The Sonicwake 36-inch Self-Righting Deep-V features a ballistic 40x68mm 4-pole Spektrum™ Firma™ 1900Kv water-cooled brushless motor capable of propelling the boat to speeds in excess of 50+ MPH.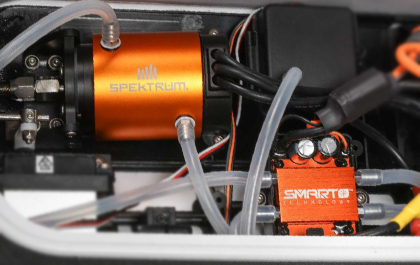 Extreme Power From Waterproof Electronics
The Sonicwake uses the new Smart-ready Spektrum 120A BL Marine ESC that can handle more amperage than needed to run the boat with authority and speed.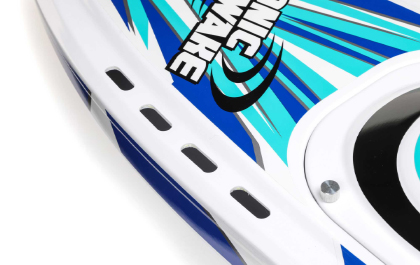 Self-righting Hull Design
Designed to be as stable as possible with a self-righting feature if you ever flip it. Unlike other boats, the self-right feature does not require power to work. Give it a few seconds and the flood chamber will fill with water, making the boat self-right. Hit the throttle and the water exits the flood chamber as the boat moves forward.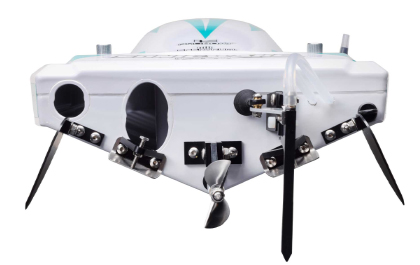 Upgraded Hardware
Now with larger turn fins, Adjustable trim tabs, and larger propeller strut. Fine tuning your boat has never been easier.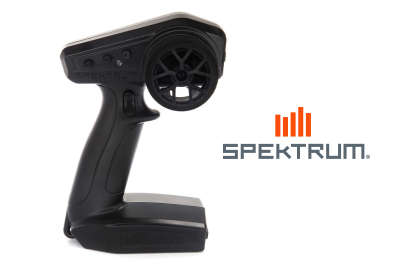 SLT Radio System
The SLT3 is included with the all-new Dual Protocol receiver. This system allows you to upgrade to the Spektrum radio of your choice, without the need to purchase a separate receiver.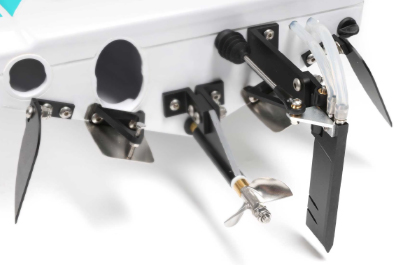 Dual Water Pickup
Keeping your electronics cool is a priority and we have increased the water flow by adding a dual water rudder pickup. This added water flow will make sure cool clean water is being sent to both the ESC and Motor keeping your temps in check.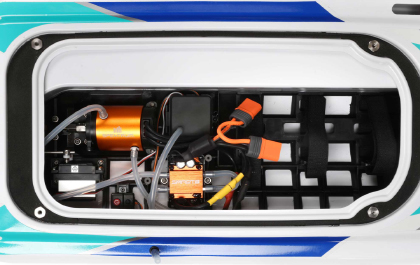 Clean Interior
Keep your boat looking good, with this all-new interior keeping your boat clean is easier than ever. We have integrated a receiver box to keep your interior looking clean and dry. We have optimized mounting post for the all new Spektrum™ Smart 120A water-cooled ESC and powerful Spektrum™ Marine Brushless motor while providing easy access to securing your batteries.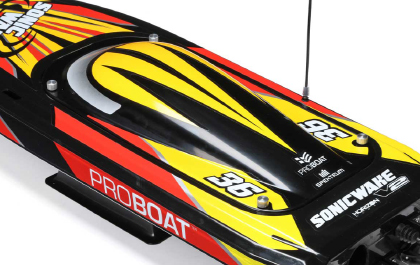 Sealed Canopy
The lightweight canopy features locking threaded thumb screws making it easy to put on and remove the canopy for hull access. A foam gasket around the canopy opening prevents water from flooding the hull when upside down.
Product Specifications
| | |
| --- | --- |
| Approximate Assembly Time | Less than 1 Hour |
| Hull Type | V-Hull |
| Product Weight | 5.5 LBS (2.5KG) |
| Vehicle Size | Large |
| Radio | Included |
| Beam | 11" (279 mm) |
| Trim Scheme Colors | Red/Black, Blue/White |
| Completion Level | Ready-To-Run |
| Hull Material | ABS |
| Propeller Size | 1.6x1.73 (40x68mm) |
| Recommended Motor Battery | 2x 3S 5000mah 100C+ with IC5® or EC5™ Connectors |
| Battery | Sold Separately |
| Drive System | Flex Shaft |
| Motor Size | Water-cooled Brushless 40x68mm 1900kv |
| Product Length | 36" (914 mm) |
| Steering | Offset Rudder |
| Hull Height | 4 inches (101.6mm) |
| Motor Type | Brushless |
| Speed Control | Included |
| Charger | Sold Separately |
| Receiver | Included |