Very light, difficult to install but, cool.
Review by New P. on 6 Jan 2017
review stating Very light, difficult to install but, cool.
If you are NOT a patient person DO NOT try this. If you are intended to install this device on an airplane with a wing span of more than 1000 mm DO NOT use this.
The skis looks cool but, they are very light for a big plane (sport cub S2 for example) I installed them on a e-flite Grasshopper ARF and, so far so good but, the hopper is well known for its low weight and slow fly.
You also need to supper tighten the screws that fixes the skis to the axle or they will roll around and pitch UP on bad landings......
Please note that, I'm not using the original landing gear on my Grasshopper; I replaced the axle with a 0.075 piano wire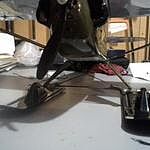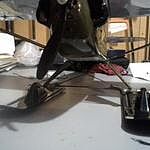 On Snow Skis, Park Flyer (2)
Handy Skis ... but pretty light!
Review by New F. on 10 Dec 2010
review stating Handy Skis ... but pretty light!
I purchased a set of these skis to put on my PZ Stinson Reliant. I was a bit worried they may be too small for that aircraft but I can tell you they actually work VERY well.

Installation was a bit of a chore as the "instructions" are sparse at best and consist of some printing on the packaging material. That stated, they are pretty straight forward and once you figure out where to put the Collet with the spring stop, so that you get the correct up canter on your skis you are pretty well good to go.

On the Stinson the wheel farings help with this as you can LOAD the spring and simply have the tips stop up on the faring but I would worry about the ski's rotating around in flight on a plane without wheel pants! If they had a hook or loop on the ski for the spring to clip into it would take care of this problem. You can probably just epoxy the spring in place if you do encounter this on your model.

Once installed these worked great. The grooves help the skis track like wheels on the snow. The Stinson popped right up so it handles the weight of that bird quite comfortably. Once you get moving they slide as easily as wheels on pavement, probably even better than wheels on grass, so take offs are a breeze. Same for landings, the skis track true and have plenty of footprint to make for nice easy landings that look GREAT on snow!

I did notice that the skis are VERY thin and light. This is good for keeping the weight down (they are likely lighter than the wheels that they replaced) but when things get cold, and of course they do, as, well, it's for flying off snow, they get a bit brittle. During taxi testing I hit a rut in the snow from someone's footprint. Low speed (tail still on the snow) but it managed to crack the ski almost completely across, just infront of the mount. I bought a second set, as i was anxious to get up in the air, but have since repaired the ski with some epoxy. Not a big deal, and for the price, it's an acceptable trait, but they are a bit delicate so use caution in picking your landing areas to avoid hard packed areas with rutting. On powder there will be no issues.

CONS:
Bit light / fragile.
Instructions are not very good.
Should have a spring mounting system to avoid free rotation of the skis in flight.

PROS:
These work great when mounted correctly. They hold up a 50" wingspan PZ Stinson without any issues.
They track well in the snow, very little friction!
They look very professional and nice on the plane.
They are pretty cheap and relatively easy to mount on your airplane as an aftermarket add-on!

OVERALL:

I really like my skis, they have opened up a new world of flying for me and serve the purpose very well. I am very pleased with my purchase and will probably use these again on other models!
On Snow Skis, Park Flyer (2)
Farmer T.
4.0 star rating
Great once you get them mounted
Review by Farmer T. on 15 Nov 2010
review stating Great once you get them mounted
I currently have these mounted on my E-flite Taylorcraft for winter flying and they are the perfect size for that plane. The mounting setup is a little weird and the instructions supplied aren't so great. You need to do some 'engineering' when mounting them to get them to work correctly with the supplied hardware but I was able to get the spring system to work well on that plane.

I purchased a separate set of gear for the Taylorcraft to mount the skis on and can now switch from wheels to skis with 2 bolts and about 1 minute of time.

On the high wing, slow flying T-craft, the skis work perfectly and really don't change the flight characteristics or trim of the plane too much. Take off and landing are great and it's really fun doing some touch and go flying in the snow.

I tried these a few years ago on a Great Planes Super Sportster and didn't have as good of luck with them on that plane but that is a bit larger, lot heavier, and quite a bit faster than the Taylorcraft. On that plane, the tips kept getting caught by the air and trying to flip around, etc.

Because of the mounting issues, I would only recommend these for llight, SLOW flying airplanes. I think if you put them on anything much bigger than a 480 size plane, you're going to start having problems.
On Snow Skis, Park Flyer (2)
Mdanemann
3.0 star rating
Dubro Park Flier Skis MOSTLY Work
Review by Mdanemann on 18 Aug 2010
review stating Dubro Park Flier Skis MOSTLY Work
I have a bunch of pairs of these skis. I love flying in the winter and landing on the snow. I actually think it's a great way to learn to fly because snow is generally so forgiving and the surface much larger and easier to deal with.

I don't think the mounting method for these skis really works. Using the included spring that holds the skis at a slight upward angle (so they land better) often results in the skis getting flipped around the axle -- especially if you pull any Gs. I have tried lots of methods including hot glue to hold the spring onto the ski and guy wires (rubber bands actually) to keep the skis from flipping. Next season I plan to try to put some sort of bushing in the space between the sides where the axle goes to see if I can just synch them down well.

The skis themselves are awesome, it's the mounting method that doesn't seem to work -- for me anyway.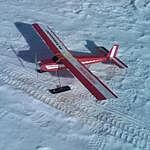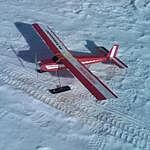 On Snow Skis, Park Flyer (2)
Dakotahawk
3.0 star rating
poor mounting scheme
Review by Dakotahawk on 26 Dec 2010
review stating poor mounting scheme
The single springs that comes with the skis will only mount so as to keep them from tipping nose downward. In flight on my 48 oz Extra they immediately tipped upward to nearly a full vertical position. This is like a giant airbrake and seriously inhibits flying qualities. I finally modified mine by purchasing some small springs and attaching them to the rear of the skis and then to the landing gear. This position retained them from flipping upward.

As packaged and sold I feel they are unacceptable. I recommend them reluctantly as they are the only ones I could find for small planes.
On Snow Skis, Park Flyer (2)