Discontinued
|
This Item is No Longer Available

Recoil 2 26" Self-Righting Brushless Deep-V RTR
Discontinued
|
This Item is No Longer Available

Recoil 2 26" Self-Righting Brushless Deep-V RTR
Product Details
In The Box
(1) Recoil 2 26" Self-Righting Brushless RTR
(1) Spektrum™ 3S 3200mAh 30C LiPo Battery
(1) Spektrum™ S120 Battery Charger
(1) Spektrum™ Firma 4335-2300Kv Brushless Outrunner (installed)
(1) 100 Amp Spektrum™ Brushless ESC
(1) Horizon 4-Channel 2.4Ghz Transmitter and Receiver
(1) Pro Boat 5.3kg Waterproof Servo
(1) Instruction Manual
(4) AA Batteries
Needed to Complete
Nothing! Everything you need to have fun with the Recoil 2 26" RTR is included in the box!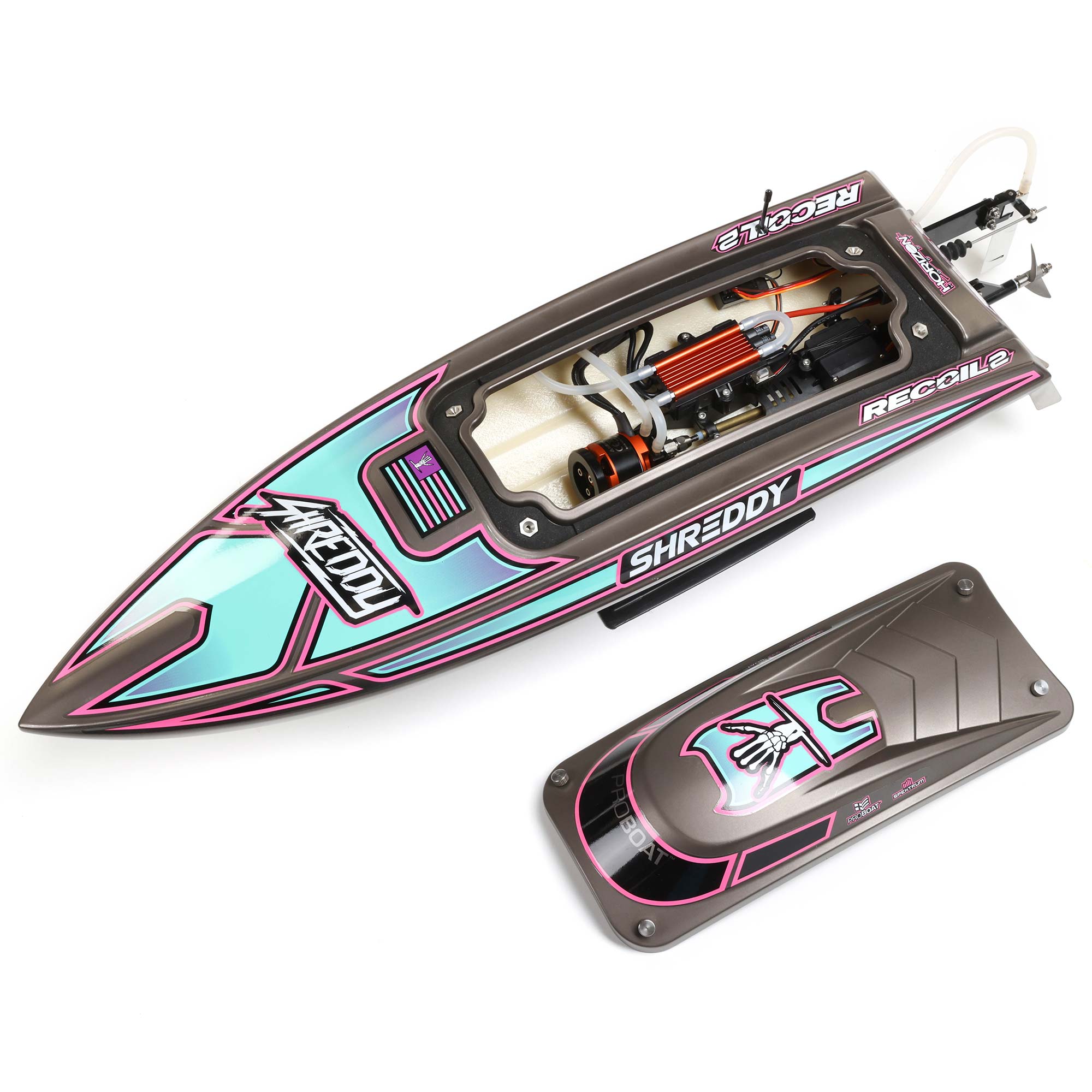 Features
High Impact ABS molded self-righting hull and canopy
Spektrum™ 2300Kv Brushless Outrunner Marine Motor with integrated weight
100 Amp Spektrum™ Brushless ESC
Two custom liveries by Heat Wave
Aluminum offset rudder and propeller strut
Flex shaft-driven propeller
Stainless steel hardware
Durable Aluminum Propeller
Horizon 4-Channel 2.4Ghz transmitter and receiver
Pro Boat 5.3kg Waterproof Servo
Flotation foam on canopy and hull
Boat Stand
Overview
The Pro Boat® Recoil 2 26-inch BL Ready-to-Run Deep-V picks up where the original Recoil left off and brings tremendous excitement with new aggressive styling, a more advanced self-righting feature, and better performance. The Spektrum™ 2300Kv Brushless Outrunner Marine Motor coupled with the high-powered 100 Amp Spektrum Brushless ESC can produce 35+ MPH of wake-inducing excitement. Plus, the Recoil 2 motor features an integrated weight on the outrunner that eliminates the need for the weighted coupler, which was the key to self-righting. With just a single press, your boat will flip upright after a wipeout. This new hull design is unique to the Recoil 2. Nobody else has it! Everything you need you need is included in the box. Four-channel, 2.4ghz transmitter and receiver, ESC, Servo, Spektrum Smart Battery and Charger, Boat Stand, and even the AA batteries. The Spektrum Smart 3S 3200mah battery and Spektrum S120 USB Smart Charger are a perfect start to get into the hobby. This Smart charger utilizes any USB port for charging, giving you a versatile charging solution no matter if you are a new or seasoned boater. The Recoil 2 also features a high-impact ABS molded hull and canopy with aluminum thumb screw canopy locks, a durable modular interior, and an aluminum offset rudder and propeller strut. With the latest technological advances and worry-free self-righting, the lake is yours with the Pro Boat Recoil 2 26-inch BL Ready-to-Run Deep-V.
Video Overview
Support Playlist
SMART TECHNOLOGY
The Recoil 2 includes a Smart battery and charger, making it as easy as plug into your charger, plug in the battery, and start charging. No need to worry if you have your voltage and amperage set correctly.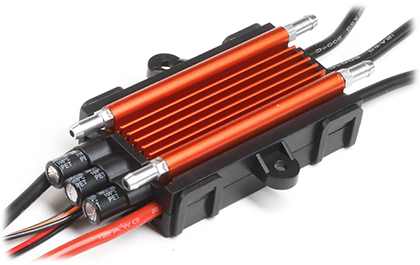 100 Amp Spektrum™ Brushless ESC
This all-new light-weight ESC is designed with self-righting in mind allowing for quick forward and reverse changes, which gives self-righting a boost in performance able to flip the boat over in the roughest conditions—programmed to work with the included transmitter and the automatic self-righting button. With just a single press, your boat will flip upright after a wipeout. Like to self-right using manual control? No problem, you can do that too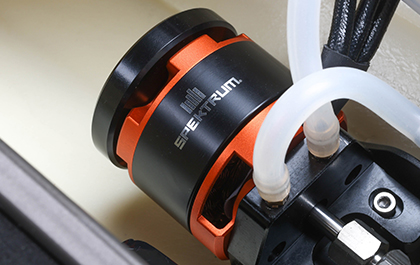 Spektrum™ 2300Kv Brushless Outrunner Marine Motor with Integrated Weight
The 4335 brushless outrunner motor includes the weight which is key to self-righting this boat on the motor can. This eliminates the need to have the coupler be weighted. It's one less piece of rotating mass inside of the boat.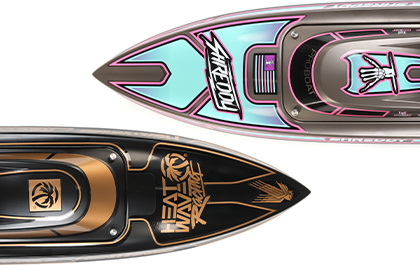 Two Custom Liveries by Heat Wave and Shreddy
The Recoil 2 features liveries created and licensed by Heat Wave and Shreddy. Now you can have the custom livery to match your apparel. Go for the Black and Gold classic look or go all-out wild with the Shreddy design inspired by Blake Wilkey.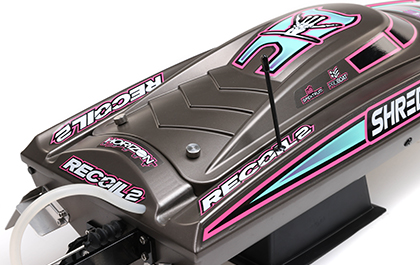 High Impact ABS Molded Self-Righting Hull and Canopy
Four thumb screws will secure the ABS canopy to the high impact self-righting hull. An EVA seal around the canopy will ensure that water is kept outside the hull.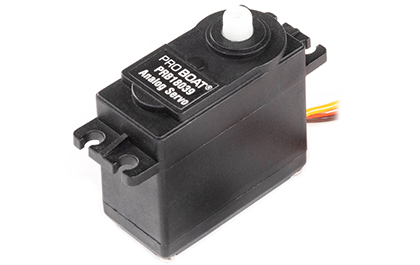 Pro Boat 5.3kg Waterproof Servo
The high torque servo provides more than enough power to keep the boat pointed in the direction. Waterproofing makes sure the servo is up to the task of being in a boat without the risk of failure due to getting wet.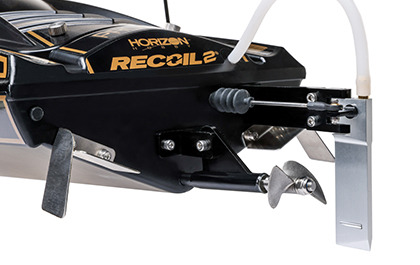 Aluminum Offset Rudder and Propeller Strut
The aluminum rudder and propeller strut provide higher performance when compared to composite or plastic. Hard anodizing ensures a long wear life.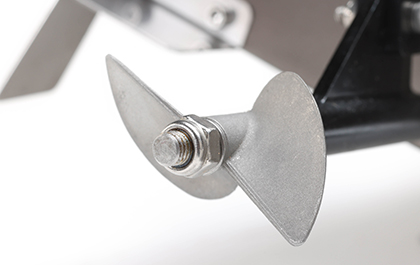 Flex Shaft-Driven Propeller
The flex shaft allows for propeller angle adjustment permitting use in most water conditions.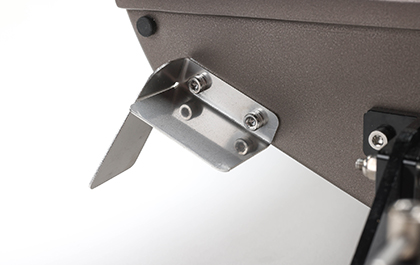 Stainless Steel Hardware
Stainless steel won't rust; Metric size screws make replacements easy to source.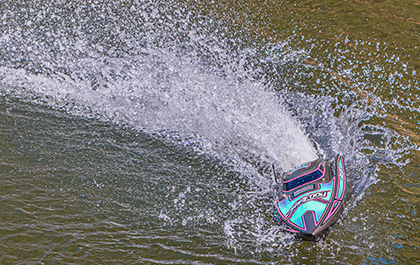 Unrivaled Turning Performance
The Recoil 2 hull and hardware were precisely tuned to provide turn-on-a-dime performance. The low center of gravity combined with the carefully tuned hardware makes this one of the tightest turning boats. Don't fear the flip, as this boat loves to stay planted in the turn.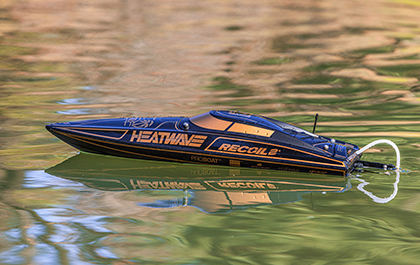 Flotation Foam on Canopy and Hull
The safety measure keeps the boat afloat in the event of a breach. The canopy also floats in the case of an improper installation.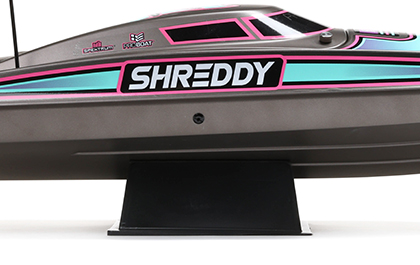 Boat Stand
The sturdy composite construction works as a display or work stand. Foam protects the boat's finish, and it can easily be used as a parts tray in time of need.
Product Specifications
| | |
| --- | --- |
| Hull Height | 5.75" (146mm) |
| Motor Type | Brushless |
| Speed Control | Included |
| Charger | Included |
| Receiver | Included |
| Product Weight | 3.3lbs (1.5kg) without LiPo Battery |
| Vehicle Size | Standard |
| Radio | Included |
| Approximate Assembly Time | Less than 1 Hour |
| Hull Type | V-Hull |
| Beam | 7.96" (202 mm) |
| Trim Scheme Colors | Heatwave (Black/Gold), Shreddy (Grey/Teal) |
| Battery | Included |
| Drive System | Flex Shaft |
| Motor Size | 4335 2300Kv Brushless Outrunner |
| Product Length | 26" (660 mm) |
| Steering | Offset Rudder |
| Completion Level | Ready-To-Run |
| Hull Material | ABS Plastic |
| Propeller Size | 1.6 x 1.6 |