Discontinued
|
This Item is No Longer Available

Pulse 15e 1.4m PNP
Discontinued
|
This Item is No Longer Available

Pulse 15e 1.4m PNP
Product Details

Key Features
Easy to complete final assembly
Tricycle and tail dragger landing gear options (included)
Converts easily to a float plane (sold separately)
Oversized access hatch and battery compartment
Matching wheel pants and blue anodized aluminum main gear
Potent 15-size brushless power system (installed)
Accepts a wide range of 3S 11.1V Li-Po battery packs
(4) Micro servos (installed)
Lightweight design with hollow structure
Constructed with durable EPO foam material
Tinted canopy provides a sport-scale appearance
Video Overview
The original Pulse model was introduced as a glow-powered sport airplane that today is a fun-fly sensation. With the Force RC® Pulse™ 15e, you can enjoy that great-flying design with all the benefits and durability lightweight EPO foam construction delivers. In addition to the high-power brushless motor system and metal-gear servos installed, the Pulse 15e sport plane also gives you the flexibility to choose from multiple undercarriage options including tail-dragger and trike gear setups, plus you can easily convert this low-wing favorite to a float plane using the recommended float set (sold separately). The oversized battery compartment fits a wide range of 3S LiPo batteries from 2200-4000mAh so you can enjoy a great flight with extra performance or longer run time.
Needed to Complete
Full-range, 4+ channel transmitter
Full-range, 4+ channel receiver
2200-4000mAh 3S 11.1V LiPo flight battery
Suitable Charger
What's in the box?
(1) Force RC Pulse 15e PNP Airplane
(1) E-flite 15-size Brushless Power System
(4) Spektrum Micro Metal Gear Servos
(1) User Manual
Landing Gear Options
Multiple mounting locations are provided to make your choice of either the tricycle or tail dragger landing gear option easy to exchange quickly.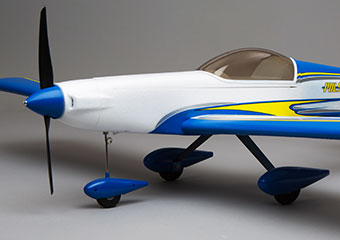 Float Plane Conversion
Conversion to a float plane takes only the addition of the lightweight E-flite® float set (sold separately) which includes a steerable rudder.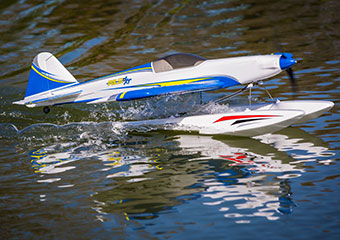 Wide Battery Range
Add flight time or increase performance instantly. The oversized battery compartment can accommodate a range of 3S LiPo packs from 2200–4000mAh.