Discontinued
|
This Item is No Longer Available

Pitts S-1S BNF Basic with AS3X and SAFE Select, 850mm
Discontinued
|
This Item is No Longer Available

Pitts S-1S BNF Basic with AS3X and SAFE Select, 850mm
Pitts S-1S BNF Basic with AS3X and SAFE Select, 850mm
EFL35500
View Alternate Product Details
Product Details

Features
An Aviat Aircraft Company officially licensed version of the iconic aerobat
High-power, 3S- and 4S-compatible brushless outrunner motor and 40A ESC
Spektrum™ 6-channel receiver with industry-leading DSMX® technology
Unmatched stability and precision of AS3X® technology for smoother flight performance
Easy to fly with optional-use SAFE® Select flight envelope protection
Scale outline and surface detail, plus a matching spinner and appointed cockpit
Durable aluminum landing gear with scale covers and wheel pants
Tool-free wing assembly with quick-release hardware
Optional-use flying wires included for added scale looks
Large cockpit hatch and removable tray simplifies battery installation
Lightweight and durable EPO foam construction
Factory-finished with a scale trim scheme
Overview
Nothing compares to a Pitts biplane. Critics around the globe agree—flying one will spoil nearly all other aerobatic experiences. First flown almost 75 years ago, to this day the Pitts plans, kits, and finished biplanes that leave the Aviat Aircraft Company, are all remarkably similar to the pioneering original design. The E-flite® Pitts S-1S park flyer is a tribute to the Curtis Pitts design that distinctively combines an authentic appearance with great handling for incredible performance any RC pilot can appreciate.
The E-flite® Pitts S-1S scale biplane is an officially licensed replica of the full-scale aerobatic icon that's expertly designed and equipped to deliver a flight experience that's easy to enjoy. The overall dimensions distinctly capture the revolutionary Pitts outlines while EPO construction helps present scale detail with a high level of durability. Even though installing and removing the wings is incredibly simple and tool-free, this beautiful bipe is sized so you probably never need to take it apart. Like the full-scale, under the hood is the kind of power that distinguishes this aerobat as a potent performer with virtually unlimited potential. Ballistic vertical climbs, dizzying snaps, crisp rolls and sharp corners are just a few of its specialties. Scale pilots will appreciate its smooth flight performance and level of detail, while everyone will enjoy its power system versatility. Whether you choose to fly this one-of-a-kind aerobat on a 3S or 4S LiPo, this Pitts S-1S bipe will deliver an aerobatic experience without equal.
Needed to Complete
Full-range, 5+ Channel DSMX®/DSM2® transmitter
1800–2200mAh 3–4S LiPo flight battery
Compatible LiPo charger
What's in the box?
(1) Pitts S-1S 850mm BNF Basic with AS3X and SAFE Select
(1) Spektrum 6-Channel Receiver
(4) Spektrum 9-Gram Servo
(1) E-flite 40A Brushless ESC
(1) E-flite 10-Size, 1200Kv Brushless Outrunner Motor
(1) User Manual
Video Overview

AS3X® Receiver with Optional SAFE® Select Flight Envelope Protection
This Bind-N-Fly® Basic model is equipped with a Spektrum™ 2.4GHz DSMX® receiver featuring AS3X (Artificial Stabilization – 3-aXis) technology that works behind the scenes to smooth out the effects of wind and turbulence so you enjoy a sense of stability and precision that makes it feel like you're flying a much larger, expertly tuned aircraft.
If this is your first biplane, or you want an extra margin of safety while familiarizing yourself with the airplane, you can enable the optional-use SAFE® Select flight envelope protection technology built into the receiver.
With SAFE Select enabled, you get:
Pitch and Bank Angle Limits
These envelope limits keep the airplane from rolling or pitching upside down. They also prevent excessive climb or dive angles.
Automatic Self-Leveling
The airplane instantly returns to and holds level flight when the sticks are released and in the center position. It's also helpful for keeping the wings level during takeoffs and landings.
Easy switch assignment—no programming required
The simple procedure for assigning a transmitter switch to turn SAFE Select features on and off doesn't require any programming and takes just a few seconds.
Authentic Detail
Besides the careful attention to every outline, scale detail includes the look of fabric covered construction, plus detents highlighting where panels and hatches are found on the full-size. The characteristic wedge-shape fuselage is crowned with a scale spinner in a shape often found on high-powered versions of the Pitts bipe while the cockpit area is neatly appointed with an enclosed canopy and painted pilot figure. Optional-use flying wires for added scale looks are also included.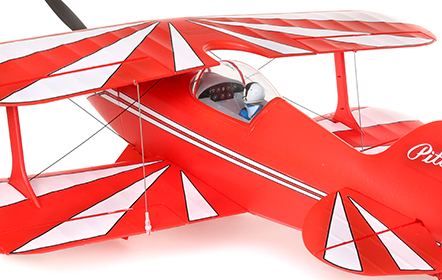 Abundant Power
The high-power brushless power system features an ESC, motor and prop that combine with a 3S LiPo battery to deliver an abundance of thrust and beyond-scale performance. Or you can install a 4S battery for ballistic, rocket ship-like vertical power and way beyond scale performance without the need for any modifications or upgrades.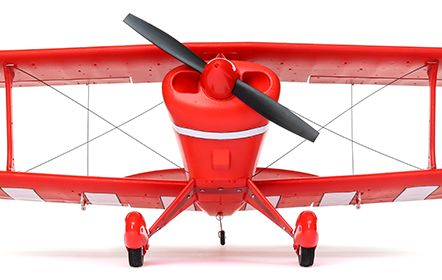 Tool-Free Field Assembly
Although sized to fit fully assembled in just about any vehicle, installation and removal of the wings is tool-free for the ultimate in convenience. Pins easily secure the struts into the wings while each center hard point is locked into place with adjustable locator pins and body clips.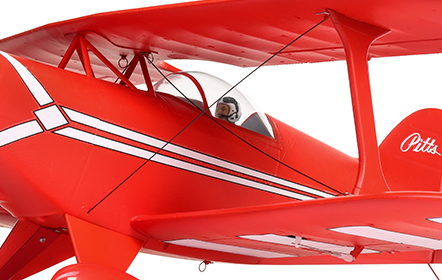 Durable Design
Construction with durable EPO material makes it possible to replicate complex detail in a lightweight form. The result is an outstanding scale appearance that's easy to maintain and allows the most satisfying flight experience possible to shine through.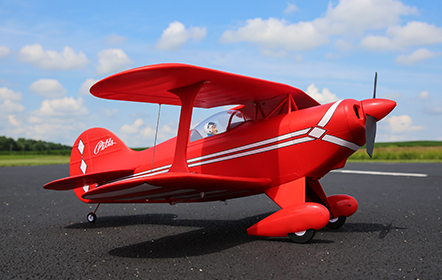 Product Specifications
| | |
| --- | --- |
| Completion Level | Bind-N-Fly Basic |
| Recommended Motor Battery | 1800-2200mAh 3-4S LiPo with EC3 Connector |
| Receiver | Included |
| Power Type | Electric |
| Wingspan | 33.5 in (850 mm) |
| Motor Size | 850Kv |
| Product Length | 31 in (787mm) |
| Speed Control | Included |
| Wing Area | 437 sq in (28.2 sq dm) |
| Minimum Required Radio | Full-Range 5+ Channel DSMX/DSM2 |
| Material | Foam |