Outstanding Scale Warbird
Review by Rcdawg on 29 Jan 2020
review stating Outstanding Scale Warbird
The E-flite P51D Mustang 1.5m BNF is an outstanding rendition both is scale looks and scale flying characteristics. The assembly is incredibly simple and it flies smooth, fast and locked in. The larger 1.5m size presents well in the air and the paint scheme is sharp and has great contrast even in overcast conditions.

Get one.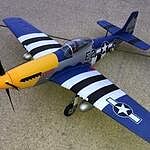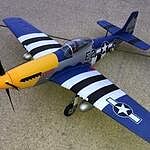 On P-51D Mustang 1.5m BNF Basic with Smart
DOUGLAS B.
5.0 star rating
Simply put a massive improvement
Review by DOUGLAS B. on 18 Aug 2020
review stating Simply put a massive improvement
Simply put a massive improvement over the 1.2m version!
On P-51D Mustang 1.5m BNF Basic with Smart
Best EPO P-51 Yet!
Review by Casey C. on 15 Aug 2020
review stating Best EPO P-51 Yet!
It Flies amazing! Ground handling great on grass... a handful on paved runway, but steady smooth power and ready on the rudder and your good to go! Yesterday had the best landing yet! Love it!
On P-51D Mustang 1.5m BNF Basic with Smart
One Great Warbird!
Review by Warhawk1 on 7 Feb 2020
review stating One Great Warbird!
This is my 3rd Eflite Plane since I got back in the game in December, 1st the Spitfire BNF 1.2 and next, that awesome Viper BNF. I DID do 5 star reviews, but they never showed, will try one more time! My choice was between this incredible Warbird and the F-4 Phantom, as much as I wanted the F-4, I wasn't crazy about the un-painted EPO bottom.
Just spent $500 on this awesome P-51, and Horizon service was fantastic, I ordered on a Thursday at 11:00 AM PST and it was at my door at noon Friday, Indeed 5 stars!
At 64, I used to build my planes from sticks, it used to cost $130 for a great plane, plus new radio, engine and accessories had you well over $600, so for a beautiful Warbird at $500 is a steal when I consider all my time. You really can build this bad girl faster than it takes to charge her up, the quality of the parts, no more fishing wires thru the bottom of the plane and fuselage, literally plug and play for a 60+ size Mustang and the quality of build is impressive!
It would appear that Horizon/Eflite has decided to up their game with this plane, its no trainer, but its not that difficult if you have experience with tail draggers and like others have said, be careful on the ground as you do your roll out, this plane has alot of power and torque, but once in the air, she'll fly low and slow all day long.
I am impressed!
On P-51D Mustang 1.5m BNF Basic with Smart
The Preeminent Mustang
Review by Young G. on 23 Jan 2020
review stating The Preeminent Mustang
I rarely scramble to purchase a new airplane on release, but this was an exception. After watching Horizon's product video and researching everything I could, I felt like this was the P-51 to own, and I am not disappointed. A ground-up Horizon design, smart technology, retracts, telemetry, etc; I had to own it. The paint, fit & finish is truly second-to-none, the sliding battery tray is a great idea that was executed well, the retracts and sequenced doors work beautifully. I have been flying Horizon's planes since 2010, it is amazing to see how far they have progressed within the decade.
On P-51D Mustang 1.5m BNF Basic with Smart
Q: Could you remove the pilot? and is it Ready To Fly out of the box?
A: The pilot is not easily removable, the canopy would need to be separated from the hatch.

Once out of the box, the model requires assembly, and a compatible transmitter, battery and charger to be ready to fly.