Discontinued
|
This Item is No Longer Available

P-39 Airacobra 1.2m BNF Basic with AS3X and SAFE Select
Discontinued
|
This Item is No Longer Available

P-39 Airacobra 1.2m BNF Basic with AS3X and SAFE Select
Product Details
In The Box
(1) E-flite P-39 Airacobra 1.2m Airplane
(1) 40A Brushless ESC
(1) 850Kv Brushless Outrunner Motor
(7) 9–Gram Servos
(1) Spektrum™ AR636 6–Channel Receiver
(1) Product Manual
Needed to Complete
(1) Full-range, 6–7+ Channel DSMX®/DSM2® Transmitter
(1) 2200–3000mAh 3S or 4S 11.1–14.8V LiPo with EC3™ or IC3™ Connector
(1) Compatible LiPo Charger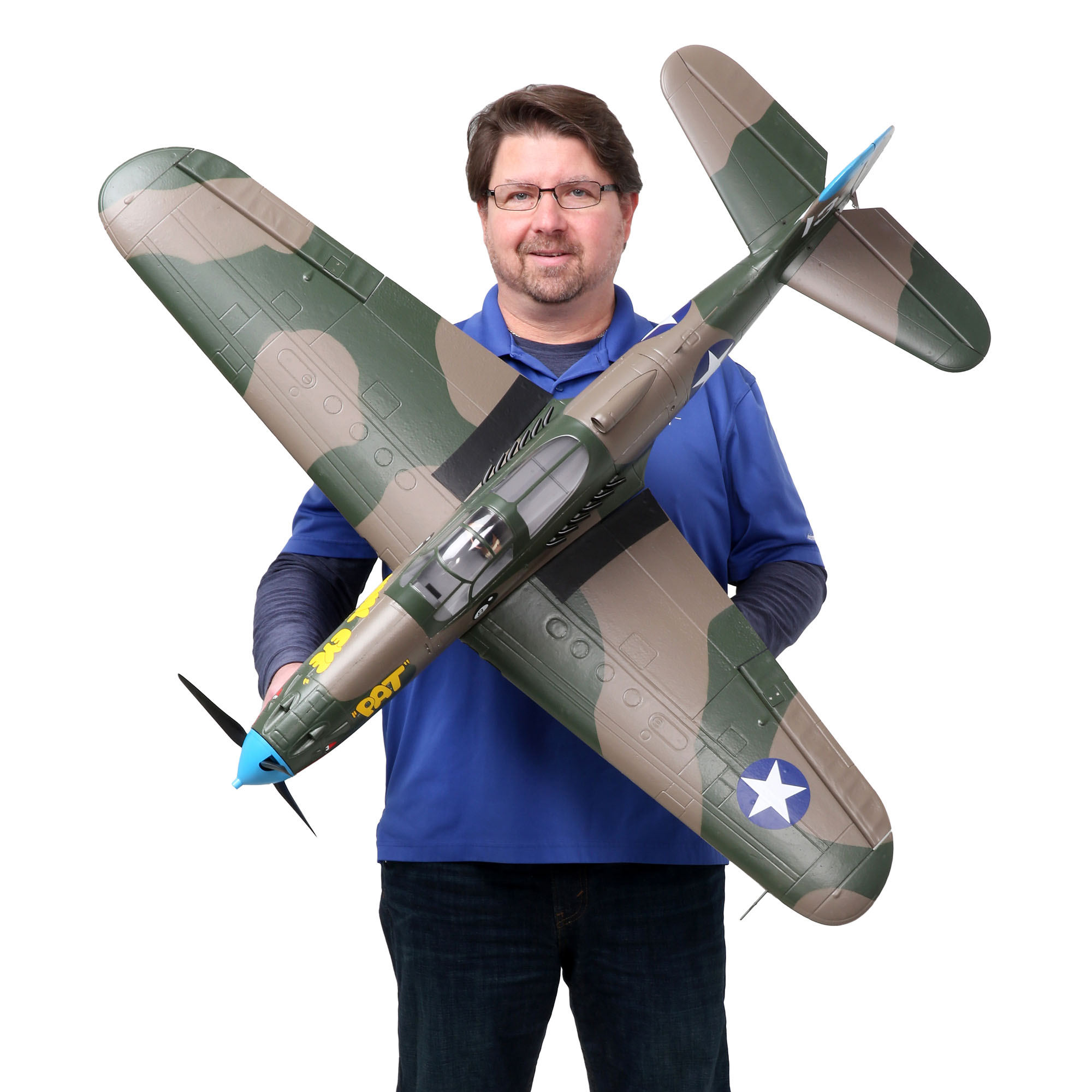 Introduction
With a streamlined design focused on carrying a centerline-mounted cannon to deliver incredible firepower with pinpoint accuracy, and as the first fighter equipped with tricycle landing gear, the Bell Aircraft P-39 Airacobra was both innovative and unique. It was one of the principal American fighters in service when the U.S. entered World War II, and also went on to be used by other Air Forces on various fronts throughout the war. The E-flite® P-39 Airacobra 1.2m is a scale replica of the unconventional fighter that's equipped with functional retractable landing gear and split flaps, plus a 3S and 4S compatible power system to deliver a unique warbird experience while also being easy to fly when it's equipped with exclusive AS3X® and SAFE® Select technologies (included with the BNF® Basic version only).
Key Features
Detailed scale replica of the innovative and unique fighter flown in World War II
High-power 3S and 4S compatible brushless power system with 3–blade prop
Functional split flaps and electric retracts with steerable nose wheel
6–channel control with 7 factory-installed servos and linkages
Spektrum™ 6–channel 2.4GHz receiver with industry-leading DSMX® technology
Unmatched stability and precision of AS3X® technology for smoother flight performance
Easy to fly with optional-use SAFE® Select flight envelope protection
Abundant scale detail including panel lines, exhaust stacks, removable drop tank and more
Factory-finished "Wahl Eye II" painted camo trim scheme with factory-applied decals
Large, magnetically-secured top hatch for convenient battery and electronics access
One-piece wing with hands-free servo/retract connection system
Lightweight yet durable molded EPO construction
Fast and easy bolt-together final assembly
Overview
The E-flite® P-39 Airacobra 1.2m scale model is a replica of one of the most unconventional and innovative fighters flown during World War II. It features a significant level of detail including panel lines, exhaust stacks, a removable drop tank, three-blade propeller and more. It's also equipped with factory-installed retractable tricycle landing gear and operational split flaps to enhance scale realism and the unique warbird flight experience it offers. The high-power brushless power system delivers outstanding performance when using a 3S LiPo battery, or you can install a 4S battery for well-beyond-scale speed and vertical capabilities- without the need for any modifications or upgrades. Lightweight yet durable factory-finished EPO construction, along with bolt-together assembly featuring a one-piece wing with an innovative hands-free servo connection system, means you can be ready to fly in less time than it takes to charge a battery. So whether you're an intermediate or advanced pilot, the P-39 Airacobra 1.2m delivers the scale detail, functional features and incredible performance you need to enjoy a warbird experience unlike any other.
Quick Look
Video Overview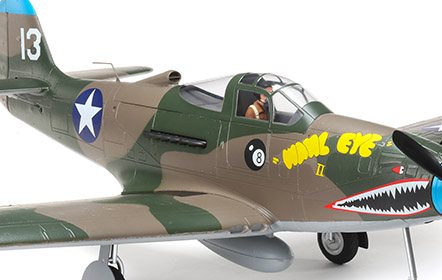 Scale Trim Scheme
Factory-applied paint and decals recreate the camo-trimmed P-39 variant "Wahl Eye II" that was flown by Lt. Eugene Wahl.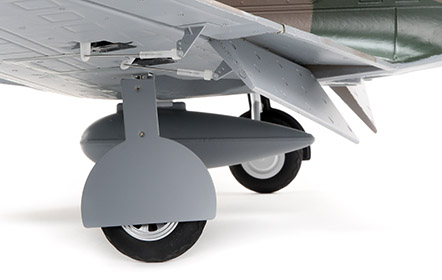 Functional Features & Details
Split flaps and tricycle electric retracts with a steerable nose wheel highlight the functional scale detail list that also includes a three-blade propeller. Simulated panel lines, hatches and other surface details, plus exhaust stacks, an antenna, pitot tube and a removable drop tank add to the scale realism.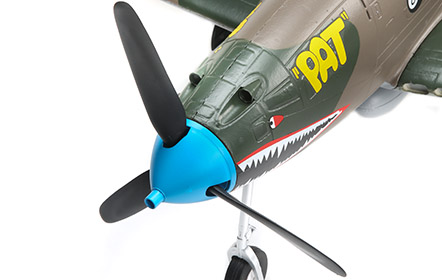 3S & 4S Compatible
The factory-installed power system features a high-power brushless outrunner motor, a robust ESC and a three-blade propeller that combine with a 3S 2200–3000mAh LiPo battery to deliver better-than-scale speed and vertical performance. Or you can install a 4S battery for ballistic speed and vertical capability without the need for any modifications or upgrades.
Durable Design
Construction with molded EPO material makes it possible to replicate complex detail and shapes in a lightweight yet durable form. The result is an outstanding scale appearance that's easy to maintain and delivers the best possible flight experience.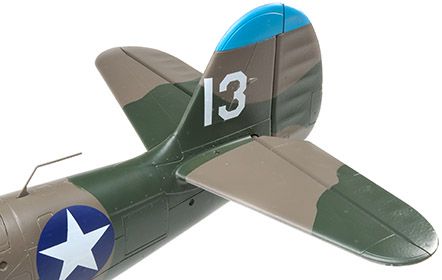 Easy Assembly
Plug-in horizontal stabilizers and the one-piece wing featuring an innovative hands-free servo/retract connection system bolt to the fuselage for quick and easy assembly/disassembly. This makes storage and transport as convenient and practical as possible, plus you can have the P-39 assembled and ready to fly in less time than it takes to charge a battery!

Bind-N-Fly Completion Level Advantage
Already own a Spektrum™ transmitter? Bind-N-Fly (BNF) aircraft make getting into the air quickly and with the best control experience possible easier than ever. They come out of the box with the power system, servos and a Spektrum 2.4GHz receiver installed so all you need to do is bind the receiver to a compatible transmitter, finish any final assembly, and fly!
This Bind-N-Fly Basic model is equipped with a Spektrum 2.4GHz DSMX® receiver featuring AS3X (Artificial Stabilization–3–aXis) technology that works behind the scenes to smooth out the effects of wind and turbulence so you enjoy a sense of stability and precision that makes it feel like you're flying a much larger, expertly tuned aircraft.
If this is your first model of its type, or you want an extra margin of safety while familiarizing yourself with the airplane, you can enable the optional-use SAFE® Select flight envelope protection technology built into the receiver. No programming is required. Simply change up the binding sequence as directed in the manual.
With SAFE Select enabled, you get:
Pitch and Bank Angle Limits
These envelope limits keep the airplane from rolling or pitching upside down. They also prevent excessive climb or dive angles.
Automatic Self-Leveling
The airplane instantly returns to and holds level flight when the sticks are released and in the center position. It's also helpful for keeping the wings level during takeoffs/launches and landings.
Easy Switch Assignment- No Programming Required
The simple procedure for assigning a transmitter switch to turn SAFE Select features on and off doesn't require any programming and takes just a few seconds.
If you don't want to enable the SAFE Select features, just bind the receiver normally and it will function like a standard AS3X receiver.

Product Specifications
| | |
| --- | --- |
| Motor Size | 850Kv brushless outrunner |
| Product Length | 1.1m (43.3") |
| Landing Gear | Yes |
| Speed Control | Included |
| Wing Area | 27.08 sq dm (419.76 sq dm) |
| Minimum Required Radio | At least 6-channel |
| Power Type | Electric |
| Skill Level | Level 2 |
| Trim Scheme Colors | Wahl Eye II painted camo scheme with factory applied decals |
| Wingspan | 1.2m (47.2") |
| Airfoil Shape | Semi Symmetrical |
| Approximate Assembly Time | Less than 1 Hour |
| Approximate Flight Time | 4 minutes |
| CG (Center of Gravity) | 1.7-1.7(44-50mm) from edge of wing with gear down |
| Completion Level | Bind-N-Fly Basic |
| Propeller Size | 11 x 8.5 |
| Recommended Motor Battery | LiPo, 3S 11.1V 2200mAh 30C, or 4S 2200mAh 14.8V 30C w/EC3 connector |
| Charger | Sold Separately |
| Receiver | Included |
| Transmitter Range | Full range |