Discontinued
|
This Item is No Longer Available

NIGHT VisionAire 1.1m BNF Basic with SAFE
Discontinued
|
This Item is No Longer Available

NIGHT VisionAire 1.1m BNF Basic with SAFE
Product Details
Key Features
SAFE® technology provides Panic Recovery mode so there's less risk of crashing
AS3X® system provides Precision and 3D flight modes
Spektrum AR636A DSMX® 6-channel receiver (installed)
High-intensity internal LED night lighting system (installed)
Powerful 10-size, 1250Kv BL outrunner motor (installed)
E-flite 40A Lite Pro brushless ESC with switch-mode BEC (installed)
Digital 13-gram micro servos with metal gears (installed)
Lightweight, carbon-reinforced Z-Foam™ construction
Advanced aerodynamics including leading-edge vortex generators
Two-piece, plug-in wing for easy transport and repair
3D-size control surfaces with double-beveled hinges
Durable wire landing gear and large wheels for flying off grass
Needed To Complete
Full-range 4+ channel programmable transmitter with Spektrum™ DSM2®/DSMX® technology
High-power 2200mAh 3S 11.1V Li-Po battery
3S LiPo compatible balance charger
Video Overview
Overview
Versatility with a Virtual Safety Net
The E-flite® NIGHT VisionAire® park flyer is specifically designed for sport pilots who want a 3D experience with more options. Based on the groundbreaking ParkZone® VisionAire design, the E-flite NIGHT VisionAire aerobat includes intense LED lights that give the internal structure a brilliant glow. But giving you more time to fly isn't the only thing visionary about it. The included Spektrum™ AR636A receiver has been specially tuned with an AS3X® system featuring a Precision mode and a 3D mode for an exceptional high-speed and 3D aerobatic experience. Not only are stunning moves even more fun to fly, if you get into trouble, SAFE® technology provides Panic Recovery mode so there's less risk of crashing.
Whether you're an intermediate park pilot looking to advance your aerobatic skills or a 3D expert who wants the versatility to fly day or night, the E-flite NIGHT VisionAire park flyer is ideal. All you need to start flying today is your favorite full-range 4+ channel programmable aircraft transmitter with Spektrum 2.4GHz DSM2®/DSMX® technology and a charged 2200mAh 11.1V 3S 30C Li-Po battery.
Engineered with SAFE® Technology
SAFE (Sensor Assisted Flight Envelope) technology is a revolutionary electronic flight envelope protection system that delivers a virtual safety net. Anytime you need to instantly recover back to level flight, just press the Panic Recovery Mode button or switch on your transmitter.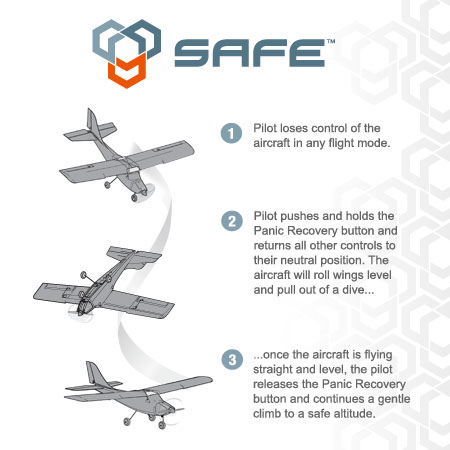 LED Lights
A brilliant LED lighting system illuminates the internal chambers of the Z-Foam™ structure. Now it's possible for you to use the calmer weather conditions at night to explore 3D flight.
AR363A Receiver
Beyond the precision of Spektrum™ DSMX® 2.4GHz technology, the AR636A 6-channal receiver has been specially tuned with exclusive features. Built-in AS3X® technology gives you the performance options of flying in Precision or 3D mode, plus SAFE® technology gives you the security of instantaneous Panic Recovery mode capability.
Brushless Motor
A high-output power system delivers the awesome vertical performance you need to perform 3D maneuvers with ease. It includes a 40-Amp Lite Pro Switch-Mode BEC Brushless ESC (V2) which cleanly channels power from the recommended 3S Li-Po battery.
Digital Servos and 3D Size Surfaces
The four E-flite® 13-gram micro digital servos deliver a high rate of travel and great holding power to the 3D-sized control surfaces. Metal output gears deliver an added level durability.
Advanced Aerodynamics
Vortex generators on the leading edges of the wing offer maneuverability at slow speeds and high angles of attack, giving you more control. The advanced dual-thickness airfoil and extended chord length of the aileron at the tips also increases slow speed stability.
Easy Access and Assembly
The two-piece, carbon fiber reinforced plug-in wings make transportation and assembly more convenient. A large top access hatch makes installation of the recommended E-flite 2200mAh 3S 11.1V 30C Li-Po (EFLB22003S30, sold separately) flight battery quick.
Product Specifications
| | |
| --- | --- |
| Servos | (4) 13g servo digital high speed servos included |
| Trim Scheme Colors | Blue, red |
| Wingspan | 45 in (1143mm) |
| Material | Foam and carbon fiber |
| Retracts | No |
| Airfoil Shape | Symmetrical |
| Approximate Assembly Time | Less than 1 Hour |
| Approximate Flight Time | 6 minutes |
| Flaps | No |
| Power Type | Electric |
| Spinner Size | 1.57 in (40mm) |
| Receiver | Included |
| Engine Size | N/A |
| Motor Size | BL 10 1250Kv |
| Product Length | 42.5 in (1080mm) |
| Speed Control | Included |
| Minimum Required Radio | Spektrum DX4e |
| Outer Diameter | 0.63 in (16mm) |
| Propeller Size | 12 x 4 |
| Recommended Motor Battery | 2200mAh 3S Lipo |
| CG (Center of Gravity) | 125 - 130mm from leading edge at wing root |
| Completion Level | Bind-N-Fly Basic |