MINI-Z 4WD Jimny Sierra RTR, Yellow

MINI-Z 4WD Jimny Sierra RTR, Yellow
MINI-Z 4WD Jimny Sierra RTR, Yellow
Earn
points on this item
ⓘ
Product Details
Highly-Detailed Mini-Crawler!
In 2019 the world's most popular mini RC series, known as the Kyosho MINI-Z, celebrated more than 20 years of unmatched performance and scale realism in the hobby-grade RC category. The continuous pursuit of performance and evolution has led to the creation of a completely-new 'MINI-Z 4x4' design that delivers an all-new driving experience for RC fans of all stripes, with superior overall design, driving performance and high-quality injection-molded scale body construction. A significant feature of the MINI-Z 4x4 series is the greater emphasis of body detail and quality of finish that even surpasses existing benchmarks set by the MINI-Z. The body is also molded with thicker material to better resist crash damage from operation in rough terrain. Incorporating the same ladder- style frame of real 4WD vehicles, the MINI-Z 4x4 boasts a 3-link rigid axle suspension combining what would normally be two upper links into a single upper A-arm to deliver maximum suspension movement. A specially designed high-torque steering servo enables this machine to throw its elbows around in the hard terrain for excellent performance in the toughest rock-crawler conditions. The high-torque 130-size motor brings out the beast in the MINI-Z 4x4, specially geared to run well in the low to medium speed ranges common in crawling.
Designed to balance exquisite style, scale detail and superior driving performance, all the MINI-Z 4x4 needs is 8 x AAA alkaline batteries (sold separately). Enjoy driving under any conditions, from normal driving to rock crawling while appreciating the stunning visual appearance. The Kyosho Mini-Z 4x4 is the only mini crawler that delivers a full range of crawling performance in a smaller package.
Video Overview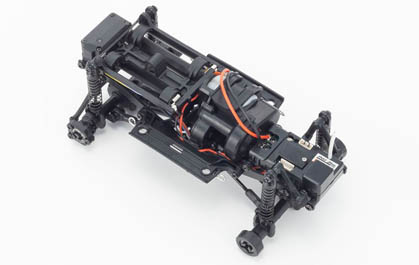 Suspension
The same ladder frame and multi-link rigid-axle suspension commonly used in popular 1:10-scale off-road models, is condensed into Mini-Z size for the most articulation and performance available in any mini RC truck.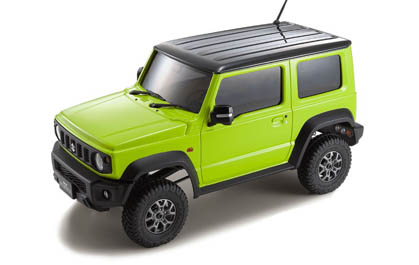 Factory Painted Body
The factory-painted body has so much detail it rivals that of a die cast model. Thicker body material provides more durability, enabling it to survive more aggressive off-road runs. Door mirrors are produced with a combination of gloss and matte finishes, while wipers, windshield washers, rain rails and door hinges add even more realistic details.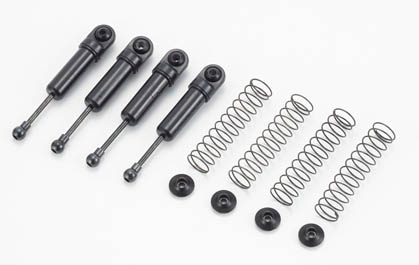 Shock Absorbers
The shock absorbers feature 360-degree spring retainers, which means they can't be lost on the trail and the springs are more likely to re-seat when the suspension settles after hard impacts or operating at the extreme limits of the suspension. The spring retainers simply cannot come loose.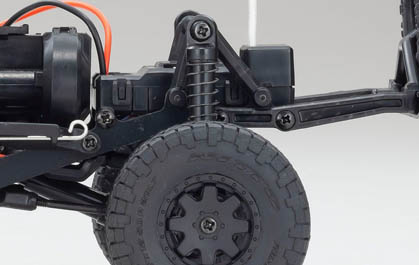 Wheelbase
The wheelbase can be changed to 110 or 120mm by changing the length of the spacer on the upper A-link. The Jimny, for example, is set to 120mm.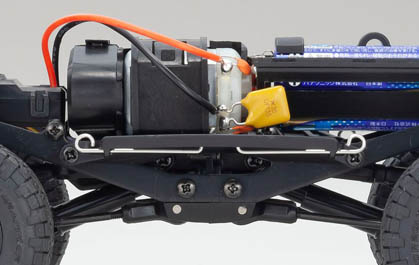 Motor
The Mini-Z 4x4 features a specially-designed high-torque motor that is unique in the Mini-Z World. It's optimized for maximum torque, and it develops more power at lower speeds.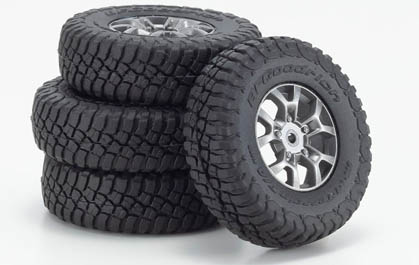 Tires and Wheels
Tires and wheels that are specific to each model are a major focus of the Mini-Z 4x4. This model features a scale reproduction of the BFGoodrich Mud-Terrain T/A KM3 tires mounted on Suzuki factory-replica wheels with an aluminum-like silver finish.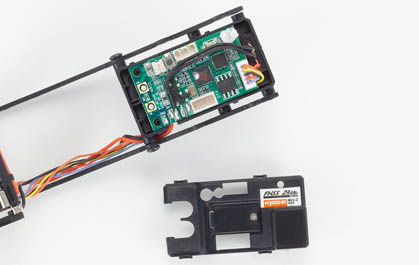 On-board electronics
The on-board electronics are also unique to the Mini-Z 4x4, with special features that improve the crawling experience. The accessory ports on top of the board allow an optional gyro and an optional LED light set to be easily plugged in to enhance performance and realism.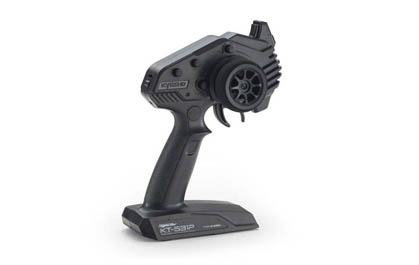 KT-531P transmitter
Included KT-531P transmitter operates on FHSS 2.4GHz and features steering/throttle trim in addition to dual-rate adjustment of steering angle and LED control functions. Control feel has improved with adoption of sponge steering wheel. Gyro effect can be fine-tuned through volume adjustment.
Product Specifications
| | |
| --- | --- |
| Power Type | Electric |
| Bushing Material | Plastic |
| Charger | Sold Separately |
| Servos | Included |
| Receiver | Included |
| Product Width | 3.3" (84 mm) |
| Radio | Included |
| Completion Level | Ready-To-Run |
| Drivetrain | 4WD |
| Drive Type | Forward/Brake/Reverse |
| Approximate Assembly Time | None |
| Body | Painted |
| Scale | Mini |
| Motor Type | Brushed |
| Speed Control | Included |
| Wheelbase | 4.72" (120 mm) |
| Vehicle Type | Rock Crawler |
| Water-Resistant | No |
| Battery | Sold Separately |
| Product Length | 7.59" (193 mm) |