Mikein V.
5.0 star rating
Great Indoor Trainer/Flyer
Review by Mikein V. on 5 Nov 2019
review stating Great Indoor Trainer/Flyer
I have never had good luck with micro helis. They would do great in "normal" mode but go nuts in stunt one. I bought mCP S and it did just that so I bought a 230S and it is a great heli, stable and predictable, and perfect to learn on. A change in jobs meant my days were no longer free and didn't have much daylight after work. So I pulled out the mCP S to figure it out so I could practice/fly indoors. Called Horizon and even though the heli was about a year old they are sending me a new board. In the mean time I went to my local Hobby Town to buy a new swashplate for the mCP S and saw the mCPX BL2 and the owner was raving about and that it would suite me better because of the improvements I made with the 230S, so I picked one up. Expecting my usual bad luck, I downloaded the DX9 setup from Spektrum and fired it up. It was rock solid. Practically no drift whatsoever. So I took it outside, got prepared, and I flipped to stunt 1 and was very pleasantly surprised. No funny movements or wild banking. A few trim adjustments and it would just sit in one place with no hands on the controls. I went back indoors and ran about 8 packs through it and it was great. No fear of practicing/flying indoors!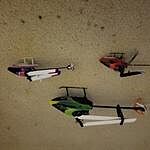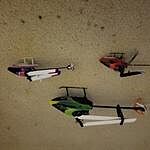 On mCPX BL2 BNF Basic
Best Micro Heli Hands Down!!!
Review by Hvr1 on 22 Oct 2019
review stating Best Micro Heli Hands Down!!!
The MCP X BL2 is an awesome machine. It flies very smooth, accurate and has an locked in feel on the sticks. Mode Z1 doesn't work very well, the altitude hold is garbage. Mode 2 is my favorite with my intermediate flying skills. Only fly mode 3 if you can do 3d or it is a guaranteed crash. I only crashed it once and had no damage to report after 30 flights. The pirouettes are locked in and very stable. Be warned to buy batteries and a charger for the BNF model. Increase the tail rates to 125% for the best performance. With that quick adjustment I have never had a tail blow out ever even during extreme pitch maneuvers. I recommend this awesome bird to anyone for all skill sets. This is the best Micro Heli hands down on the market today!!
On mCPX BL2 BNF Basic
Jeli4that H.
5.0 star rating
Man this is sweet
Review by Jeli4that H. on 4 Dec 2019
review stating Man this is sweet
This helicopter is exactly what I've always wanted. period.

I have and still fly an oldie version 1 brushed mcp x, and this is by far my favorite helicopter of all time, until now.

Kudos to horizon hobby in that they are listening to their customers (i.e. a post on none other than helifreak.com), where they asked what do you we want? the answer was unequivocally, a 2s micro heli like the mcp x. And horizon hobby delivered.

Horizon hobby: Keep the iterations coming on this heli and I will keep buying them. Please Don't abandon this platform. Cheers and thanks from Virginia.
On mCPX BL2 BNF Basic
An update to my one star reveiw
Review by Monty on 28 Oct 2020
review stating An update to my one star reveiw
I called customer support and they told me the part to order it was my problem and the heli flys good
On mCPX BL2 BNF Basic
Wildblue3011
5.0 star rating
Just what I was hoping for.
Review by Wildblue3011 on 19 Oct 2019
review stating Just what I was hoping for.
I owned the green Blade mCPX V2 back in the day. While it had its shortcomings, it was fun to fly and a good practice heli for advancing my skills. That was the last Blade heli that I owned up until now. It seemed like their many models in between always used oddball battery sizes that I was never willing to purchase. Which brings me to the mCPX BL2. I was thrilled to see this heli because 1) I was a fan of the old mCPX and 2) it uses the same battery as my two UMX planes.

The maiden flight went well, more or less what I was expecting. Using a Nano-tech 2S 300 mAh pack I was able to get flight times of 5:30 min. I ran a head speed of 80% in idle-up mode. I did notice a bit of random shakiness ocassionally, but it would quickly subside. The tail piro rate seemed a bit slow. I was running 90% dual rates all around.

This thing has lots of punch on the collective. I have not tried any inverted flight yet as I was limited to flying in my driveway today. Overall I am quite pleased. This heli feels very locked in and responsive. Also very stable in the 15 - 20 kph winds. This heli will be a great way to get my heli fix without having to travel to a proper club field. I deducted one star for value as the price in Canadian dollars gave me a bit of sticker shock ($245 CDN). Otherwise, so far the mCPX BL2 is a solid purchase.
On mCPX BL2 BNF Basic