Discontinued
|
This Item is No Longer Available

Maule M-7 1.5m PNP, includes Floats
Discontinued
|
This Item is No Longer Available

Maule M-7 1.5m PNP, includes Floats
Product Details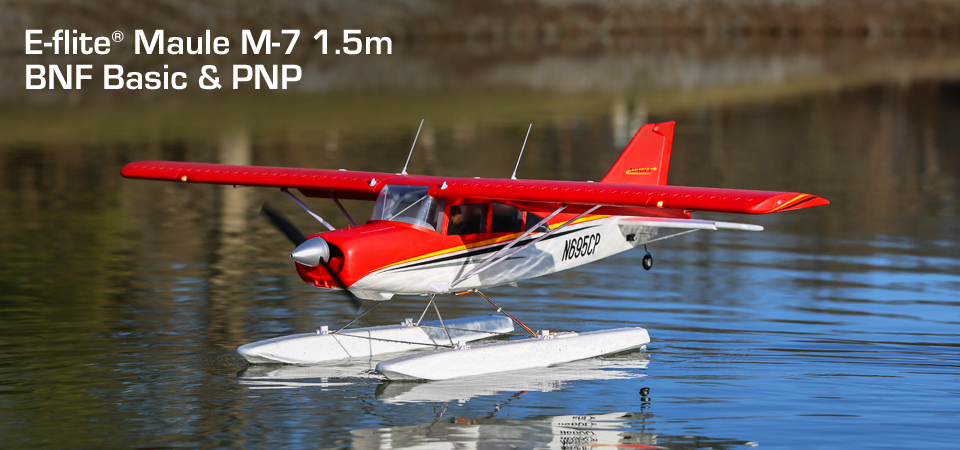 While America geared up to go higher and faster, B.D. Maule was hard at work in a quiet country corner developing his vision of an aircraft that would give pilots the ability to do the exact opposite—practically. Maule Air Inc. has flourished ever since by delivering planes around the globe with renowned STOL capability and value. The E-flite® Maule M-7 1.5m park flyer is an officially licensed tribute to the full-size marvel that includes an abundance of scale detail, rugged landing gear, flaps and an optional-use float set so you can conquer any terrain year-round.
The E-flite® Maule M-7 1.5m captures the Short Take Off and Landing (STOL) capabilities, along with the unmistakable lines and character of the rugged full-scale design series. From the crystal-clear cabin windows and interior detail to an abundance of exterior features including LED lights, antennas, vortex generators and riveted panels, the Maule breaks new ground in park flyer-size civilian scale authenticity. EPO construction results in a lightweight yet durable airframe. The two-piece wing is equipped with operational flaps for outstanding slow flight performance and STOL capabilities. The factory-installed 3S and 4S compatible brushless power system delivers plenty of performance for flying from smooth or rough surfaces using the oversized wheels, or when flying from water using the included float set.
Video Overview

Needed to Complete
Full-range, 5+ channel transmitter and receiver
2200–3200mAh 3–4S LiPo flight battery
Compatible LiPo charger
What's in the box?
(1) Maule M-7 1.5m PNP
(1) 15 BL Motor
(1) 40A Brushless ESC
(7) 9g Servo
(1) Landing Gear Assembly
(1) Float Set
(1) User Manual
Authentic Detail
As an officially licensed replica, this scale model features clear windows and interior detail including a pilot figure, plus complements to the scale outline including antennas, molded panel lines, rivets, vortex generators and functional LED lights.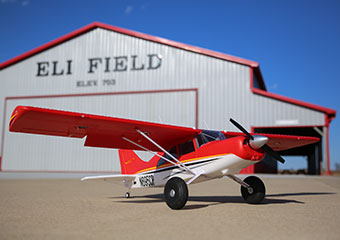 Convenient Access
You get direct access through a front top-hatch that makes flight battery changes simple and convenient when using a 3–4S LiPo pack from 2200–3200mAh. A concealed hatch in the bottom offers easy access to the receiver resulting in a scale appearance that's more authentic.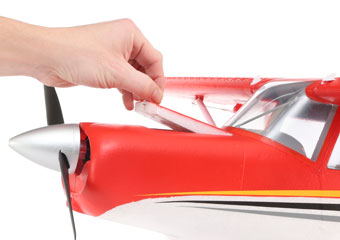 Versatile Brushless Power
The factory-installed power system features a high-power brushless outrunner motor and ESC that's versatile enough to run either a 3S or 4S LiPo battery (sold separately). Either way, you enjoy thrust that hauls this Maule into the air with ease.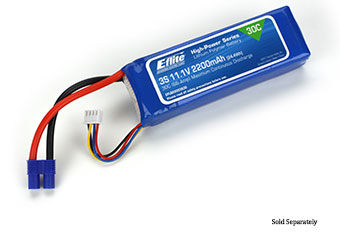 Easy to Assemble
No glue is required to complete assembly. The wing features a two-piece, plug-in design with folding struts that makes transport and storage convenient. The horizontal stabs slide into place and are secured with screws so assembly is quick and easy.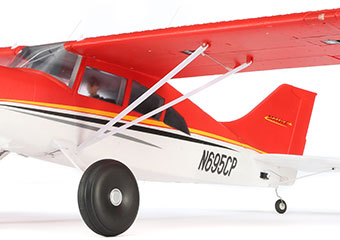 Functional Flaps
Like the full-size counterpart, the factory-installed flaps provide aerodynamic braking when deflected and increase lift substantially for stable slow-speed flight and remarkable STOL performance.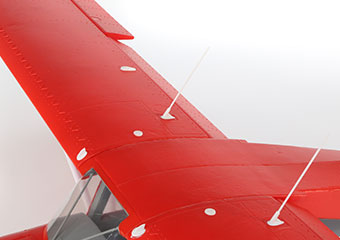 Floats Included
The included float set features a water rudder for superb steering control. The custom strut package ensures accurate alignment so that setup to fly from water is a breeze.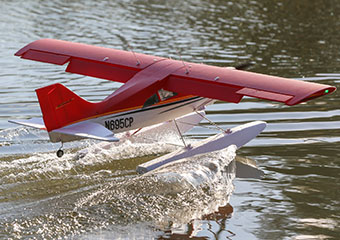 Product Specifications
| | |
| --- | --- |
| CG (Center of Gravity) | 55-65mm |
| Completion Level | Plug-N-Play |
| Propeller Size | 11 x 7 |
| Recommended Motor Battery | 2200-3200 3-4S LiPo |
| Power Type | Electric |
| Skill Level | Level 3 |
| Wingspan | 59 in (1500mm) |
| Motor Size | 1050 kv |
| Product Length | 43.3 in (1100mm) |
| Flaps | Yes |
| Material | EPO |
| Receiver | Sold Separately |
| Minimum Required Radio | 5+ (Sold Separately) |
| Landing Gear | Yes |
| Speed Control | Included |
| Wing Area | 557 sq in (35.9 sq dm) |