Jetstream 600 EP Brushed Boat RTR, 24" (Type 2)

Jetstream 600 EP Brushed Boat RTR, 24" (Type 2)
Product Details
Features
Readyset including 2.4GHz radio system realizes great value.
Unique W stepped V-shaped lower hull realizes high durability, excellent acceleration and stable turning performance.
Pre-installed marine spec Marine WP Brushed 45A ESC featuring a 2-stage motor cut program.
Equipped with powerful G20 water-cooled brush equipped motor.
Left and right flaps can be adjusted independently to produce improved high-speed running stability.
Features a turn fin that delivers stable turning.
Automatically rights itself, even after capsizing!
The W-step and deep V combine in a unique lower hull design to deliver true racing boat performance from its moderate 690mm length. Kyosho's long history of accumulated boat design know-how has been concentrated in the advanced EP Jet stream 600. Waterproof ESC and servo, and a receiver with waterproof coated circuit board are contained within a waterproof radio box so you can be aggressive in attacking on-water courses. Furthermore, if capsized, the structure uses the change in center of gravity from water entering the ballast room to automatically right itself. For total peace of mind, the ESC is also equipped with a unique power cut-off program that returns the throttle to neutral if power drops below a safe level. Throttle can be applied again so the boat can be easily recovered. With its slight propeller angle, the straight stern tube and water-cooled G20 motor combine for exhilarating acceleration. High planing efficiency of the W-stepped hull combines with turning performance and durability of the deep V to produce amazing high-speed cruising. In addition to the unsinkable hull, the Jet Stream is equipped with flip-up rudder, stainless steel flaps and turn fin. All this performance technology is packaged into a user-friendly Readyset. Simply add batteries (sold separately) to the transmitter and charge the battery (sold separately) for the motor, and the excitement of pure racing boat performance is ready to leave everything in its wake.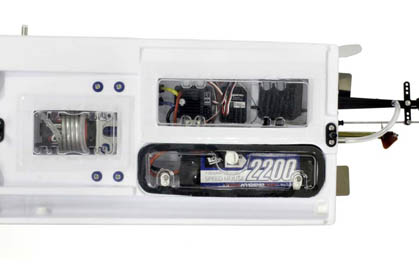 Radio Box
Tightly sealed waterproof radio box, battery room and motor room reliably prevent water getting in.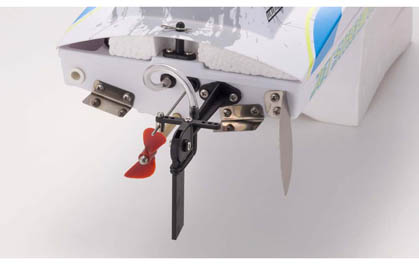 Turn Fin
Turn fin reduces drift and increases turning stability, and trim tabs that allow adjustment of the hull's running posture.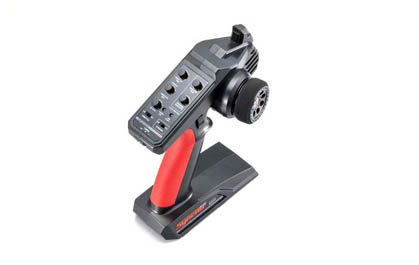 2.4GHz Syncro KT-231P R/C system
2.4GHz Syncro KT-231P R/C system requires no frequency band control and is ready to function as soon as the power is switched on.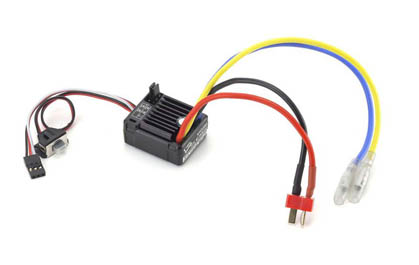 ESC
ESC with reverse features a 2-stage motor cut program that provided powerful control of the water-cooled G20 motor. Supports easy retrieval.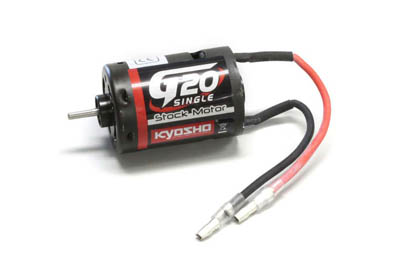 G20 motor
Pre-installed G20 motor with water-cooled jacket. Accelerates brilliantly from the start and minimizes energy loss.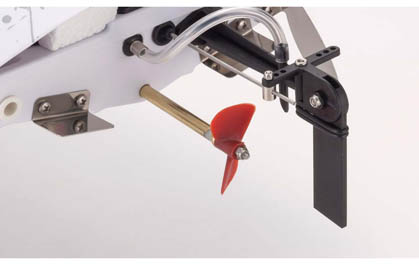 Thrust line
Thrust line created by the straight stern tube with slight exit angle delivers the high efficiency thrust.
Product Specifications
| | |
| --- | --- |
| Completion Level | Ready-To-Run |
| Type | Deep-V |
| Motor Type | Brushed |