INFERNO MP10Te Electric 4WD Kit

INFERNO MP10Te Electric 4WD Kit
INFERNO MP10Te newly developed for fast-growing 1/8 scale electric truck racing!
Shaft Driven 4WD System
Performance Across A Wide Range Of Driving Environments
Hard Anodized Duralumin Main Chassis
Newly Developed Truck Body
Compatible With Both Standard And Short Type Batteries
INFERNO MP10Te Electric 4WD Kit
Earn
points on this item
ⓘ
Product Details
In The Box
(1) INFERNO MP10Te Electric 4WD Kit
Needed to Complete
(1) 2+ Channel Radio System
(1) Electronic Speed Controller
(1) 1/8 Brushless Motor
(1) Standard-Size Steering Servo
(2) 7.4V Standard or Shorty Lipo Batteries
(1) Battery Charger
(4) Stadium Truck Wheels and Tires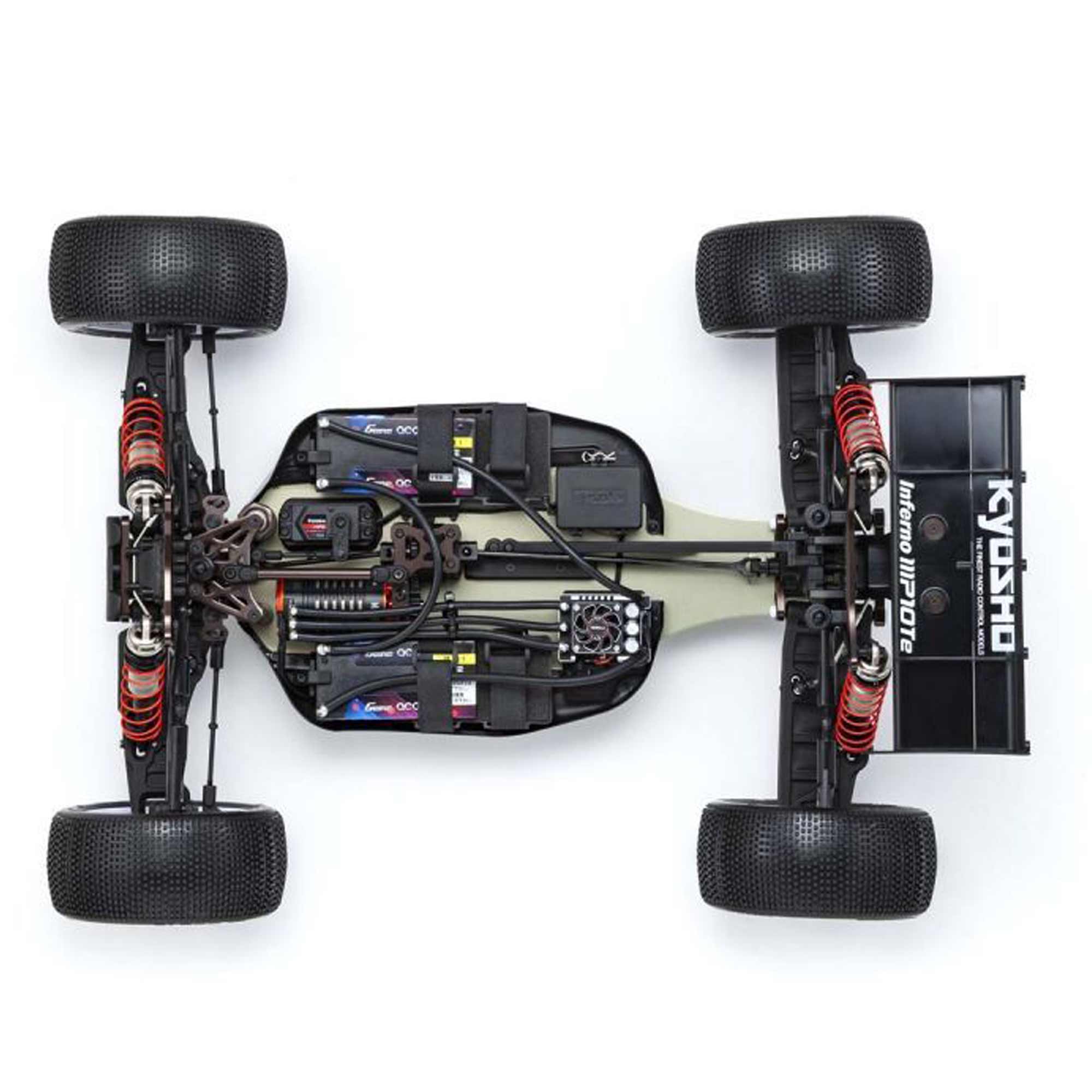 Introduction
1/8 scale GP (engine) buggies and trucks are a hugely popular around the world. In recent years, 1/8 EP (electric) buggies and trucks based on GP models (engine replaced by an electric motor and fuel tank replaced by a rechargeable battery), have also become exciting racing categories.
Features
High-performance 4WD model developed for 1/8 EP truck racing that is growing in popularity throughout the world
Electric version provides enjoyable off-road R/C truck performance across a wide range of driving environments, with low running costs
Shaft driven 4WD system delivers proven running stability and high reliability
Compatible with optional parts for the existing Inferno MP10 series so you can customize and elevate performance
Specially designed hard anodized duralumin main chassis ensures optimal flexibility and strength for truck racing
MP10Te features a newly developed truck body with superior aerodynamic characteristics
Suspension geometry can be easily adjusted by replacing resin bushes
Aluminum rear suspension shaft collar is included as standard and minimizes vibration of the rear suspension arm
Universal center shaft is equipped as standard for superior drive efficiency and easy maintenance
Compatible with both standard and short type batteries (batteries sold separately)
Hook-and-loop fastener secures the battery and allows easy mounting/removal. Also compatible with batteries of different thicknesses
Comes with pinion gear suitable for KV1900-2100 class brushless motors
Overview
The Kyosho Inferno MP10e released in 2020 sets the standard in the offroad electric buggy racing scene. By combining the proven drive unit of the Inferno MP10e with the suspension system and robust truck components of the 1/8 scale GP truck Inferno MP10T, a new MP10Te 1/8 scale EP racing truck is born. The MP10Te features a newly designed main chassis and aerodynamic body form that has been thoroughly tested to deliver the speed and maneuverability required of a competition racing model, taking 1/8 EP truck performance to a higher level. Incorporating the left-right split battery mounting first adopted by the MP10e buggy, the MP10Te racing truck supports changes to front-rear weight distribution with movement of short-type batteries. This allows optimized setting according to driving style and road surface conditions. The Inferno MP10Te not only sets the pace on North America's booming 1/8 EP truck racing scene, but is also a thoroughly enjoyable off-road R/C car.
Video Overview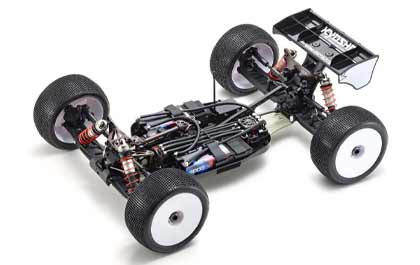 Performance
Combines the MP10e's drive unit and R/C system layout on the MP10T base to deliver high performance and reliability. Optimized weight distribution produces superb cornering speed and running stability.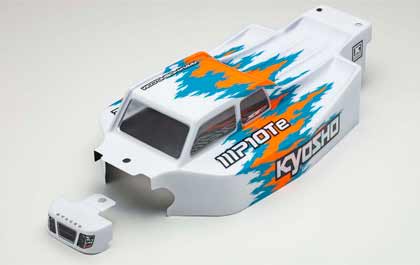 New Body
A completely new design truck body! Low down and front cabin style creates excellent aerodynamic characteristics, and a side dam and rear spoiler generates plenty of downforce that delivers turning agility while pressing the body against the road surface.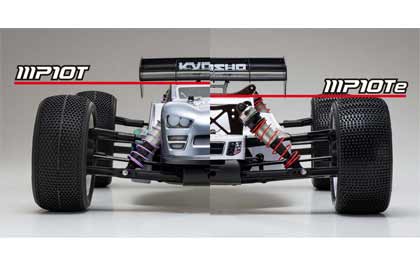 New Design
The newly designed MP10Te body has a significantly lower profile than the body for the MP10T to reduce wind resistance and improve the efficiency of the rear wing. In addition, faster cornering is realized from reduced roll through corners.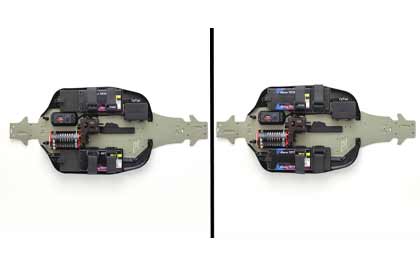 Battery Position
Left-right split mounting of the battery slows roll speed through cornering to deliver improved maneuverability. Handling characteristics can be adjusted by forward-back movement of short type battery packs.
Motor Mount
Motor mount is integrated into the center bulkhead. Motor is secured with a slide style mount that not only allows easy installation/removal of different size motors, but also makes adjustment of backlash easy.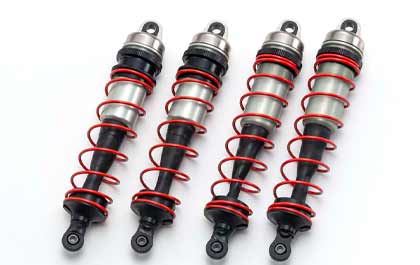 Aluminum Shocks
Equipped with the same aluminum oil shocks as the MP10T for high heat dissipation and stable function. As the MP10Te has a higher front load than the GP model, the MP10Te is also equipped with a special front spring adjuster.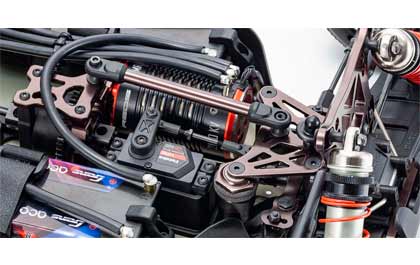 Torque Rod
Features a front torque rod as standard to improve the rigidity in the front section of the chassis. The torque rod suppresses deflection from road surface shocks while maintaining suppleness in the roll direction to deliver optimal driving efficiency and crash resistance.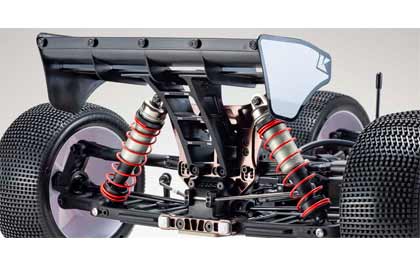 Rear Wing
One piece rear wing stay reliably transfers downforce to the chassis. Securely mounted to the chassis, the resin rear wing shows strong crash resistance.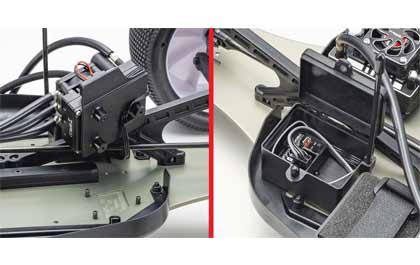 ESC Mount
ESC (speed controller) is secured on the chassis with a dedicated mount for easy installation/removal and maintenance. Radio box is also included for mounting delicate equipment such as receiver and lap timing device.
Product Specifications
| | |
| --- | --- |
| Chassis | Aluminum |
| Completion Level | Kit |
| Drivetrain | 4WD |
| Drive Type | Forward/Brake/Reverse |
| Vehicle Size | Standard |
| Product Width | 16.2992" (414 mm) |
| Radio | Sold Separately |
| Speed Control | Sold Separately |
| Wheelbase | 15.315" (389 mm) |
| Product Weight | 4,200g |
| Vehicle Type | Stadium Truck |
| Power Type | Electric |
| Servos | Sold Separately |
| Battery | Sold Separately |
| Gear Ratio | 14.12:1 |
| Product Length | 22.1654" (563 mm) |
| Steering Type | 2WS |
| Suspension | Independent |
| Body | Clear Polycarbonate |
| Scale | 1/8 |
| Charger | Sold Separately |
| Differential | Gear Diffs |
| Receiver | Sold Separately |
| Shock Type | Oil-Filled, Coil-Over |