Very nice
Review by Meatbal on 26 May 2017
review stating Very nice
I got my new drone yesterday when I got home from work and had to try it out. I had no problem binding and it flew great without going into beta flight. When I looked at the frame I noticed they have beefed up the frame a little but it's still very light. Great job.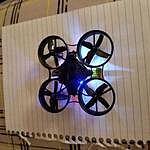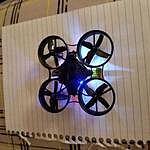 On Inductrix FPV Pro BNF
Great
Review by Happy C. on 16 Aug 2019
review stating Great
Super quad!

Stable and easy to fly, have not used video much yet. At this price point I am happy it is easy to fly!
On Inductrix FPV Pro BNF
Love it!
Review by Capnpete on 6 Oct 2018
review stating Love it!
This is my first FPV, but not , my first quad. I absolutely love this quad. Loads of fun indoors and I can shoot under tables and chairs with ease. Only drawback is when I review the flight on the DVR, I see how messy my house is! Gotta work on that. Flies well outdoors in light winds. I have a course set up to run thru and is a lot of fun.
On Inductrix FPV Pro BNF
No review title
Review by Meetman on 23 Feb 2018
review stating No review title
No review content
On Inductrix FPV Pro BNF
Love it
Review by Lessund on 5 Jan 2018
review stating Love it
I'm pretty new to FPV, but have been flying RC since the mid 60s. I've purchased a few of the low end drones before and mounted some low end cameras on them. It was fun, but not super high quality. I bought two of these, one for my son, the other my son-in-law. They are both competent drone pilots. They both told me that these were a great little drones, especially for the price and they worked without a glitch. So, I bought one. I'm using a DX8 Gen1. There are a couple of YouTube videos that are a must see for that radio. Otherwise, you'll spend a lot of time being frustrated. This vid worked great. (https://www.youtube.com/watch?v=PMfNpe4H2LM ) Once I did a few test flights, I hooked up my goggles and did some indoor flying. After getting the feel of it, I was flying in and out of every room with confidence and fast. It is a blast and really does what it was designed to do. The picture is pretty good and stable and clear. These flights were at night with just table lamps on and I could see perfectly. Even after a few crashes, no harm to the quad. As I write this I've probably flown at least 25 flights until the battery was done. This is a great little BNF unit that won't break the bank. I would definitely consider it if you want an fun little drone.
On Inductrix FPV Pro BNF