HYDRA XLX2, 8S, 33.6V ESC, 20A BEC
Item No.
Castle Creations -
CSE010017300

HYDRA XLX2, 8S, 33.6V ESC, 20A BEC
Item No.
Castle Creations -
CSE010017300
Castle is excited to return to the boat market after a decade long hiatus. We are pleased to present the Hydra XLX2!
HYDRA XLX2, 8S, 33.6V ESC, 20A BEC
Item No.
Castle Creations -
CSE010017300
Earn
points on this item
ⓘ
Product Details
In The Box
(1) Hydra XLX2 ESC
(1) Castle Creations Decal Sheet
(1) Coupon for free Castle Link USB
(1) Hydra XLX2 Quick Start Guide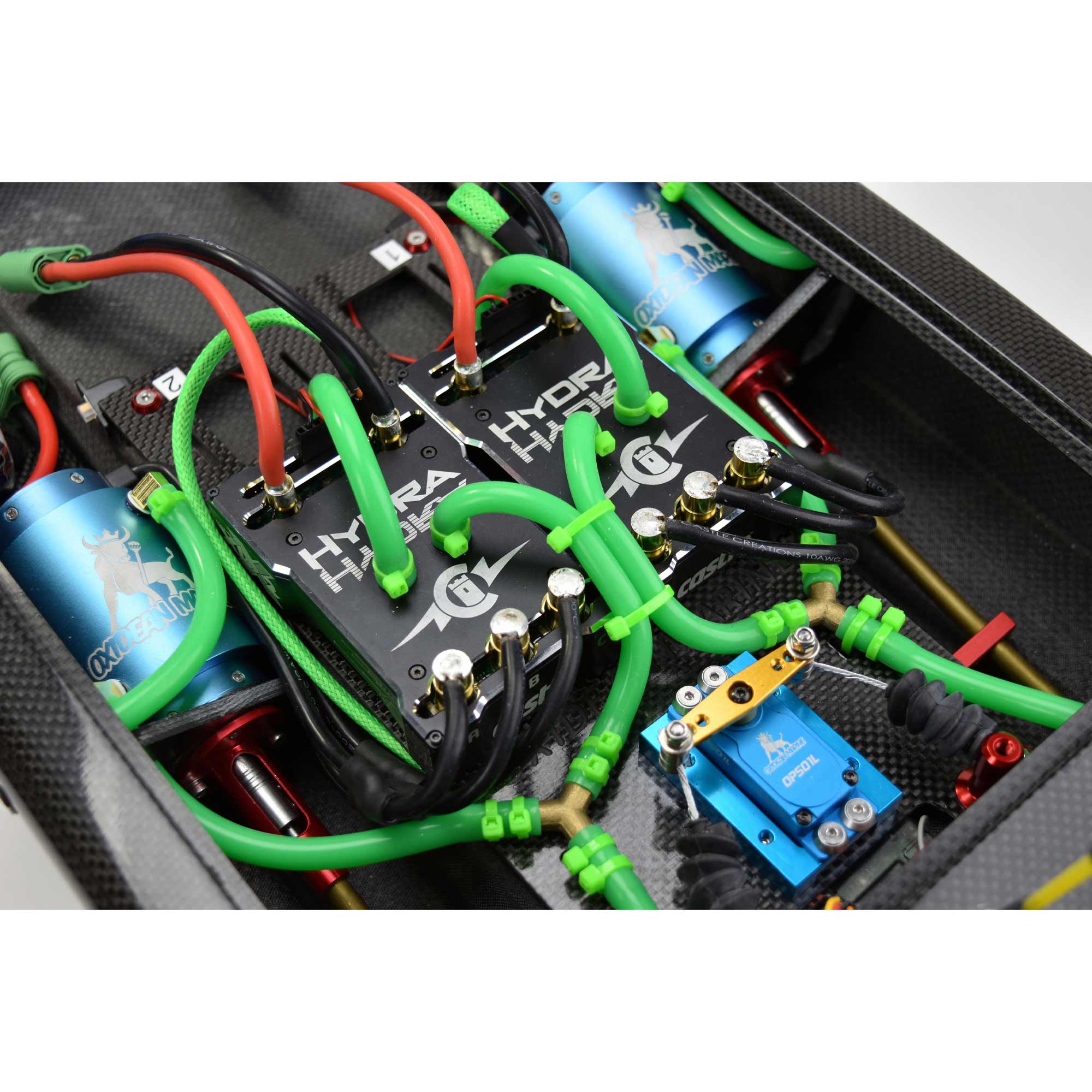 Overview
The Hydra XLX2 is based on our popular and powerful Mamba XLX2 ESC. We've removed the air cooled heatsink and added a watercooled heatsink. It is finished off with an aluminum top plate for a clean look. Attached to the top plate are two aluminum, water fittings for 1/8" tubing and uses standard 10-32 UNF threads; package includes optional .17" fittings.
HYDRA XLX 2 FEATURES:
Input Voltage Range 3S-8S LiPo (33.6v max)
Sensorless, SmartSense and Brushed Running Modes
Powerful Integrated 20A Peak Adjustable BEC (5.25V-8.0V)
CRYO-DRIVE Technology minimizes the amount of time the ESC's electrical components spend generating heat, resulting in improved thermal performance during partial throttle operation where the majority of driving occurs
ESC is housed in a rugged CNC aluminum case and potted in waterproof epoxy to protect the electronics and promote efficient heat transfer
Machined water-cooled heatsink with water fittings for 1/8" tubing.
Compatible with S.BUS2 Telemetry Link and Futaba T4PX, T7PX and T7PXR transmitters
Mounting holes located in bottom of aluminum case for affixing to your vehicle
Data logging capability to capture and record performance data from your vehicle
Auxiliary wire functionality for "on-the-fly" adjustments using your transmitter
Audible alerts for easy diagnosis of common issues such as motor-over-temperature and low-voltage cutoff
Convenient transmitter programming for six common adjustable settings including cutoff voltage and drag brake
Castle Link USB programming kit (coupon included with purchase)
Optional smartphone-based programming with the B-LINK Bluetooth Adapter (sold separately) and Castle Link all available on Google Play or Apple App Store)
Proudly designed and manufactured in Olathe, KS USA and backed by Castle Creations' 1-year warranty
CRYO-DRIVE
Castle's proprietary breakthrough technology integrates unique software and dedicated hardware to reduce heat and dramatically increase performance. Thousands of times per second, the XLX2 software minimizes the amount of time the electrical components spend generating heat. The results are more power handling, cooler ESC temperatures and longer runtimes and for ultra-high performance.
Castle Link Programming Suite
You can easily optimize the ESC for any running conditions. Create, save and download setup profiles through the Castle Link Programming Suite on your Windows™ PC, or wirelessly with the convenience of the new B-Link™ Bluetooth™ Adapter and Castle Link app for Android or iOS.
Additional tuning flexibility awaits you with on-the-fly adjustments from your transmitter via the Auxiliary wire. Simply connect the white signal wire to an open radio channel, and enable the feature in Castle Link by selecting what Auxiliary function you would like to use. Access programming parameters such as Torque Control, Max Brake or Max Throttle.
PLEASE NOTE!
Due to the high power nature of the XLX2, you must use appropriately sized batteries and connectors. Castle recommends a minimum 150 amp connector for the Hydra XLX2; examples include Castle 6.5mm polarized, EC8 and QS8. DO NOT USE XT90, Traxxas, EC5/IC5 or any other connectors rated below 150 amps continuous.
Product Specifications
| | |
| --- | --- |
| Application | RC Hobby boats up to 50" |
| Product Weight | 12.8 oz (363g) |
| Water-Resistant | Yes |
| Brakes | Available, but disabled by default |
| Input Voltage | 3S LiPo, MAX: 8S LiPo 33.6V |
| Product Height | 1.34" (34 mm) |
| Product Width | 2.49" (63 mm) |
| Motor Type | Brushless |
| Product Length | 3.98" (101 mm) |
| Connector Type | 8mm Bullet |
| Reverse | Yes |