FSa-56II Airplane Engine with F-4040 Silencer

FSa-56II Airplane Engine with F-4040 Silencer
Product Details
In The Box
(1) FSA-56II Engine
(1) F-4040 Silencer
(1) Type F Glow Plug
(1) 40NA Carburetor Header Pipe
(1) Product manual
Needed to Complete
Fuel: 10%-20% nitromethane with 18% lubricant. Synthetic, castor, or a synthetic/castor lubricant blend may be used.
NOTE: Certain four-cycle fuels cannot be used due to low oil content
When choosing fuels for this engine, be sure to select a fuel with at least an 18% lubricant content.
Propeller: Sport & Aerobatic, 13x6, 12x6, 12x7, 12x8 Scale, 13x6, 13x7, 12x6, 12x7, 12x8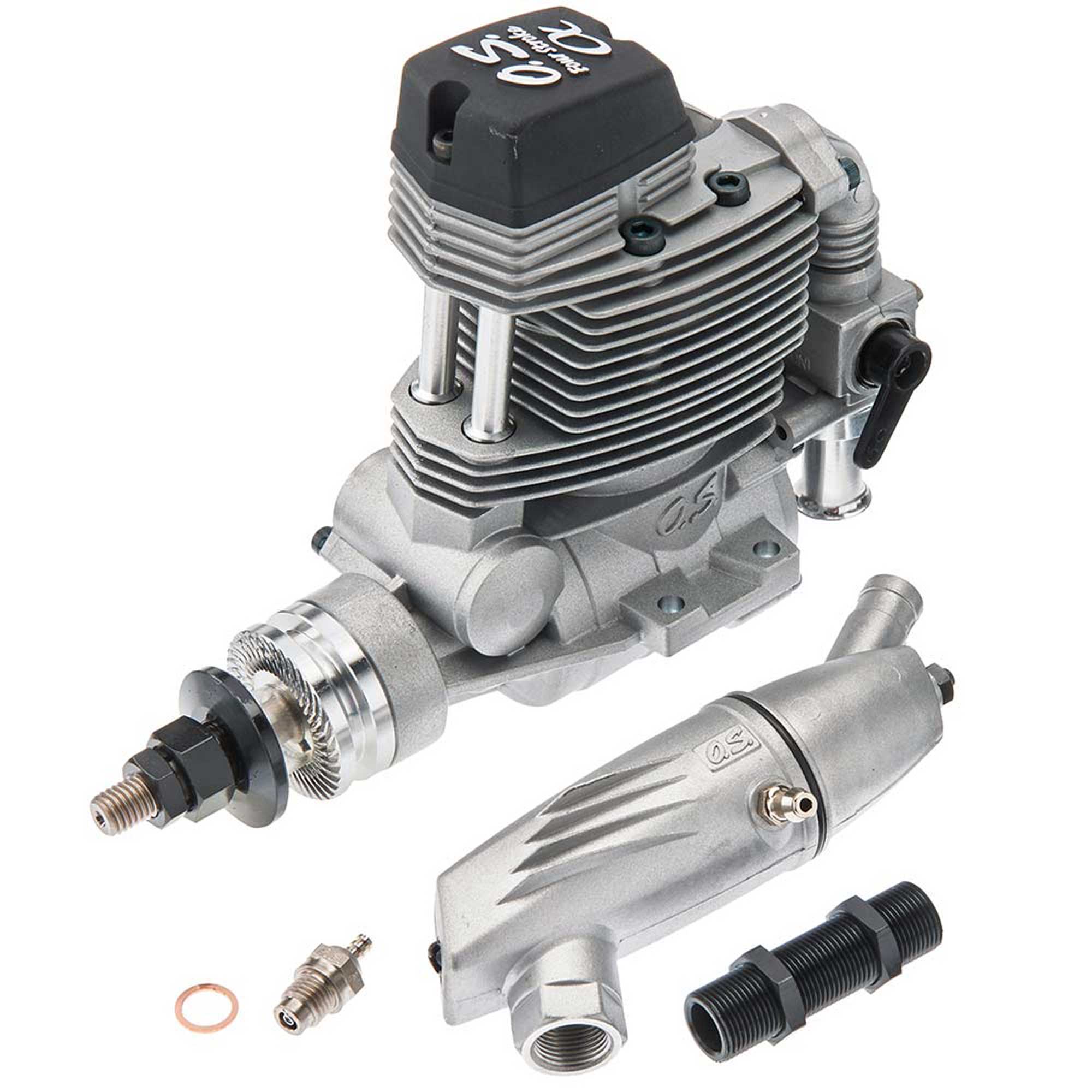 Give your 40-size plane the FSa power advantage!
Mount the FSa-56II in your model, and see the difference advanced O.S. 4-stroke technology makes! Those benefits include a higher performance ceiling for sport flyers and more realistic flight for scale pilots. Plus, you'll also enjoy rich, deep sound that will enhance your flying experience.
The popular FS56-a now features upgrades that make it even better than before!
Blow-by oil exits through the breather nipple on the back plate, for more stable operation.
Black rocker covers gives this engine a more impressive appearance.
The F-4040 silencer can be positioned to achieve the ideal fit.
Mounts with no-mod ease in the same space as the FS-56a.
Product Specifications
| | |
| --- | --- |
| Manufacturer # | 34330 |
| Muffler Type | 2-piece aluminum |
| Displacement | 0.569 cu in (9.32 cc) |
| Product Length | 5.2" (131.3mm) from carb to front of drive hub |
| Bore | 0.945" (24mm) |
| Crankshaft Type | Threaded |
| Power Type | Glow |
| Plug Type | F |
| Stroke | 0.81" (20.6mm) |
| Total Weight | 16.3 oz (461 g) |
| Cylinders | Single |
| Product Width | 1.7" (44mm) between mounting hole centers |
| Product Height | 3.3" (84mm) bottom of mounting tab to top of rocker cover |
| Prop Range | 12x6-8 - 13x6-7 |
| RPM Range | 2,400 - 13,000 |
| Crankshaft Threads | UNF1/4-28 |
| Muffler Weight | 1.48 oz (42 g) |