Discontinued
|
This Item is No Longer Available

F7F Tigercat Blue PNP, 1700mm
Discontinued
|
This Item is No Longer Available

F7F Tigercat Blue PNP, 1700mm
F7F Tigercat 1700mm Blue PNP
FMM098PBLU
View Alternate Product Details
Product Details
Video Overview
Key Features
Screw-together construction—no glue required
Twin brushless power system with 4250-440Kv motors and 60A (10A UBEC) ESCs
Six-channel control including flaps and electric retracts
CNC metal landing gear with shock-absorption and overcurrent protection
Large wheels for operation from grass or paved runways
Sequencing landing gear doors
Plug-in wings with FMS multi-connect servo technology
Bright LED lights, installed
Durable metal-gear digital servos
Factory installed ball-link precision
Convenient push-button canopy hatch release
Oversized battery compartment
Utilizes a 5000mAh 6S LiPo battery (sold separately)
Simulated armament and fuel tank included
Scale detail includes panel lines, raised rivets, pilot figure and more
Available in silver with factory applied graphics or blue with four decal sets
Needed to Complete
6+ Channel Radio System
5000mAh 22.2V 45C LiPo Flight Battery
Compatible LiPo Charger
What's in the box?
(1) F7F Tigercat PNP Airplane
(2) 60A ESC
(2) Brushless 4250-KV440 Motors
(7) 13g Metal Analog Servos
(5) 17g Metal Digital Servos
(1) User Manual
Overview
The Grumman F7F Tigercat was a heavy-class fighter that served with the United States Navy and United States Marine Corps at the close of WWII and remained in service until 1954. It was the first twin-engine fighter employed by the Navy and distinguished itself in service during the Korean War.
The FMS F7F Tigercat PNP 1700mm represents the best FMS classic works has to offer to date. It adopts the popular quick and easy assembly and disassembly structure—no glue required. In addition, this model features the latest in multi-connect technology with streamlined wiring that eliminates the hassle of making multiple connections at the wing joint. Lightweight construction with EPO means you can count on a high-level of durability and a light wing load that translates naturally into incredible flight performance. The water-based paint used to finish this model minimizes blistering from sun and provides a vibrant appearance. Each control is individually linked with one or more dedicated metal-gear digital micro servos. You'll also appreciate the precision and adjustability of ball-link equipped pushrods for initial setup and perhaps later on if flight trimming is necessary.
A proud achievement of this FMS model is the electric retract drive system that boasts a locked-rotor mode with overcurrent protection. The CNC-processed metal construction also offers a beautiful scale appearance, precision movement and high-level of durability. Factory installed sequencing gear doors are just icing on the cake. With a 62mm front wheel and 84mm main wheels, takeoff and landing on paved or a grass surface is possible. Plus you'll have more than enough power given that the large brushless outrunner motors and its high-power ESCs simply operate off just one 6S 5000mAh LiPo pack. The battery compartment makes full use of airframe space by offering enough room to fit a wide range of battery capacities to enjoy higher performance or longer flight times.
The scale detail of this Tigercat is abundant with simulated engine features, operational scale propellers, intricate rivet and panel lines, plus a painted pilot figure and functional LED lights. Choose the blue or silver painted version. The blue version includes four sets of decals to help make your F7F stand out. A silver version is also available with factory applied "La Patrona" livery. Finally, with the FMS F7F Tigercat, you can bring a rare warbird to life again and showcase its mighty power as often as you like.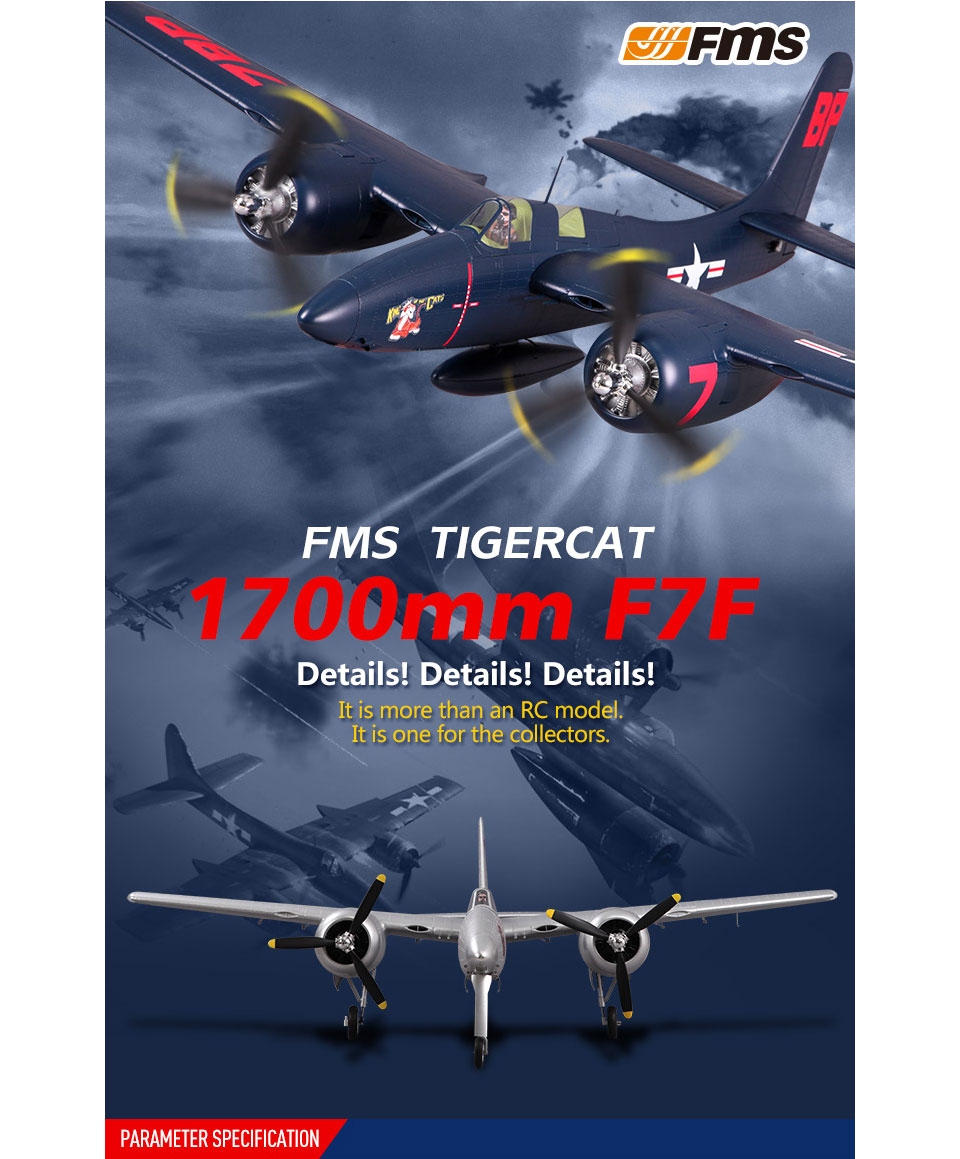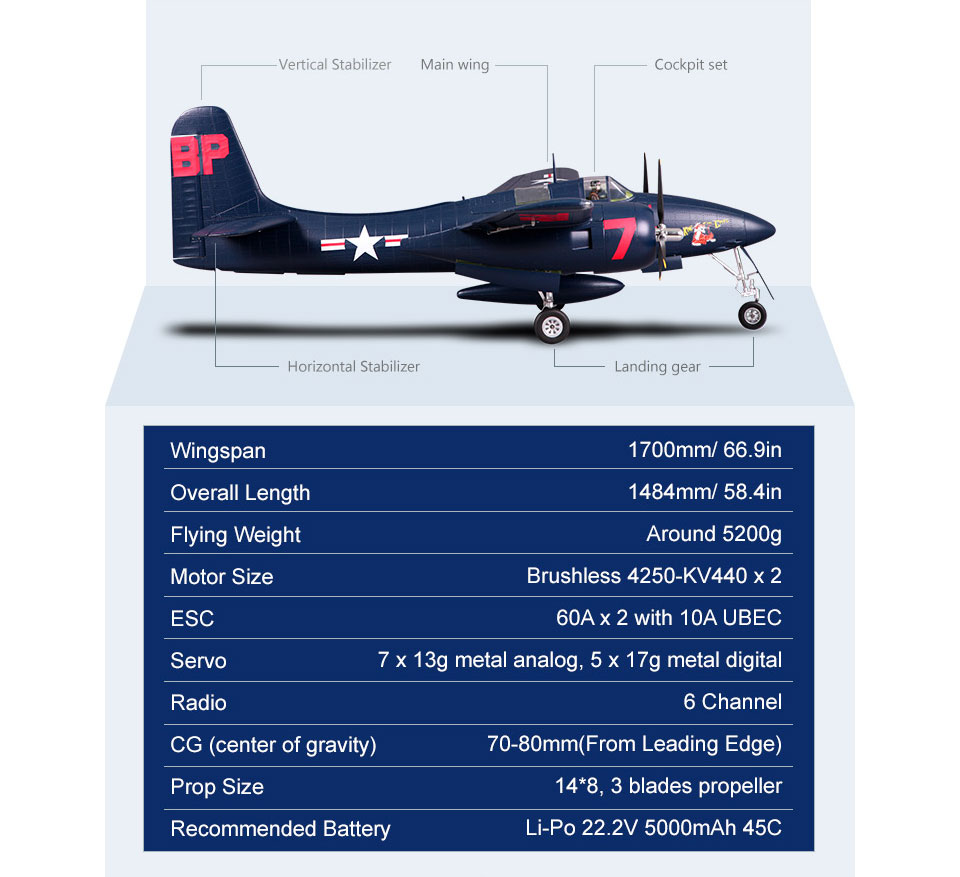 Product Specifications
| | |
| --- | --- |
| Recommended Motor Battery | 22.2V 5000mAh 45C (sold separately) |
| CG (Center of Gravity) | 70-80mm(From Leading Edge) |
| Completion Level | Plug-N-Play |
| Propeller Size | 14 x 8 |
| Servos | 7 x 13g metal analog, 5 x 17g metal digital |
| Trim Scheme Colors | Blue |
| Material | Foam |
| Wingspan | 1700mm (66.9. in) |
| Motor Size | Brushless 4250-KV440 x 2 |
| Product Length | 1484mm (58.4 in) |
| Power Type | Electric |
| Landing Gear | Yes |
| Minimum Required Radio | 6-channel |