Discontinued
|
This Item is No Longer Available

F7F Tigercat 1700mm Blue PNP
Discontinued
|
This Item is No Longer Available

F7F Tigercat 1700mm Blue PNP
F7F Tigercat 1700mm PNP with Reflex, Blue
FMM098PBLUX
View Alternate Product Details
Product Details
In The Box
(1) F7F Tigercat PNP Airplane
(2) 60A ESC
(2) Brushless 4250-KV440 Motors
(7) 13g Metal Analog Servos
(5) 17g Metal Digital Servos
(1) User Manual
(4) Sets of Decals
(1) Instruction Manual
Needed to Complete
(1) 6+ Channel Radio System
(1) Compatible Receiver
(1) 6S 5000mAh 45C LiPo Battery
(1) Compatible Charger
(1) LiPo Safe Charging Bag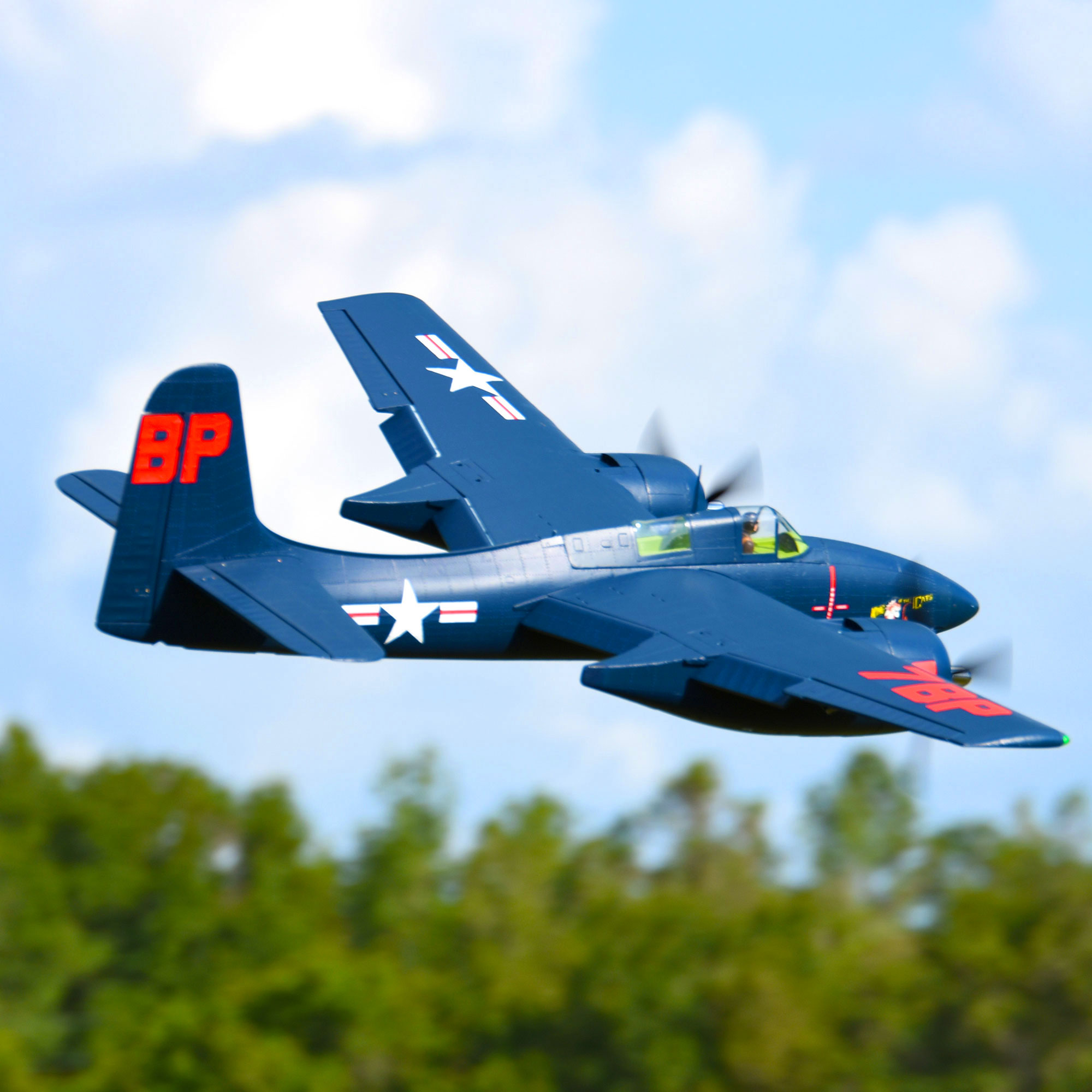 Features
Powerful twin KV440 motors with twin Predator 60A ESC (with 10A UBEC)
The most accurately scaled landing gear set we have ever created
Scaled CNC-processed metal landing gear set
Pilot figure
Panel lines and all-around rivets
High-brightness LED set
The latest locked-rotor mode E-retract with overcurrent protection
Multi-connector for one-step installation
Screw-together construction
A 62mm diameter front wheel and 84mm diameter rear wheels for taking off and landing on both paved and grass surfaces.
Large bearings in wheel hub for better performance
Button Type canopy hatch
Large battery compartment
Four set decals for DIY (blue color scheme only), to be different.
Metal-gear digital servos for excellent controlling capacity
Overview
After almost two years development, numerous tests and improvements, FMS have reproduced the classical highly anticipated F7F!
The FMS 1700mm Tiger Cat pools the best structural features from FMS' classic works. It adopts the popular quick and easy assembly and disassembly structure. Screws do all assembly and disassembly work. In addition, with the latest multi-connect technology, FMS has streamlined the wing system, eliminating the wiring problems, and making it easier to install and dismantle in a short time. The well-designed battery compartment makes full use of airframe space, allowing for higher-storage batteries and more flying choices.
FMS' warbirds are always attractive, no matter from the perspective of scaled appearance, or from excellent performance. This also applies to the Tiger Cat.
The Tiger Cat features the latest locked-rotor mode E-retract system with overcurrent protection. It also features The refined scaled CNC-processed metal landing gear set (certainly the most notable feature is that this is the most accurately scaled landing gear set FMS have ever created) for resisting those not-too-perfect landings, a 62mm diameter front wheel, and 84mm diameter rear wheels for taking off and landing on both paved and grass surfaces. The power system utilizes twin 4250-KV440 outrunner motors, twin 60A ESC (with 10A UBEC), providing surging power for scaled aerial combat maneuvers when coupled with a 6S 5000mAh 45C battery.
The Tiger Cat has a scaled appearance, with scaled plastic parts throughout the body, e.g. landing gear door, cowl, artificial engine, and machine guns. Couple that with the detailed all-around rivets, panel lines, pilot figure, high bright LED lamps, a CNC-processed shock-absorbed metal landing gear set, the Tiger Cat is reproduced flawlessly. Not only that, but also the four sets of decals in the package (blue color scheme only) allow you to make your own Tiger Cat and stand out in your airfield
It is more than an RC model, it is one for the collectors. Go get the FMS 1700MM "Tiger Cat" to experience its magnificence.
Video Overview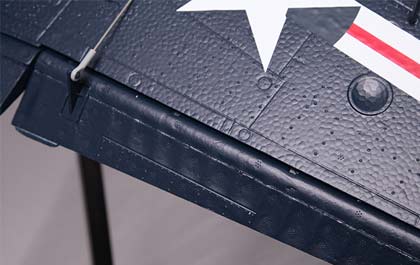 Scaled Control Surface
Built-in hinges make it aesthetically and functionally similar to the real plane.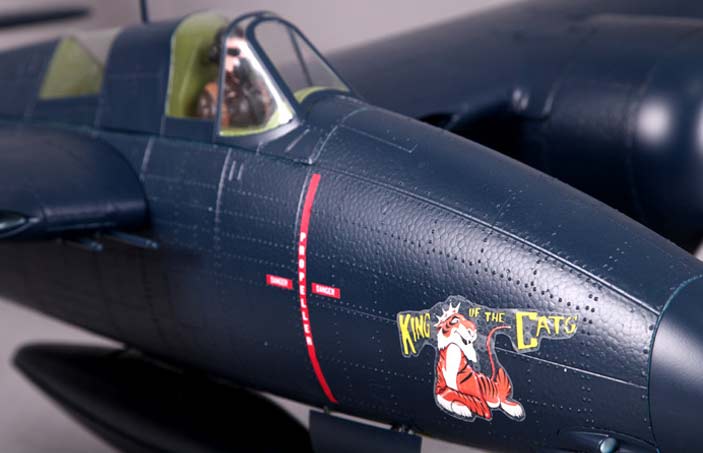 Make It Yours
With four sets of decals to choose from, you can make your plane stand out at the field by customizing the appearance.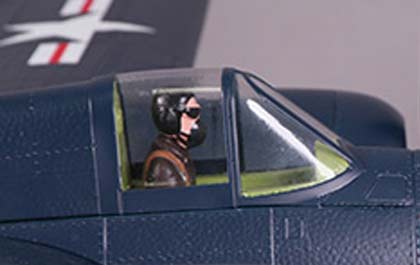 Cockpit Set
A detailed pilot and cockpit are included.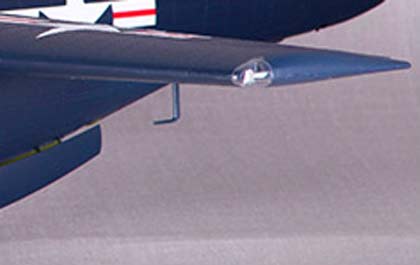 Bright LED Lights
The tips of the wings include LED lights to replicate the real life model, and to make flying at dawn and dusk more enjoyable.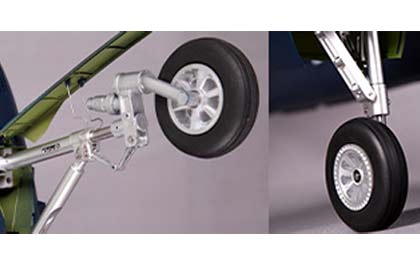 Scaled Landing Gear
The Tiger Cat features the latest locked-rotor mode E-retract system with overcurrent protection CNC-processed metal landing gear.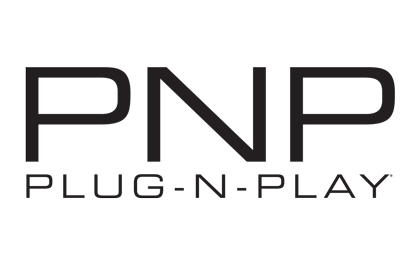 Plug-N-Play® Completion Level
This Plug-N-Play (PNP) model comes out of the box with a factory-installed power system and servos that are ready to connect to the compatible receiver of your choice (sold separately). Simply install the receiver, finish any final assembly, and fly!
Product Specifications
| | |
| --- | --- |
| Completion Level | Plug-N-Play |
| Propeller Size | 14 x 8 |
| Recommended Motor Battery | 22.2V 5000mAh 45C (sold separately) |
| Minimum Required Radio | 6-channel |
| Charger | Sold Separately |
| Receiver | Sold Separately |
| Material | EPO |
| Power Type | Electric |
| Servos | Included |
| Trim Scheme Colors | Blue |
| Wingspan | 66.9" (1699 mm) |
| Battery | Sold Separately |
| Motor Size | Brushless 4250-KV440 x 2 |
| Product Length | 58.4" (1483 mm) |
| Landing Gear | Yes |
| Speed Control | Included |
| Wing Area | 767.3 sq. in |