Discontinued
|
This Item is No Longer Available

F-18 Blue Angels V2 64mm EDF Jet PNP
Discontinued
|
This Item is No Longer Available

F-18 Blue Angels V2 64mm EDF Jet PNP
Product Details

Key Features
Lightweight construction with durable EPO foam material
Strong, two-piece removable wing with optional armament
High-thrust, 64mm 11-blade ducted fan unit (installed)
Powerful 2840-3150kV brushless motor and 40A ESC (installed)
4-channel control with 5 micro servos (installed)
Removable landing gear with steerable nose gear
Video Overview
The full-scale F/A-18 has proven itself time and time again as the U.S. Navy front-line air superiority aircraft. There's almost no task it can't handle from air strikes, close air support, refueling, anti-shipping, forward air control missions or dramatic precision-aerobatics demonstrations.
The Force RC® F-18 Blue Angels model has everything from high-speed performance to the finest low-speed characteristics of any jet in its class. At its core is a powerful electric ducted fan system that can punch out more than a 1:1 thrust-to-weight ratio for excellent vertical and aerobatic performance. The wing armament and landing gear can be removed for an even more thrilling experience and higher top speeds.
Needed to Complete
Full-range, 4+ channel transmitter
Full-range, 4+ channel receiver
4S LiPo flight battery
Suitable LiPo charger
What's in the box?
(1) Force RC F-18 Blue Angels EDF PNP Airplane
(1) 40A ESC
(1) 2840-3150kV Brushless Motor and 64mm 11-blade Ducted Fan Unit
(5) Micro Servos
(1) User Manual
Durable Construction
Construction with durable EPO material makes it possible to replicate complex detail in a lightweight form. The result is an outstanding scale appearance that's easy to maintain and allows the most satisfying flight experience possible to shine through.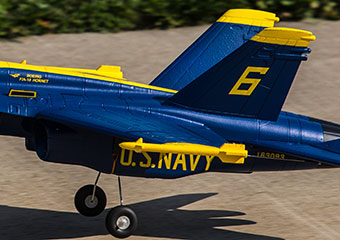 Impressive Power
The 64mm 11-blade ducted fan, 40A ESC and brushless motor can deliver more than 800-grams of thrust with the recommended 4S LiPo battery and an audible sound that resembles the output of a real turbine engine.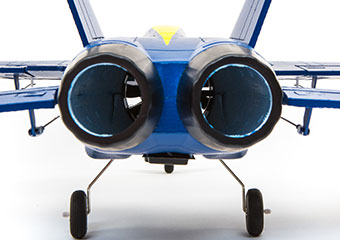 Plug-In Wings
Compact enough to transport in just about any vehicle, the new composite wing tube support and screw-on assembly deliver accuracy and the convenient removable wings.