Discontinued
|
This Item is No Longer Available

F-16 Falcon 64mm EDF BNF Basic with AS3X and SAFE Select, 729mm
Discontinued
|
This Item is No Longer Available

F-16 Falcon 64mm EDF BNF Basic with AS3X and SAFE Select, 729mm
Product Details

Introduction
Originally developed for the U.S. Air Force and approved for production more than 40 years ago, the F-16 Falcon brought advances in fighter technology and capabilities that still top many of the aircraft flown by adversaries today. Its record of success with allied countries is outstanding, and it's expected to be in service with air forces worldwide for many years to come. E-flite® pays tribute to the full-scale fighter with the F-16 Falcon 64mm EDF jet that delivers incredible performance in a size suited for smaller flying sites. It's also one of the easiest and most fun to fly Falcon models yet when it's equipped with AS3X® and SAFE® Select technologies.
Features
One of the easiest and most fun to fly F-16 Falcon EDF (Electric Ducted Fan) jet models yet
Scale replica of the world-renowned fighter flown by the U.S. and numerous allied air forces
11-blade 64mm fan delivers great vertical performance and top speed plus turbine-like sound
Factory-installed high-power 4S-compatible brushless motor, 40-amp ESC and 5 servos
Durable yet lightweight molded EPO airframe
Magnetically-secured nose cone and top hatch
Spektrum™ AR636 6-channel receiver with industry-leading 2.4GHz DSMX® technology
Easy to fly with innovative and optional-use SAFE® Select flight envelope protection
The unmatched stability and locked-in feel of exclusive AS3X® technology
Optional-use fixed landing gear with steerable nose wheel
Bolt-on wings plus optional-use tanks and ordnance
Overview
The E-flite® F-16 Falcon 64mm EDF jet is a scale replica of one of the most recognized and successful single-engine fighters in the world. Its 4S-compatible high-RPM brushless motor is matched to a 40-amp ESC and high-thrust 11-blade fan unit to deliver incredible performance enhanced by a realistic, turbine-like sound. Integrated composites and advanced EPO material form a lightweight, durable airframe that offers precise handling with the factory-installed servos. Nose-wheel steering provides easy ground handling – or you can remove the landing gear entirely for improved scale appearance and performance, plus nearly effortless hand launches when flying over grass. Authentic scale touches include molded-in surface details, a cockpit with pilot figure, plus optional-use simulated external fuel tanks and ordnance. It also arrives factory-finished in a unique scale trim scheme that offers great visibility and makes a strong impression both on the ground and in the air. And it all combines to deliver one of the easiest and most fun to fly Falcon models ever!
Needed to Complete
Full-range, 5+ channel transmitter with Spektrum™ DSMX®/DSM2® technology
4S 14.8V 2200mAh 30+C LiPo battery with EC3™ or IC3™ Connector
Compatible LiPo charger
What's in the Box?
(1) E-flite F-16 Falcon 64mm EDF Jet Plane with:

(1) 40A Brushless ESC (installed)
(1) Brushless Outrunner Motor (installed)
(5) Spektrum™ 9-Gram Servos (installed)
(1) Spektrum™ AR636 6-Channel Receiver (installed)

(1) Product Manual
Video Overview
Live Discussion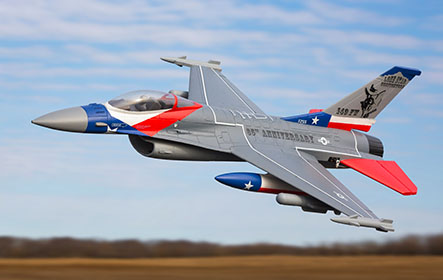 Exclusive Technologies
This F-16 model is equipped with exclusive Spektrum® AS3X® and SAFE® Select technologies. AS3X works behind the scenes to smooth out the effects of wind and turbulence to deliver a locked-in feel that makes it seem like you're flying a much larger jet. Optional-use SAFE Select offers pitch and bank angle limits along with automatic self-leveling that can be turned on and off at the flip of a switch making this one of the easiest to fly Falcons yet! And if you don't want to enable the SAFE Select features, simply bind the receiver normally and only AS3X will be active.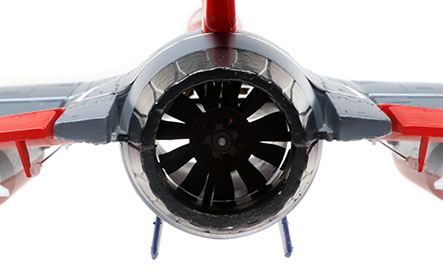 High-Power EDF
The 11-blade 64mm fan, high-RPM brushless motor and 40-amp ESC combine with your 4S 2200mAh LiPo battery to deliver great vertical performance and a fantastic speed range with virtually instantaneous throttle response. But what makes the experience truly rewarding is the fantastic sound produced by the power system – it's almost like a real turbine.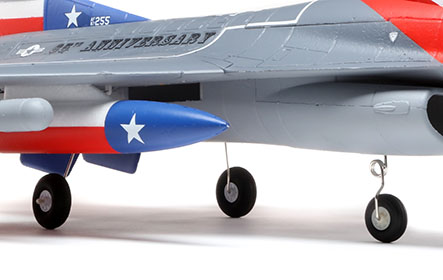 Gear Options
You can install the included fixed landing gear with steerable nose wheel to taxi, take off and land on smooth surfaces. Or you can leave the landing gear off for more speed and vertical performance plus easy hand launches when flying over grass.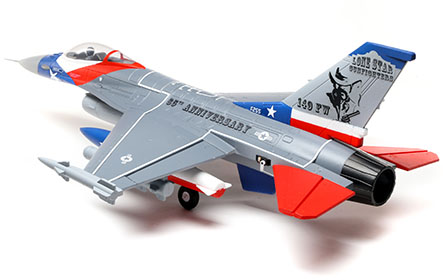 Unique Trim Scheme
The factory-applied paint and decal finish replicates the 65th anniversary trim scheme used by the Texas Air National Guard's 149th Fighter Wing – the Lone Star Gunfighters.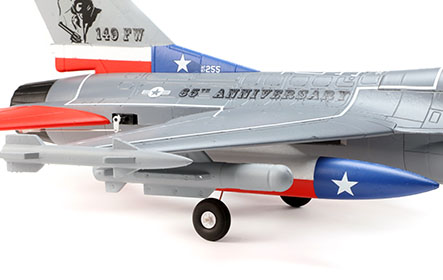 Durable Design
Construction with molded EPO material makes it possible to replicate complex detail and shapes in a lightweight yet durable form. The result is an outstanding scale appearance that's easy to maintain and delivers the best possible flight experience.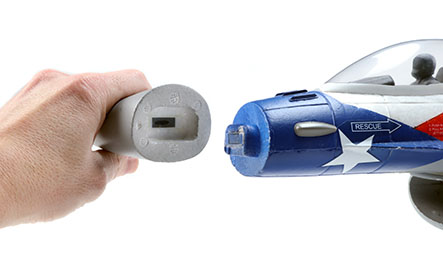 Compact Convenience
Although the F-16 Falcon 64mm EDF is compact enough to transport in just about any vehicle in one piece, it features bolt-on wings and a magnetically-secure nose cone that are easy to remove/install for even more convenient transport and storage.

Bind-N-Fly Completion Level Advantage
Already own a Spektrum™ transmitter? Bind-N-Fly (BNF) aircraft make getting into the air quickly and with the best control experience possible easier than ever. They come out of the box with the power system, servos and a Spektrum 2.4GHz receiver installed so all you need to do is bind the receiver to a compatible transmitter, finish any final assembly, and fly!
This Bind-N-Fly Basic model is equipped with a Spektrum 2.4GHz DSMX® receiver featuring AS3X (Artificial Stabilization–3–aXis) technology that works behind the scenes to smooth out the effects of wind and turbulence. The result is a heightened sense of stability and precision that makes you feel like you're flying a much larger, expertly tuned aircraft.
If this is your first model of its type, or you want an extra margin of safety while familiarizing yourself with the airplane, you can enable the optional-use SAFE® Select flight envelope protection technology built into the receiver. No special programming is required. Simply change up the binding sequence as directed in the manual.
With SAFE Select enabled, you get:
Pitch and Bank Angle Limits
These envelope limits keep the airplane from rolling or pitching upside down. They also prevent excessive climb or dive angles.
Automatic Self-Leveling
The airplane instantly returns to and holds level flight when the sticks are released and in the center position. It's also helpful for keeping the wings level during takeoffs/launches and landings.
Easy Switch Assignment- No Programming Required
The simple procedure for assigning a transmitter switch to turn SAFE Select features on and off doesn't require any programming and takes just a few seconds.
If you don't want to enable the SAFE Select features, just bind the receiver normally and it will function like a standard AS3X receiver.

Product Specifications
| | |
| --- | --- |
| Fan Size | 64mm EDF |
| Servos | Five Micro Included |
| Power Type | Electric |
| Speed Control | Included |
| Motor Size | 2840 3150Kv |
| Landing Gear | Yes |
| Minimum Required Radio | 4-channel |
| Approximate Assembly Time | Less than 1 Hour |
| Charger | Sold Separately |
| Receiver | Included |
| Transmitter Range | Full Range Transmitter Required |
| CG (Center of Gravity) | 2.9 - 3.3" (75 - 85mm) back from leading edge of wing measured at the fuselage |
| Completion Level | Bind-N-Fly Basic |
| Recommended Motor Battery | 4S LiPo 2200mAh 30+C LiPo with EC3 or IC3 Connector |