Tommy2gun
5.0 star rating
I like it
Review by Tommy2gun on 21 Jan 2020
review stating I like it
Ive got around 15 flights on mine so far. The only 2 things id mention. Prop is no good and hinges suck. Get a good prop i went up to a 14x7. Hinge tape all the hinges easy and works well. The wings are easy to remove you will need a magnet for screws. Mine is fully loaded with fpv stuff and I am running 3500mah 4s. I found I like the colors in real life better then pictures.
On Extra 300 3D 1.3m PNP
The best plane I ever had
Review by Fly2 L. on 1 Nov 2019
review stating The best plane I ever had
The plane is very well designed, flying as a bird, has tons of power. It is not a small plane, but controlling it just pleasure. I do not use save. Also, I have to mention Extra 300 performs perfect on grass fields because the landing gears are positioned more forward then other planes. This makes it easy for takeoff and lading.
On Extra 300 3D 1.3m PNP
Great looking plane!
Review by Trust S. on 1 Jun 2019
review stating Great looking plane!
The power on this with 4s is insane. She's a beauty with the wooden prop and the checkered pattern on the underside. The wheel pants finish the look nicely. It does big air aerobatics really well and can do 3D too. It's not a light floaty, 3D type of plane like the Visionaire. More like a big pattern plane that can do some 3D. Knife edges are a cinch. Flat spins, harriers, and rolls are easy. Inverted, no problem. Hovering is a bit harder as it wants to pull to the left but powers out of it easily. If this happens on yours, you can try adding some washers to the left side of the motor mount to give it some more right thrust. Hovers much better after this. Flight times are short with a 4s 2200 at about 3 min but there's plenty of room for a larger pack. Also flew it on 3s 2200 which is fine but the power of the 4s is addicting. If I still flew it on 3s, I may try to use two 3s 2200 packs in parallel for more flight time. Landing is easy but she can float, and on 4s be easy on the throttle or she may overshoot the runway. But with so much power just power out of it and do another pass. Been flying off grass with no issues. The plane is fairly large. I leave the wings on and use a minivan for transport. The wings were hard to assemble during the unboxing but may ease up and loosen up a bit if done a few times.
On Extra 300 3D 1.3m PNP
Excellent plane, lots of fun!
Review by S0 S. on 21 Apr 2019
review stating Excellent plane, lots of fun!
This is a great flying plane with plenty of power. This is my first 3D plane having only previously flown warbirds. Great experience. Highly recommend. Super easy to put together, probably the easiest I've put together to date. Only complaint was the main wing tube was missing out of the box but Horizon took care of it and sent it out for free.
On Extra 300 3D 1.3m PNP
My Extra 300's
Review by Rclyfe on 15 Jan 2020
review stating My Extra 300's
worked okay before incidents. Painted one dark green and the second Midnight blue. lost control w dx6e transmitter and the stock receiver ordered pnp all I had to do was build and bind which was complicated due to mounting bolts. before painting and modding the plane with wingtip vortex generators and some under the fuselage the plane was heavy with out the battery. along the elevator and rudder servo leads their are round metal weights as well 3 of them on the esc, also the pilot hiding in the canopy weighs more than all the weights put together, removed as to me they were dead weight and improved 3d flying and top speed and top vertical performance while leaving ALL STOCK ELECTRONICS, added nylon hinges to elevator luckily they were laying around, and added some I ripped off of a no longer flyable timber and glued to ailerons for better support, added led lighting system to both from previous timber series lighting system, navigation lights on wingtips and the front landing lights from the timber series. both were 2 beautiful planes before loss of connection had time to recover but couldn't control them MID-FLIGHT. wish I could provide more photos of them, One was Dark green and the other was Midnight Blue, all yellow was covered over on both. accept the landing gear on the blue one ran out of paint.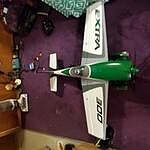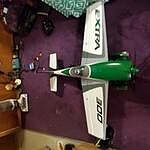 On Extra 300 3D 1.3m PNP