DLE-35RA Gas Rear Exhaust with Electronic Ignition

DLE-35RA Gas Rear Exhaust with Electronic Ignition
This engine is designed with a lighter piston skirt for lower weight, better throttle response, and increased resistance to wear.
The customized, pumped DLE carburetor delivers consistent fuel flow, while the 2-stage muffler reduces back pressure and increases power.
The advanced aluminum alloy crankcase is CNC-machined to exacting standards for high performance and long life.
Fully automatic electronic ignition delivers easy starts and consistent runs.
DLE-35RA Gas Rear Exhaust with Electronic Ignition
RC Club points earned on this item shown at checkout.
ⓘ
Product Details
In The Box
(1) DLE 35-RA Gasoline Engine
(1) Electronic Ignition
(1) Muffler
(1) DLE CM6 Spark Plug
(4) Engine Standoffs with Mounting Hardware
(1) Integrated Choke Rod Guide
(1) Rear-mounted Carb
(1) Product manual
Needed to Complete
Gasoline with at least 87 octane rating
2-cycle oil, mix ratio for this engine is 30 parts gas to one part oil and must be followed exactly for warranty consideration and optimum performance
4.8 - 8.4V battery for ignition (separate receiver pack can be used)
**NOTE, 1st version ignition is marked 'A-01' on the label and requires a regulator if using 2S LiPo/LiFe battery If ignition module is the A-02 model it has a built-in voltage regulator. Model A-02 designation is located above the word "Ignition" on top of the case**
Propeller and field equipment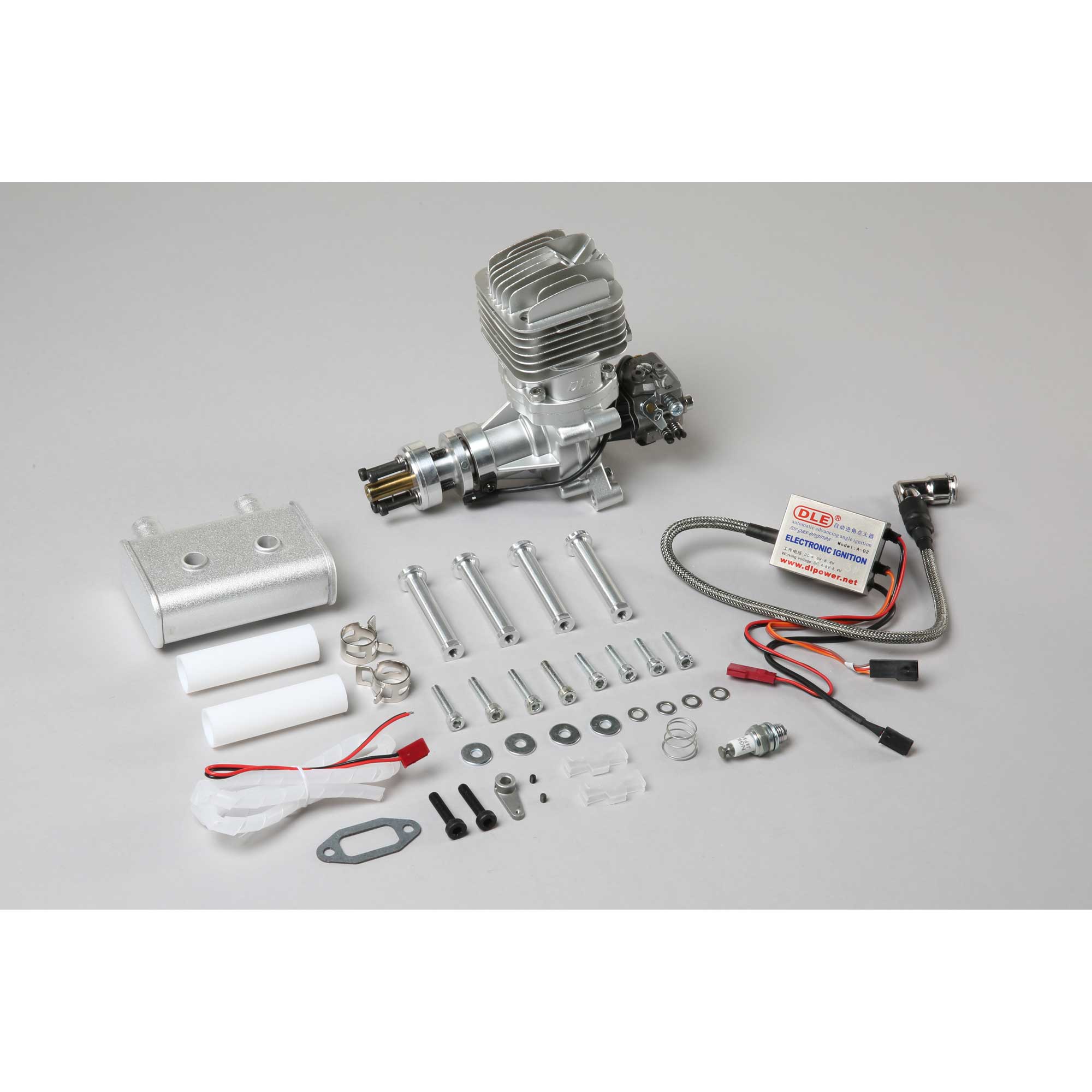 High performance in a compact package!
The DLE-35RA features a rear exhaust for the perfect tuned pipe setup. It also includes a newly designed piston with re-engineered skirt for less piston weight – resulting in such advantages as awesome throttle response, more power and longer engine life. Producing 400 more rpm than the DLE30, the DLE-35RA comes with engine standoffs, electronic ignition, spark plug and muffler.
Electronic ignition is the no-hassle answer to simpler starts, higher performance and minimal RF noise.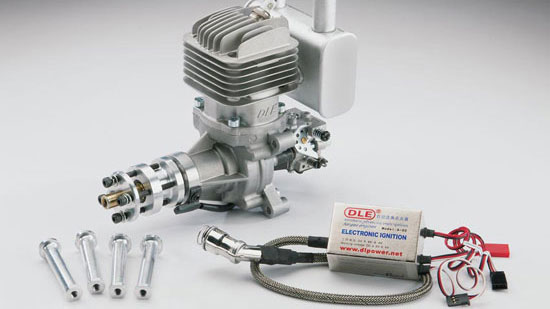 With DLE, accessories are an added value instead of an extra cost.
Product Specifications
| | |
| --- | --- |
| Displacement | 2.13 cu in (34.5cc) |
| Oil Type & Content | 30:1 2-cycle oil mixture |
| Product Length | 6.30" (160mm) |
| Product Height | 4.33" (110mm) from crankshaft center to top of cylinder head |
| Prop Range | 18x10 - 20x10 |
| Starter Type | Hand Held Starter |
| Bore | 1.5" 38.5mm) |
| Crankshaft Type | Threaded |
| Power Type | Gas |
| Plug Type | NGK CM6 |
| Stroke | 1.18" (30mm) |
| Engine (Only) Weight | 2.06 lbs (936 g) |
| Muffler Type | Pitts |
| Cylinders | Single |
| Product Width | 3.15" (80mm) between center of mounting holes |
| Total Weight | 2.5 lbs (1157 g) |
| Ignition Weight | 5.26 oz (147 g) |
| Muffler Weight | 2.61 oz (74 g) |