DLE-20RA Gas Rear Exhaust with Electronic Ignition

DLE-20RA Gas Rear Exhaust with Electronic Ignition
Sealed crankshaft bearings, efficient design for lighter weight
Two petal reed valve rear induction with DLE customized carburetor
Redesigned piston is lighter for faster acceleration, better compression, and lower vibration
Circuitry and software in electronic ignition provides better idle and improved transition, and also allows a wider range of ignition battery voltages from 4.8-8.4V Ignition Sensor available separately
Rear exhaust with newly designed muffler with two outlet stingers that alloy engine to breathe better and produce more power
Lightweight aluminum alloy crankcase
DLE-20RA Gas Rear Exhaust with Electronic Ignition
Earn
points on this item
ⓘ
+
Product Details
In The Box
(1) DLE-20cc Rear Exhaust Gasoline Engine with Electronic Ignition
(1) Muffler
(2) Muffler Extension Tubes with Clamps
(1) Muffler Gasket
(2) 4x20mm Muffler Screws
(1) Spark Plug
(1) Product manual
Needed to Complete
Gasoline with at least 87 octane rating
2-cycle oil, mix ratio for this engine is 30 parts gas to one part oil and must be followed exactly for warranty consideration and optimum performance
4.8 - 8.4V battery for ignition, separate receiver style pack can be used
NOTE: 1st version ignition is marked 'A-01' on the label and requires a regulator if using 2S LiPo/LiFe battery If ignition module is the A-02 model it has a built-in voltage regulator. Model A-02 designation is located above the word "Ignition" on top of the case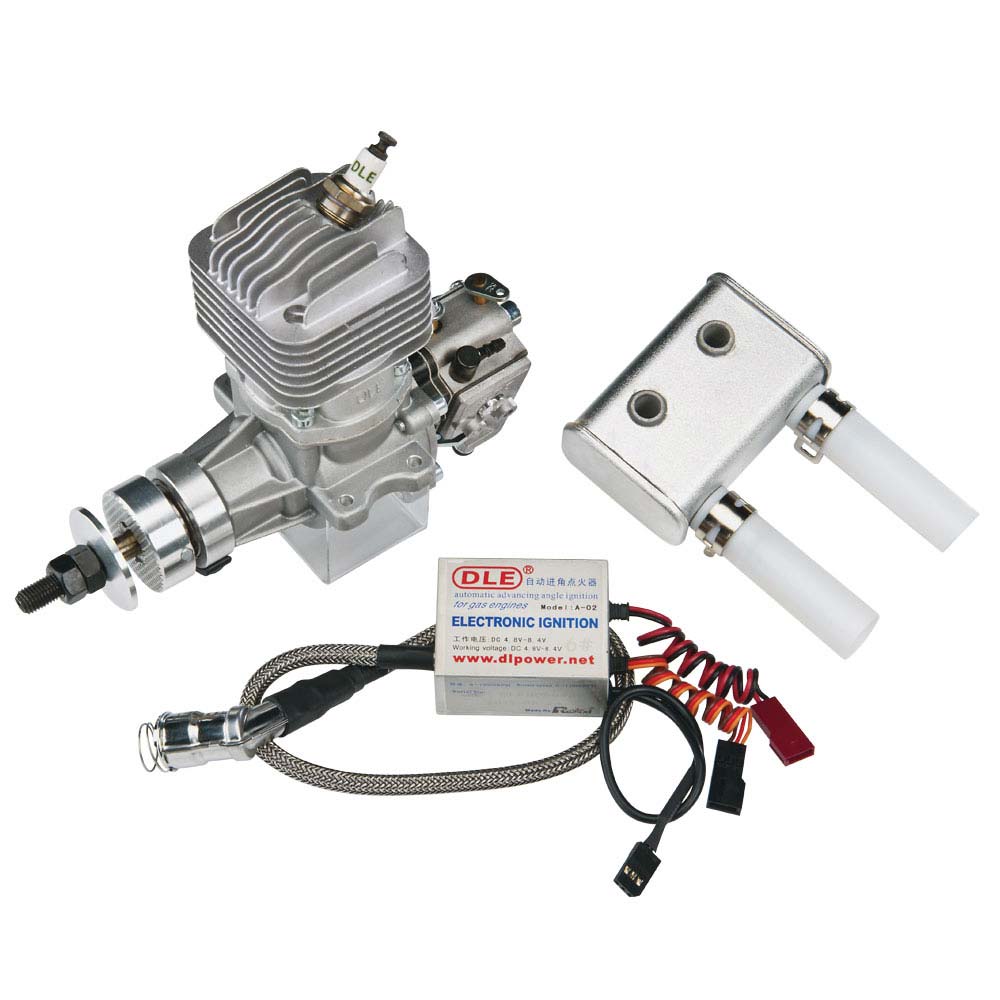 Gasoline economy – electronic ignition ease!
DLE has made the popular DLE-20 better than ever, thanks to updated features that boost overall efficiency and performance! Along with the redesigned muffler and lighter piston, DLE has updated the circuitry and software within the electronic ignition unit for better idle and improved transitions. Best of all, the EI unit is now compatible with 4.8-8.4V ignition batteries!
Efficient, lightweight design with sealed crankshaft bearings.
Two-petal reed valve rear induction with custom DLE carburetor.
Electronic ignition unit with newly designed circuitry and software provides better idle and improved transitions. Ideal for use with 4.8-8.4V ignition batteries.
NGK CM6 spark plug.
Redesigned, lighter piston for faster acceleration, better compression and lower vibration.
Rear exhaust with newly designed muffler features two outlet stingers that allow the engine to produce more power.
Lightweight aluminum alloy crankcase.
2-year limited warranty through Hobby Services, beginning at the date of purchase.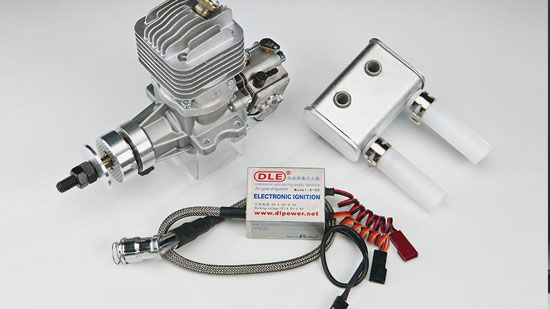 The DLE-20 package includes a muffler, spark plug, gasket, bolts, throttle arm extension & manual.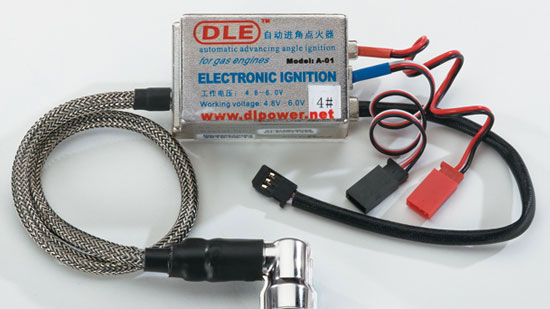 Electronic ignition is the no-hassle answer to simpler starts and higher performance.
Product Specifications
| | |
| --- | --- |
| Engine (Only) Weight | 1.7 lbs (660 g) |
| Muffler Type | Pitts |
| Cylinders | Single |
| Product Width | 2.4" (60mm) measured at mounting hole centers |
| Total Weight | 1.9 lbs (870 g) |
| Displacement | 1.22 cu in (20 cc) |
| Oil Type & Content | 30:1 2-cycle oil mixture |
| Product Length | 5.4" (138mm) |
| Product Height | 3.7" (93mm) from center of crankshaft to top of cylinder head |
| Prop Range | 14 x 10 - 17 x 6 |
| Starter Type | Hand Held Starter |
| Ignition Weight | 4.6 oz (130 g) |
| Muffler Weight | 2.8 oz (80 g) |
| Bore | 1.26" (32mm) |
| Crankshaft Type | Threaded |
| Power Type | Gas |
| Plug Type | NGK CM6 |
| Stroke | .98" (25mm) |