Mid air prop failure!
Review by Dadle75 on 1 Sep 2018
review stating Mid air prop failure!
I really like sending this glider way up, relaxing in a reclined lawn chair and catching thermals for 30 minutes at a time. I also mark on my plane how many flights it has been.
Halfway through flight number six, I had to make an emergency landing after which I discovered was prop failure. I had to gain some altitude to avoid the tree line, and what sounded like a motorcycle in the sky was more like a blender. The battery hatch was difficult to open as the guts were all twisted up and a wire snuck under the latch. But what I found inside was truely spectacular...take a look at the picture!
I've never had a folding prop fail in the air, but now I know the sound. Amazing how the vibration of losing half a folding prop jumbled the insides.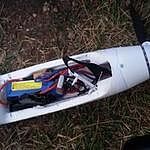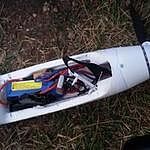 On Conscendo Advanced 1.5m BNF Basic
AMAZING PERFORMANCE!
Review by Ch1 C. on 18 Nov 2019
review stating AMAZING PERFORMANCE!
Never did I think a sport glider would perform as well as the Conscendo. This thing is FANTASTIC!! Launching could not be eaiser. Give it full throttle and throw it forward with VERY LITLE effort and you are off and running. I would recommend giving it a little bit of elevator just to insure you don't dive into the ground if your trim is off. Other than that, a breeze to launch. Landing isn't much more difficult. Cut the power early, and glide in for a very simple smooth landing. I have landed mine on a rough, dirt runway 50ish times with no major damage. I would recommend putting a piece of tape (or something) on the foam up by the nose, because that area does get a little beat up if you are not landing on grass. And the bottom of the rudder where it connects to the fuselage is a little weak, but nothing a little goop won't fix when it starts to seperate.

Now let's talk about performance. This thing is a BLAST to fly. Big loops, slow rolls, and even flies inverted WELL with very little negative required to maintain altitude. It even flies well inverted downwind. It turns on a dime, and glides beautifully if you just want to cruise and take it easy. Catches everyones attention at the field that has an interest in sport gliders. I would highly recommend buying this plane if you have been considering one. LOTS of plane for $150. Going to buy a second one shortly.

AND, absolutely no need for safe select if you have a reasonable amount of experience. A walk in the park to fly.

ENJOY YOUR NEW PLANE!!
(-: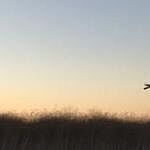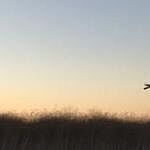 On Conscendo Advanced 1.5m BNF Basic
Most Stress-free flying machine ever
Review by Raddyrad on 28 May 2019
review stating Most Stress-free flying machine ever
I flew this for the first time yesterday. Easy to assemble and bind. Be sure to check the CG/weight and balance, I had to add tail weight.

It's AMAZING. The stabilization is so nice when launching by hand and especially in thermals. Long flights for sure. I backed up a bit and sat on a park bench in the shade and relaxed. This thing specked out, such an efficient glider around lift.

Low and slow fly-bys are a delight, faster fly bys with the motor off- you'll hear the coolest whistle. Landings are gentle.

If you get tired of centering your chi and mediation style flying; turn off the stabilization/recovery and wring it out... it's fast and agile.

You need this airplane, beginner... pro... it doesn't matter. Great job Parkzone/horizon hobby. But seriously, buy it.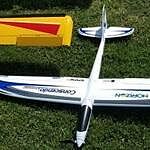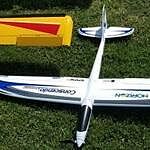 On Conscendo Advanced 1.5m BNF Basic
I LOVE THIS SPORT GLIDER!
Review by Chad D. on 27 Aug 2018
review stating I LOVE THIS SPORT GLIDER!
Yes, there is a problem with the press fit prop pins. They come out easily. You can user a rubbery glue (CA will not hold) to try and keep them in. I picked up some M3 10mm flat head screws and they fit perfectly. No more problems. Besides that one issue that I took a star away for on the quality, this is a great sport glider.

It can glide for what seems like forever when you catch even a weak thermal. Then when you are climbing back up for another round, you can have a little aerobatic fun. It has a great roll rate and it very comfortable to fly because of the maneuverability. I've been getting pretty low and fast with it. Out of my 4 gliders (UMX Radian, Radian Pro, and Radian XL), this is my favorite. I'm getting about 15 minutes of flying on a battery when I glide a lot.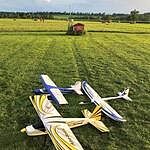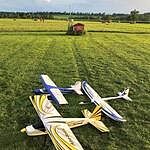 On Conscendo Advanced 1.5m BNF Basic
More fun than should be allowed.
Review by Jay D. on 2 Feb 2020
review stating More fun than should be allowed.
What a great plane. It does nothing spectacular however all the things it does do makes it a spectacular airplane. As a glider I've had 20+ flights. As a sport/aerobatic plane it does all I can throw at it and still gives me 6-8 minutes. Where I live it's often windy, the Conscendo handles strong wind very well. I'm probably going to purchase another for the shelf just in case I get dumb thumbed. It truly is that good and for $129.00 I don't think I'll find a better deal.
On Conscendo Advanced 1.5m BNF Basic