Discontinued
|
This Item is No Longer Available

Clipped Wing Cub 1.2m BNF Basic with AS3X and SAFE Select
Discontinued
|
This Item is No Longer Available

Clipped Wing Cub 1.2m BNF Basic with AS3X and SAFE Select
Product Details
The stock Cub is a legend for its gentle flying characteristics and abundant availability. Searching for a low-cost basic aerobatics alternative, inspired pilots modified the design into an entirely new aviation sensation. The E-flite® Clipped Wing Cub 1.2m park flyer features crisp scale detail and goes beyond the essence of the souped-up variant with inspiring versatility, and an abundance of power. As a result, you get the freedom only a Cub can deliver and the excitement of a hotrod in disguise.
The E-flite Clipped Wing Cub 1.2m is a "Cub Lover's" must-have. Unlike many scale models with this level of detail, assembly only takes the turn of a few screws. The one-piece wing has outstanding rigidity for aerobatics as well as installation ease. Authentic aluminum wing struts offer fold-away convenience and install with quick-release hardware. Up front is the essential scale component no Cub should be denied— intricate engine detail with the signature flare of cooling baffles. Hidden inside is a powerful brushless motor system that delivers outstanding throttle response and the kind of vertical performance full-scale Cub pilots can only dream about. Functional shock-absorbing landing gear accessorized with matching strut covers and balloon-shaped wheel pants help you handle this beauty on the ground like a pro. Just like the real thing, this park flyer has friendly handling for scale flight that's relaxing. But all you have to do to wake this sleeper is firewall the throttle and unleash the aerobatics animal within.

AS3X Receiver with Optional SAFE Select Technology
This Bind-N-Fly® Basic model features a Spektrum receiver integrated with AS3X® (Artificial Stabilization – 3-aXis) technology to smooth out the effects of wind and turbulence for the remarkable sense of stability and precision larger, expertly tuned aircraft enjoy.
If this is your first scale model or would like an extra margin of safety while getting familiar with the airplane, optional SAFE® Select flight protection can be enabled. No programming is required. Simply change up the binding sequence as directed in the manual.
With SAFE Select features enabled, you get:
Pitch and Bank Angle Limits
These keep the aircraft from rolling or pitching upside down. They also prevent excessive climb or dive angles during takeoff and landing.
Automatic Self-Leveling
Instantly returns the wings to level when the sticks are released.
Easy Switch Assignment-No Programming Required
The simple procedure for assigning a transmitter switch to turn SAFE Select features on and off doesn't require any programming and takes just a few seconds.

Needed to Complete
Full-range, 6+ Channel DSMX®/DSM2® with Adjustable Dual Rates
2200–3000mAh 3S Li-Po flight battery
Suitable Li-Po battery charger
What's in the box?
(1) E-flite Clipped Wing Cub BNF Basic
(1) Spektrum AR636A Receiver
(1) E-Flite 40A ESC
(1) E-flite 10-Size Brushless Outrunner Motor
(4) Spektrum 9-Gram Micro Servos
(1) User Manual
Functional Scale Detail
Cub lovers will appreciate the intricate detail of the exposed engine cylinders and cooling baffles. But what sets this scale park flyer apart is the functional shock-absorbing landing gear that articulates with concealed springs and is finished off with matching strut covers and fitted wheel pants. In addition, you get top-access for battery installation that maintains the scale outline and allows you to install the flight battery quickly.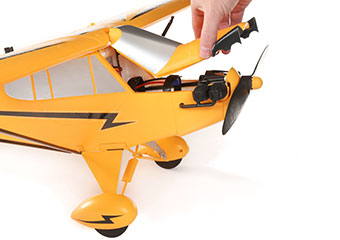 Great Power
The power system features a high-speed 10-size brushless outrunner, a robust 40-amp ESC and a 2-blade propeller that combine with your 2200–3000mAh 3S LiPo battery to deliver thrust that helps this Clipped Wing Cub perform well beyond the basic aerobatics flight envelope with ease.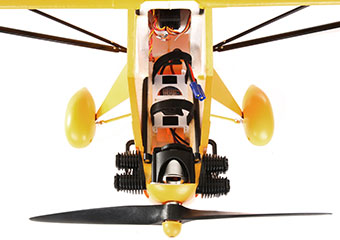 Durable Design
Construction with durable EPO material makes it possible to replicate complex detail in a lightweight form. The result is an outstanding scale appearance that's easy to maintain and allows the most satisfying flight experience possible to shine through.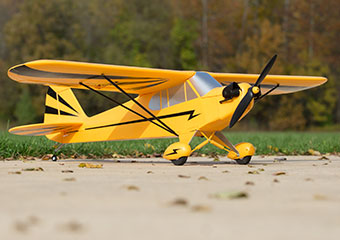 Fold Away Wing Struts
The wing features a rigid, one-piece design that connects to the fuselage with just a single screw. The aluminum struts lock into position with quick-release hardware and fold away into clips at the wing center section for storage and transport.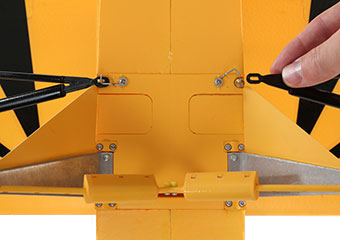 Optional Floats
You can turn this classic into a fun float plane simply by adding the optional Float Set (Sold Separately). All it takes is the turn of a few screws and you can enjoy the serenity of flying from the local pond or lake.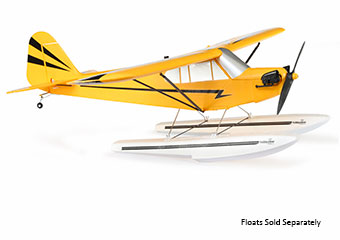 Bind-N-Fly® Convenience
As an E-flite Bind-N-Fly Basic RC replica, you can enjoy air superiority in no time at all. The Clipped Cub BNF Basic is equipped with Spektrum 2.4GHz technology that's ready to bind to a 5+ channel DSM2/DSMX transmitter so you can be ready to fly within minutes of opening the box.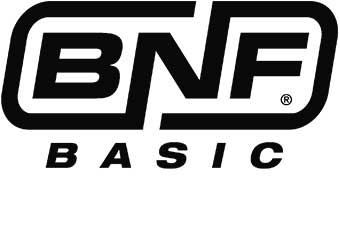 Product Specifications
| | |
| --- | --- |
| Power Type | Electric |
| Servos | 9 gram Micro |
| Wingspan | 49.25" (1250mm) |
| Minimum Required Radio | 4+ channel |
| Recommended Motor Battery | 3 cell 2200-3000 Lipo (sold separately) |
| Propeller Size | 12 x 8 |
| Completion Level | Bind-N-Fly Basic |
| CG (Center of Gravity) | 60-70mm Back from Leading Edge at Fuse |
| Motor Size | 10 Brushless Outrunner |
| Product Length | 38.7" (985mm) |
| Material | Foam |
| Retracts | No |
| Approximate Assembly Time | Less than 1 Hour |
| Flaps | No |
| Airfoil Shape | Semi Symmtrical |
| Landing Gear | Yes |
| Speed Control | Included |
| Wing Area | 405 sq In (26.2 sq dm) |
| Receiver | Included |