Discontinued
|
This Item is No Longer Available

CJ6 V2 1200mm PNP
Discontinued
|
This Item is No Longer Available

CJ6 V2 1200mm PNP
CJ-6 1200mm PNP V2 with Reflex
FMM133PX
View Alternate Product Details
Product Details
In The Box
CJ6 V2 1200mm PNP
Product Manual
Needed to Complete
6-Channel Radio System
LiPo Battery
LiPo Charger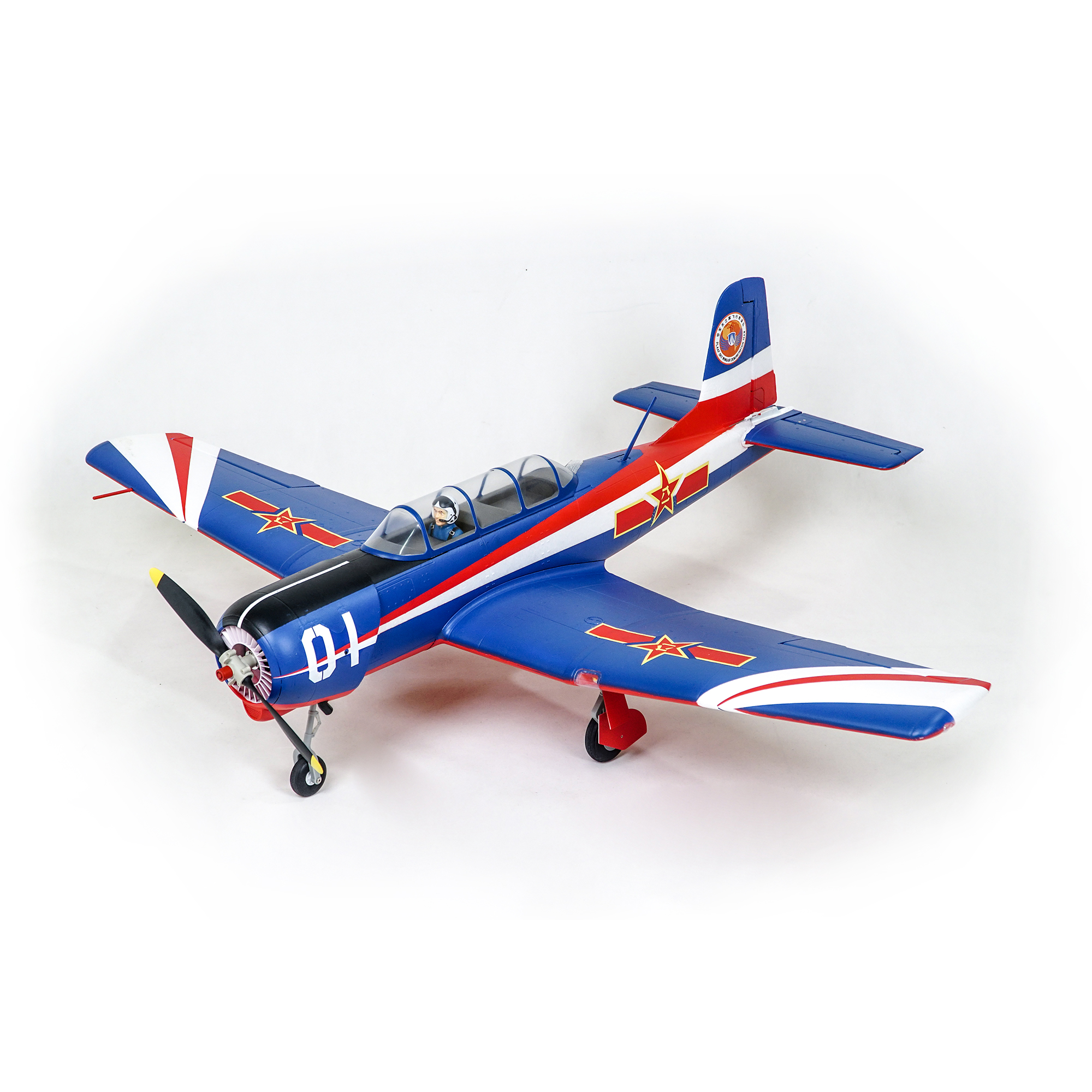 Overview
FMS is proud to release the popular Nanchang CJ-6 V2 with a brand-new PLAAF demonstration team trim scheme. Known for its predictable flight characteristics, aerobatic capabilities and rugged dependability- the Nanchang CJ-6 has served as the basic trainer aircraft for the PLAAF since 1958.
Like its predecessor, the FMS 1200mm Nanchang CJ-6 V2 is built with a carbon-reinforced EPO foam structure- this lightweight yet robust construction allows for excellent durability, light wing-loading and prolonged flight times. A redesigned electric landing gear system can withstand heavy impacts- expected with any trainer aircraft!
Visually, bright LED navigation lights and the realistic PLAAF demonstration team trim scheme add to what was already a very accurate model of the Nanchang CJ-6.
If you're looking for an aircraft that will help you learn the ropes with ease and teach you basic aerobatics, don't miss the FMS 1200mm Nanchang CJ-6 V2!
Product Specifications
| | |
| --- | --- |
| Battery | Sold Separately |
| Motor Size | 3541, 840Kv |
| Product Length | 39.8" (1011 mm) |
| Power Type | Electric |
| Servos | Included |
| Receiver | Sold Separately |
| Radio | Sold Separately |
| Trim Scheme Colors | PLAFF Demo Team |
| Wingspan | 47.24" (1200 mm) |
| Product Weight | 3.196 |
| Wing Loading | 0.13 oz/sq in (57.8 g/sq dm) |
| Landing Gear | Electric retracts |
| Speed Control | Included |
| Wing Area | 389.1 sq in (25.1 sq dm) |
| Charger | Sold Separately |
| Approximate Assembly Time | 10 minutes |
| Approximate Flight Time | 6 minutes |
| Flaps | Yes |
| Material | EPO |
| Retracts | Included |
| CG (Center of Gravity) | 2.5 - 2.7" (65 - 70mm) |
| Completion Level | Plug-N-Play |
| Minimum Speed Control | 40A Predator w/XT60 battery connector included |
| Propeller Size | 11x7 |
| Recommended Motor Battery | 4S 14.8V 2200mAh 25C |