Fly scale or aerobatics!
Review by This N. on 21 Aug 2018
review stating Fly scale or aerobatics!
I have had the plane almost a month now. This is one of the best flying planes I have owned. It tracks through the sky effortlessly and does not need the speed a full scale cirrus requires for flight. You can rip through aerobatics or fly scale all day long. I would recommend using a coat of Min-wax water based poly cote to protect the paint. It does wear rather quickly with no protection. The only issue I ran into with the plane is what appeared to be bad winding on the motor which cause it to start losing power to the prop. I contacted tech support and they sent a new motor out to me. This is one of my new favorite planes and looks incredible in the sky.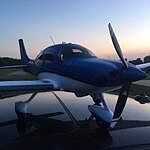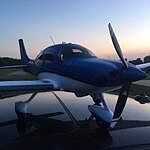 On Cirrus SR22T 1.5m BNF Basic
Amazing
Review by Chad D. on 25 Jun 2018
review stating Amazing
When I first took it out of the box, the hatch over the motor was way out of whack. Someone at the factory went glue happy and filled in the left hole with the rubbery white stuff enough to keep the pin out of it. Once I removed all the glue, it sat fine. It went together easy enough. I was surprised when I loosened the nut on the collet. Nothing else loosened up until I unscrewed the prop too. I don't remember any of my previous planes needing me to unscrew the prop. Once it was on, it wasn't coming off. I wasn't sure what to do with the ESC. It just sort of floats over the RX. There are spaces on the sides of the battery tray is could fit into. Do not slide it in there. ESCs need airflow. It's not really a big deal leaving it out unless you like a clean battery bay. I might clean the battery area up in the future. I did like that I didn't have to mess with wires on the wings. They attached very fast. I hope they do that style of plug system more often.

I bound with SAFE on and surprised that the switch was the opposite of some of the smaller planes I enabled SAFE on to train new pilots with. I liked that having the switch in the default position had SAFE off, so I left it. I also needed to reverse my flaps channel so that my gear switch had the flaps up when all the way up. Someone one at the field who bought the Commander MPD had the same issue. The manual says nothing about reversing a channel. I did have to adjust the rudder and nose wheel a little to get them trimmed. That is very easy to do with a screw driver in the bottom hatch on the Cirrus.

First flight was great. It rolled about 20 feet in the tall grass (without flaps) before shooting up. I took it up high and started doing slow turns until it stalled. It eventually did. It only dropped about 10 feet before it recovered, so not bad. I brought it down and kept doing low passes after that. With the scale details and clear windows, I enjoyed watching it glide by over and over again. I joined a second club with a field that has trees to the left and a hill to the right. My other club has nothing around it. I'm still getting used to dropping on over the trees for a landing. There was no wind to slow me down and I came it pretty hot. I ended rolling pretty far down the grass runway. But while taxiing back and I had a lot of control with that front wheel on the trike set up.

Flight 2 I used flaps for take off and landing and it was much more controlled. It was taking off in 10 to 15 feet and stopping much faster. I did some big loops, inverted passes and circles, and rolls fine. Flight 3 was more of the same. All 3 flights were on high rates with SAFE off. If you slow down on a climb, you can get a decent stall turn.

Despite the few minor things I noticed during setup, I like flying it a lot. It is a beautiful foam model. You can yank and bank with it or do some nice flat turns. No matter what I did, everything was smooth and controlled. Even the stall I forced on it. I tested that because I am going to let some new pilots try it....eventually. The first two flights I used 3S 2200 50c batteries and the 3rd one was a 3S 3000 30c. I kept the flights to 4 minutes each and went home happy.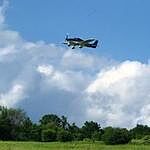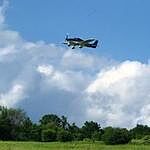 On Cirrus SR22T 1.5m BNF Basic
By far the best Eflite I've flown
Review by Dewey96 on 12 Jun 2018
review stating By far the best Eflite I've flown
I've had my fair share of Eflite birds... Apprentice, Timber, UMX Timber, 1.2 Spitfire, UMX P-51BL, 1.1m P-47D, and more... This is, by far, the best of the bunch in my opinion. It flies rock solid, has great manners in the air, and plenty of power. The LED's add an awesome touch for twilight flying. SAFE Select gives you an option for easier flying, if desired, but it really does not need it. The scale flaps, lighted interior, and extra antenna and features are a nice touch. The 3 blade prop adds that final touch of scale appearance. I WOULD HIGHLY RECOMMEND THIS PLANE.

If I had any beefs or cons to it at all, it would be that the gap between the nose panel and cockpit panel is a little large and while the quick-connect feature on the wings is designed for easy install and removal, the screws need to be much more robust. I've pulled the wings off twice and am concerned that the screws will need replacing soon due to stripping out. Either larger screws or a more dense material screw... I'll probably take my screws down to the local hardware and see if I can find some matching heavy duty steel screws to replace them with. Really, this are minor quips.... nothing to write home about.

Recommend a paved "runway" or very smooth ground with low cut grass. This isn't a Timber for flying off rough ground. Also, the plane is easy to land, but you'll want to make sure your touch downs are fairly gentle... the gear setup is robust but I can see you banging it too hard and it messing with the gear... especially if you pound the nose wheel too hard.

I WILL replace this plane with another if anything ever happens to my current bird.
On Cirrus SR22T 1.5m BNF Basic
Worth the wait
Review by Pg D. on 5 Oct 2017
review stating Worth the wait
Plane arrived Tuesday and went together in about an hour and binding the included receiver with SAFE was straightforward. I put five flights on it today with various sized batteries. I started with 3s 2200, then 3s 2600 and finally (the manual recommends up to 3s 3000) I dropped an Eflite 3s 3200 in there with no ill effects due to the size and weight. We had 5-6 mph winds straight down the runway today so taking off and landing on the smooth asphalt was uneventful with no flaps. Climb out was smooth and that was just the beginning. This plane cruised around on less than half throttle. I was getting five minutes with the 2200 and landing with 35% battery left. The 2600 gave about seven minutes and the 3200 yielded eight plus minutes with a few Cuban eights and loops thrown in, I was wringing it out with the 3200 and landed with 30%, what a nice surprise. Takeoffs and landings are good with or without the safe system enabled. I've never used as3x until today and I enjoyed using it but this plane will impress you no matter what receiver you drop in it. For relaxing, no stress flight this one is a keeper.
On Cirrus SR22T 1.5m BNF Basic
Carlos J.
5.0 star rating
Amazing Buy
Review by Carlos J. on 11 Aug 2020
review stating Amazing Buy
This is one of the best looking planes I've seen in a while, the attention to detail is exceptional down to the radio antennas and the foot steps, is also the most elegant plane in the air I own and with the AS3X, is one of the smoothest flying. I would recommend the Cirrus SR22T as a second plane, specially with the optional SAFE. Best purchase I've done this year.

https://www.youtube.com/watch?v=F1yA5n5QQnw
On Cirrus SR22T 1.5m BNF Basic