Discontinued
|
This Item is No Longer Available

Body Grip Tool for Painting RC Bodies
Item No.
PROTOform - Pro-line Racing -
PRM634901
Discontinued
|
This Item is No Longer Available

Body Grip Tool for Painting RC Bodies
Item No.
PROTOform - Pro-line Racing -
PRM634901
Product Details
In The Box
PROTOform Body Grip Tool with Decal (1 pc)
Large Suction Cup 2 1/2" (60mm) (1 pc)
Medium Suction Cup 1 7/8" (45mm) (1 pc)
Stud Screw (2 pcs)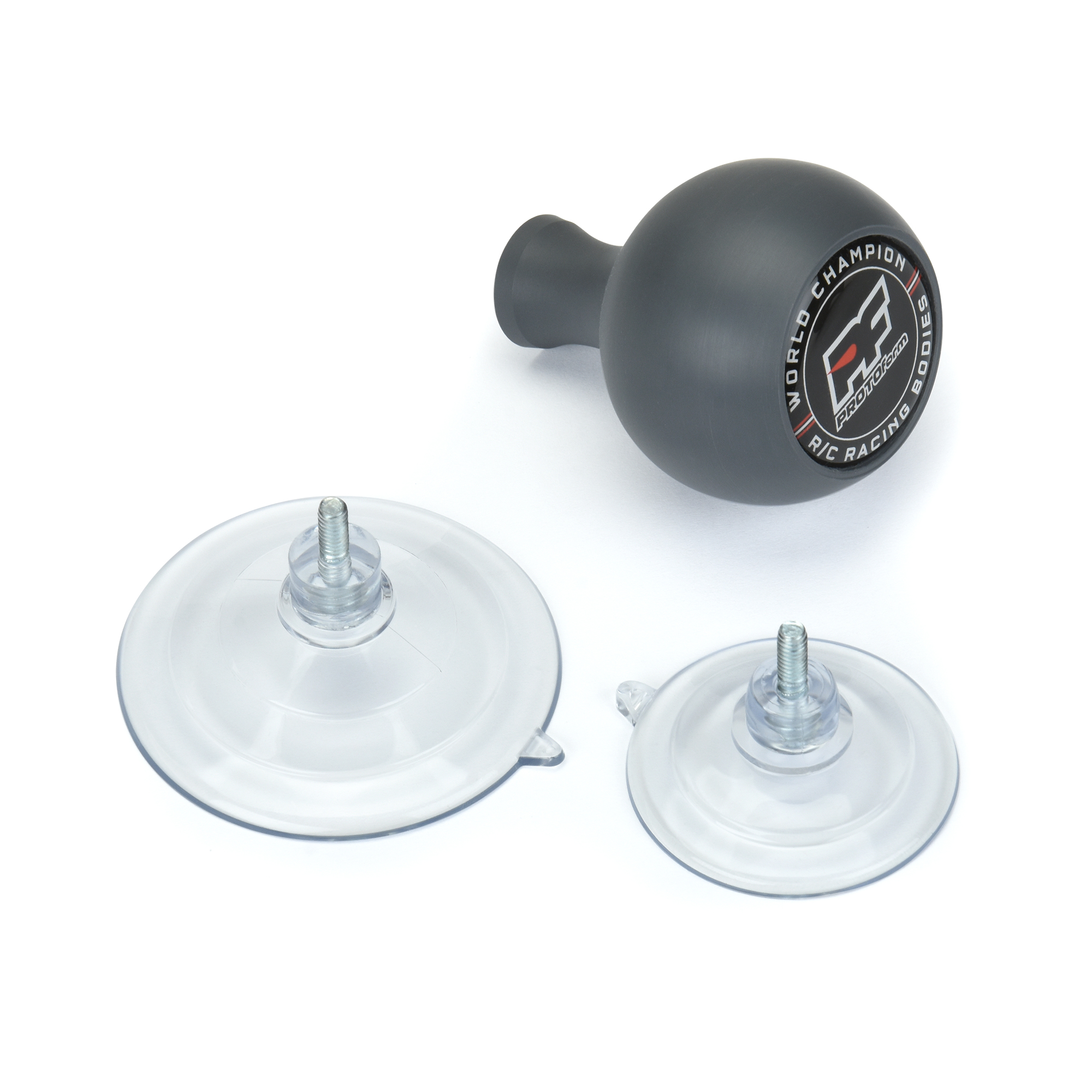 Features:
Custom Machined, High Quality
A Must Have Painters Tool
Suction Cup Grip to Hold Your RC Body While Painting
Made from Type 1 PVC
2 – 3 ringed Suction Cups Provide Excellent Adhesion
Room to Maneuver Without Breaking the Seal
Made in the USA
Tips:
To ensure proper adhesion wipe mounting area and cup to be free from dust or debris
Mount to a smooth surface (roof, windshield or door areas)
Place cup firmly for 5 seconds for a secure bond
Check that the inner seals do not cross a body detail line as this will allow air into the cup
Overview:
This is a PROTOform Body Grip Tool for painters. Tired of ruining your paint job with a fingerprint in the wet paint while trying to hold your pre-cut body? Well, struggle no more! This stylish ergonomic PROTOform Body Grip Tool helps painters like you hold the body effortlessly and comfortably. Choose to hold the body like a shifter knob for easy rotation or slide it in between your fingers at the narrow base to palm the body effortlessly like a cell phone. Either way you grip it, you can rest assured that your RC body will no longer be a pain to hold while painting.
This is a custom machined tool made from Type 1 PVC and turned to match popular grip styles. The Body Grip tool includes 2 suction cups to easily adapt to many body sizes and shapes. The large cup is a 2 1/2" (60mm) rated to hold 7 lbs and best used on the roof or windshield of larger scale bodies. The medium cup is a 1 7/8" (45mm) rated to hold 3 lbs and best used on the roof or windshield for small scale bodies or tight areas where the large cup may not fit. To finish it off the Body Grip tool has a stylish PROTOform World Champion decal.
Get this PROTOform Body Grip Tool to make painting life easier! Just stick it and grip it!
The body is only to display the functionality. No body is included with this product.
Video:
Fits:
What's Included:
PROTOform Body Grip Tool with Decal (1 pc)
Large Suction Cup 2 1/2" (60mm) (1 pc)
Medium Suction Cup 1 7/8" (45mm) (1 pc)
Stud Screw (2 pcs)