A6350 Ultra Torque / High Speed Brushless HV Servo

A6350 Ultra Torque / High Speed Brushless HV Servo
High Voltage (HV) capable
Superior torque and speed in a standard servo size
Durable and long-lasting brushless motor
Low wear and tightly meshed all metal gear train
Dual bearing supported drive train helps maximize smooth operation
A6350 Ultra Torque / High Speed Brushless HV Servo
RC Club points earned on this item shown at checkout.
ⓘ
Product Details
In The Box
(1) A6350 Brushless Servo
(4) Mounting Grommets, Eyelets, and Hardware
(4) Plastic Servo Arms and (1) Screw
(1 Set) "Guided by Spektrum" Decals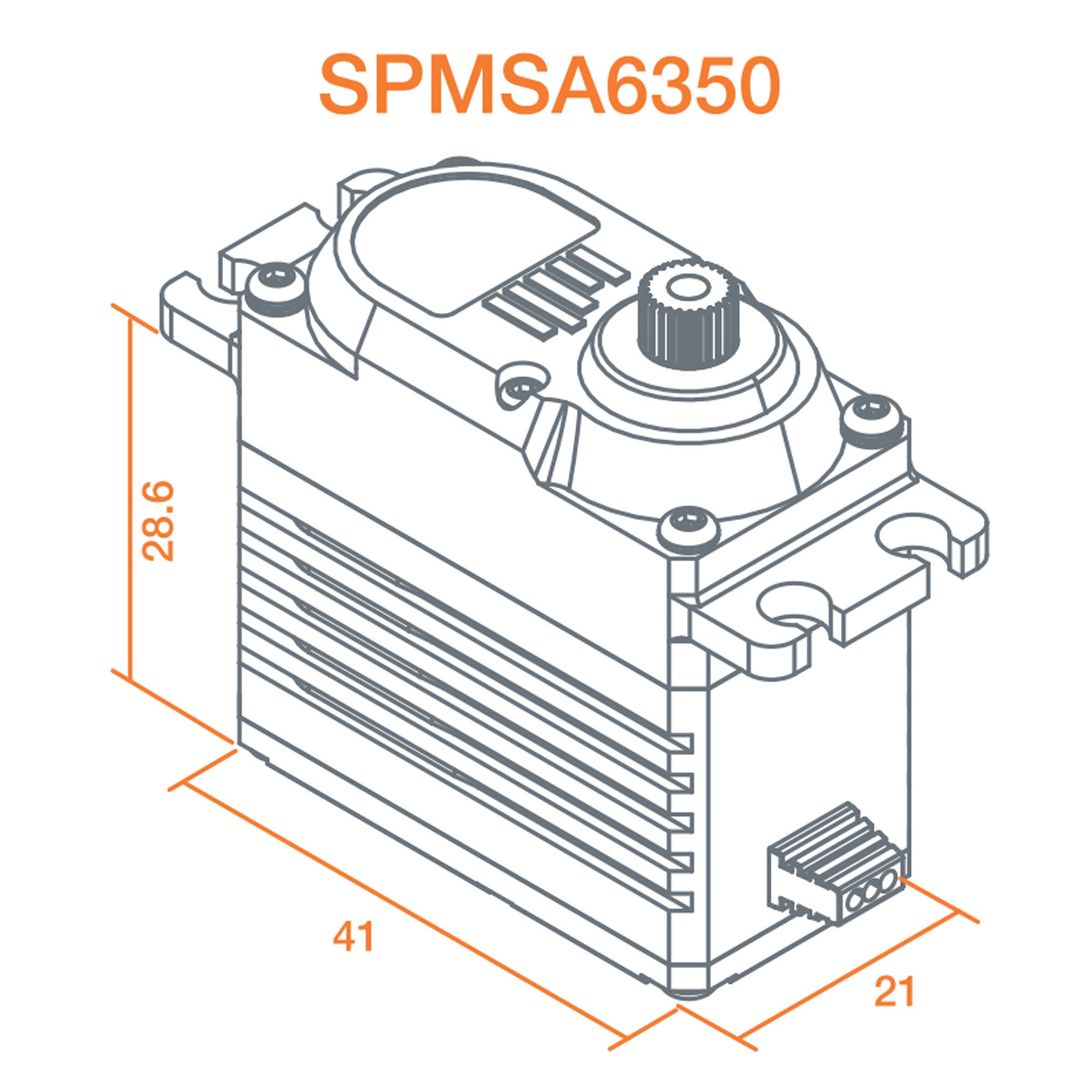 Features
High Voltage (HV) capable (6.0-8.4v input range)
Superior torque and speed in a standard servo size (61.4 kg-cm and .095 sec/60° @8.4v)
Durable and long-lasting brushless motor
Low wear and tightly meshed all metal gear train
Dual bearing supported drive train helps maximize smooth operation
Aluminum servo case helps keep operating temperatures low
Soft start helps prevent component and airframe damage during un-intentional initializations
Over Current and Temperature protection
Helpful initialization start tone lets pilot know when the servo is ready
Integrated servo failsafe holds last known position if signal is lost and power is maintained
Operating Frequency: 200hz to 333hz
A6350 Ultra Torque High Speed Brushless MG HV Servo
The Spektrum™ A6350 Ultra-Torque / High Speed Brushless HV Servo is the next evolution in the expanding line of leading-edge performance servos from Spektrum". Designed with the extraordinarily strong and reliable A6300-series brushless gear train, the A6350 servo takes power and speed to the next level! The A6350 is a top-of-its-class workhorse that's ready for the demands of whatever giant-scale, 3D, or jet model you fly. And the A6350 servo is also a good choice for any application that requires high performance, high speed, and ultimate power.
Product Specifications
| | |
| --- | --- |
| Connector Type | Universal |
| Application | Airplane |
| Overload Protection | Yes |
| Product Weight | 3 oz (85g) |
| Spline Count | 23 - Tooth |
| Water-Resistant | No |
| Material | Metal |
| Servo Size Category | Standard |
| Motor Type | Brushless |
| Servo Operating Voltage | 4.8 - 8.4V (HV) |
| Maximum Servo Torque | 576 oz-in (41.5 kg-cm) @ 6.0V; 725 oz-in (52.2 kg-cm) @ 7.4V; 852 oz-in (61.4 kg-cm) @ 8.4V |
| Maximum Servo Speed | 0.145 sec/60 deg @ 6.0V; 0.115 sec/60 deg @7.4V; 0.095 sec/60 deg @ 8.4V |
| Product Length | 1.61" (41 mm) |
| Input Voltage | 6.0V to 8.4V |
| Product Application | Air |
| Product Height | 1.61" (41 mm) |
| Servo Type | Digital |
| Bearing | Dual Ball Bearing |
| Bushing Or Bearing | Bearing |
| Gear Type | Metal |
| Product Width | 0.83" (21 mm) |