Backorder
|
Next Shipment November 2023

A6190 Standard Metal Gear HV Aircraft Servo
Backorder
|
Next Shipment November 2023

A6190 Standard Metal Gear HV Aircraft Servo
High Voltage (HV) capable (4.8-8.4v input range)
Perfectly suited for sport and trainer type model aircraft requiring standard size servos
Low wear and tightly meshed all metal gear train
Dual bearing supported drive train helps maximize smooth operation
Operating Frequency: 200hz to 333hz
A6190 Standard Metal Gear HV Aircraft Servo
RC Club points earned on this item shown at checkout.
ⓘ
Product Details
In The Box
(1) A6190 Standard Digital Servo
(4) Pre-installed Mounting Grommets And Eyelets With Hardware
(3) Plastic Servo Arms and (1) Screw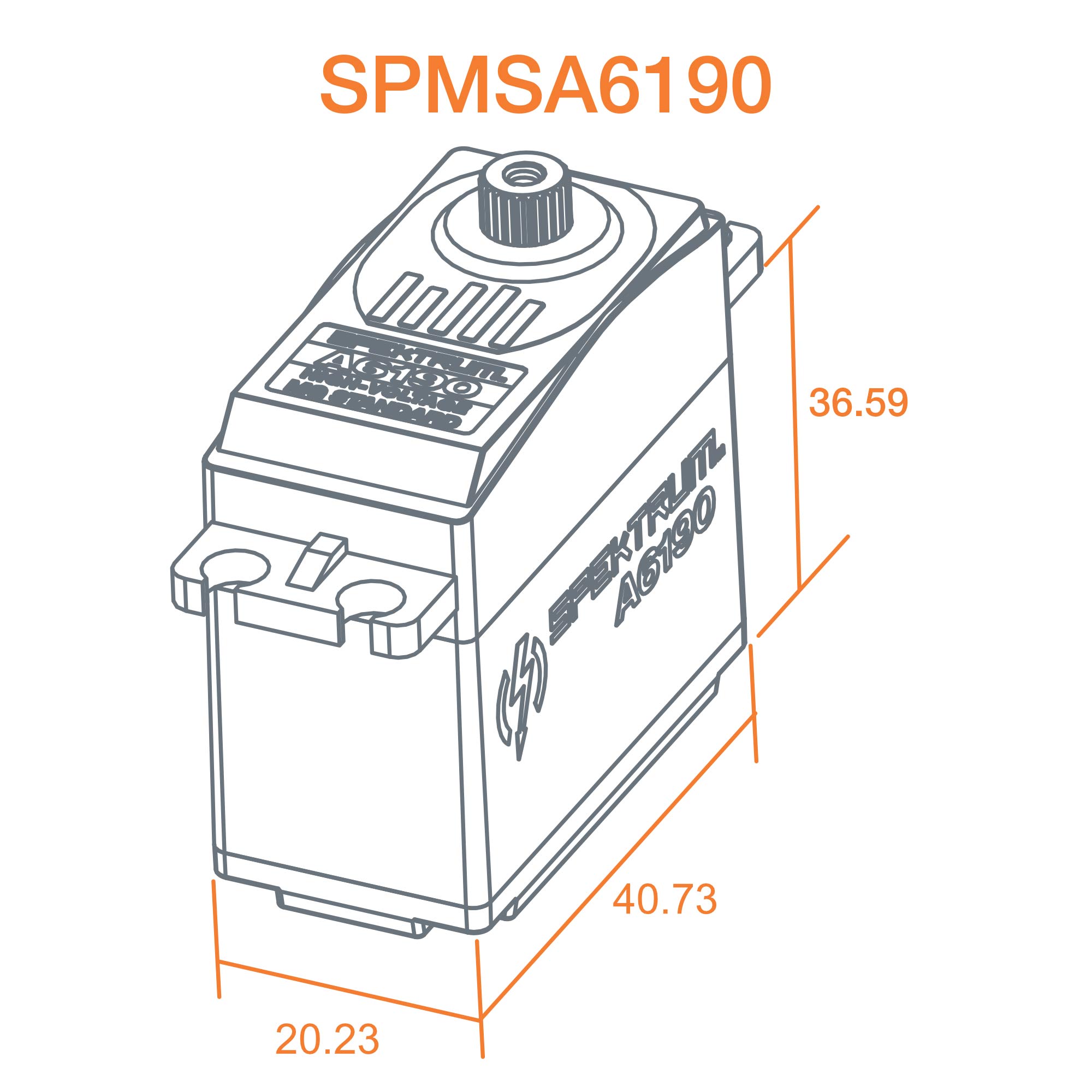 Features
High Voltage (HV) capable (4.8-8.4v input range)
Perfectly suited for sport and trainer type model aircraft requiring standard size servos
Excellent performance and value for its class (8.3kg-cm and .17 sec/60° @8.4v)
Low wear and tightly meshed all metal gear train
Dual bearing supported drive train helps maximize smooth operation
Operating Frequency: 200hz to 333hz
A6190 Standard Metal Gear HV Digital Servo
The Spektrum A6190 Metal Gear High Voltage Digital servo offers impressive performance for pilots looking for an excellent value standard size servo for their Sport and Trainer aircraft. High voltage capable, the A6190 can produce 8.3kg-cm (115 in-oz) of torque at 0.17 sec/60° speeds with 8.4V input. Its low-wear, metal gear drive train is powered by a 5-pole ferrite motor and is supported by dual ball bearings for smooth operation. It also features low deadband and precise position control. Like all Spektrum servos, the A6190 delivers reliability, consistency and performance that are second to none.
Product Specifications
| | |
| --- | --- |
| Servo Operating Voltage | 4.8 - 8.4V (HV) |
| Connector Type | Universal |
| Maximum Servo Speed | 0.22 sec/60 deg @ 6.0V; 0.17 sec/60 deg @ 7.4V; 0.13 sec/60 deg @ 8.4V |
| Product Length | 1.47" (37 mm) |
| Deadband | <1µs |
| Input Voltage | 4.8V-8.4V |
| Product Application | Air |
| Product Height | 1.58" (40 mm) |
| Servo Type | Digital |
| Maximum Servo Torque | 90 oz-in (6.48kg-cm) @ 6.0V; 98 oz-in (7kg-cm) @ 7.4V; 115 oz-in (8.3kg-cm) @ 8.4V |
| Bearing | Dual BB |
| Bushing Or Bearing | Bearing |
| Gear Type | Metal |
| Application | Airplane |
| Overload Protection | No |
| Product Weight | 1.9 oz (54g) |
| Spline Count | 23 - Tooth |
| Water-Resistant | No |
| Product Width | 0.78" (20 mm) |
| Material | Plastic |
| Programmable | No |
| Servo Size Category | Standard |