21XZ-B V2 ABC VII 1/8 Offroad .21 Buggy Engine

21XZ-B V2 ABC VII 1/8 Offroad .21 Buggy Engine
High performance crankshaft has silicone filled intake passage and Tungsten counterweights
Lightening holes in cylinder head reduce overall weight
22B2 single needle slide valve carburetor
ABC piston and liner construction "A"luminum piston fitted to a "B"rass cylinder liner that is "C"hrome plated
Optimized power band
21XZ-B V2 ABC VII 1/8 Offroad .21 Buggy Engine
RC Club points earned on this item shown at checkout.
ⓘ
Product Details
In The Box
(1) O.S. 21XZ-B V2 Off-Road Engine with 22B2 Carburetor
Exhaust Gasket
P3 Turbo Ultra Hot Glow Plug
Yellow 7mm Carb Reducer
(2) Dust caps
Product manual
Needed to Complete
Fuel: 10-30% nitro content, 20% recommended for break-in
Exhaust System: Depending on vehicle
Glow starter, fuel tubing and track equipment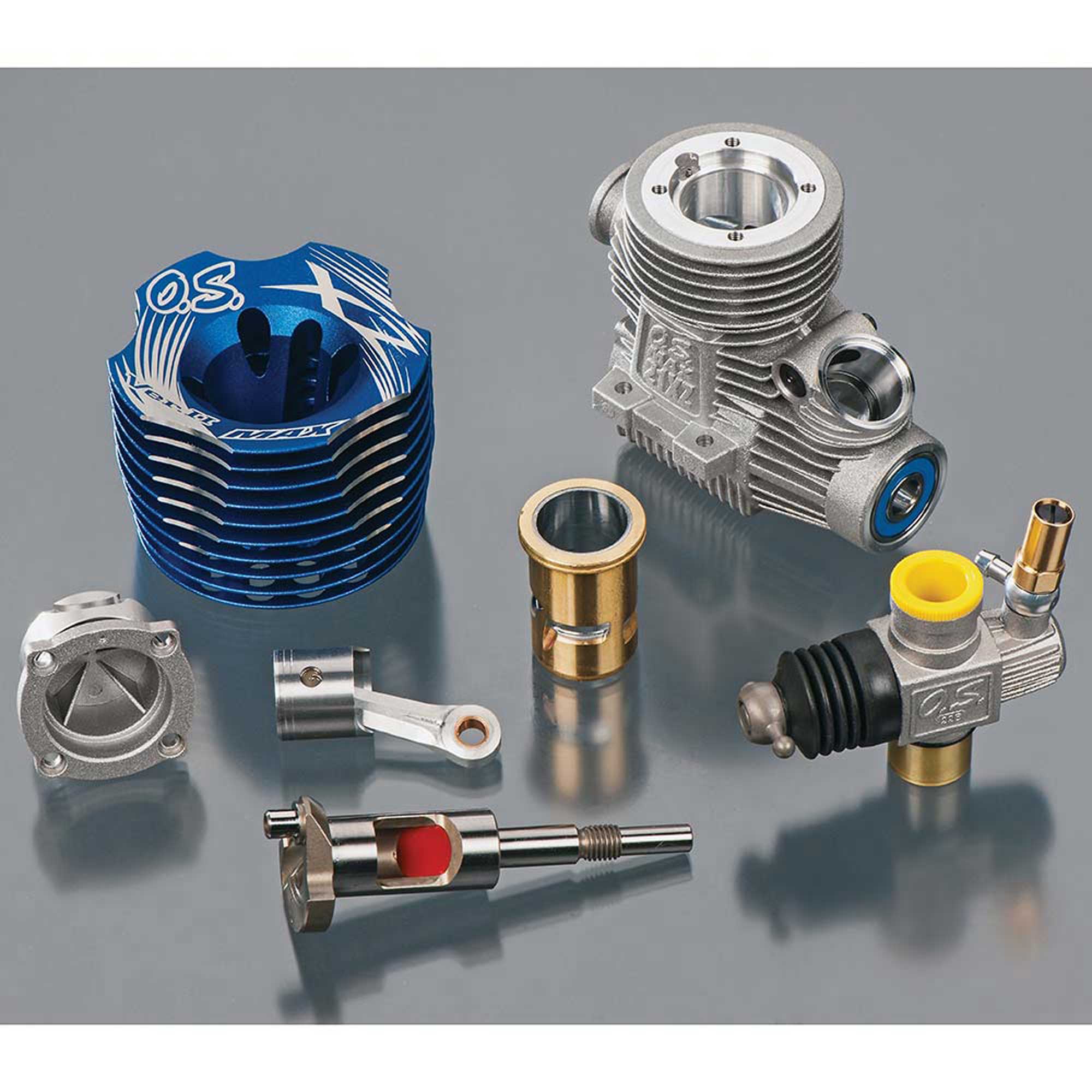 The perfect balance between price and performance.
The 21XZ-B Version II delivers ideal performance at a reasonable price. It continues to exceed the expectations of even pro racers, delivering power comparable to the Speed Spec II at a lower price. Upgrades include a lightened cylinder head, improved cooling and a brand new 22B2 single-needle carb for easy tuning. If you're looking for incredible throttle response and the power to conquer off-road, you've found it in the 21XZ-B Version II.

Performance that rivals the Speed 21XZ-B Spec II
Shares the piston, liner and con rod of the Spec II
Easy-tune 2282 single-needle carb
Optimized power band
Silicon-filled crankshaft with tungsten counter weights
Low center of gravity
Blue anodized head
Incredible throttle response
Product Specifications
| | |
| --- | --- |
| Part Type | Engine Parts |
| Product Height | 4 in (102.1 mm) |
| Displacement | 0.213 cu in (3.49 cc) |
| Product Length | 2.5 in (64.5 mm) from backplate to drive hub |
| Product Width | 1.77 in (45 mm) at mounting tabs |
| Total Weight | 12.77 oz (362 g) |
| RPM Range | 4,000 - 42,000 rpm |
| Stroke | 0.661 in (16.8 mm) |
| Cylinders | Single |
| Crankshaft Threads | UNF1/4-28 |
| Bore | 0.641 in (16.27 mm) |
| Crankshaft Type | Threaded |
| Power Type | Glow |
| Plug Type | P3 Turbo Ultra Hot |