Playin2win
5.0 star rating
Beauty of a Day
Review by Playin2win on 28 Mar 2020
review stating Beauty of a Day
Well as a complete beginner to this hobby I was able to have my first few flights today with my 150s, and what an absolute blast!!!! So I have been doing a ton of research into flying RC helicopters as well as reading pretty much all the posts from the different models...a very good idea considering now owning all BNF models and most RTF as well. FYI I have always been the type of person who doesn't just dip my toe in a little bit with something, I absolutely go right for it until I'm content. So my first flight was 7 minutes and 49 seconds on an Eflite 3s 2200mah 30c Lipo, to begin with i decided that before I even got there i was gonna practice taking off and landing as well as hovering...and it went very very well. So I changed batteries and took off again, this time expanding my flight doing figure 8's. I don't know if the guys who did nothing but complain about their 150s's got a bad batch(and this does happen) but even as an amateur I had complete control with my DX6E SPEKTRUM. I definitely am well aware that some units come from the factory ready for disaster the second you get it in the air but...this doesn't mean that you need to absolutely bash each and every product from that brand supplier because they can't guarantee that EVERY UNIT operates flawlessly, that is an unrealistic expectation in my opinion. For example, I just had an issue with my 360 Fusion that caused a substantial amount of damage and it wasn't due to operator error, it just happened to have a glitch. I emailed customer support and a few days later I received a pleasant email from a fellow named Ken who instantly resolved the situation being extremely more than prompt...matter of fact he had everything done and a brand new one in the mail all within a few hours. It happens, doesn't mean everything is junk nor does it mean that unit that failed is junk...it's just a glitch. Personally I love my Blade Heli's and will never change brands simply because of an issue with one. The other 11 operate flawlessly so what does that tell you ❓❓❓it tells me that HH is dialed in just about perfect.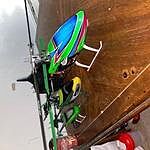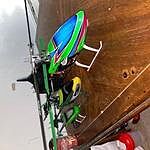 On 150 S BNF Basic with SAFE Technology
A Perfect Pandemic Partner!
Review by Ben S. on 13 Apr 2020
review stating A Perfect Pandemic Partner!
The Blade 150 S is the best helicopter that I have flown. Please note that I am a sport flyer and NOT a 3D pilot. I have flown the 200, 230, 250, and now the 150 S. I bought it to have something small to fly while stuck in the house during the COVID-19 pandemic. I wanted something I could fly outside in the back yard or better still at the schoolyard nearby.

First off, the design and craftsmanship of this heli are outstanding. It has fantastic proportions. A stout tail boom, MG servos, and a carbon fiber main frame. All for 200 bucks. A great value!

The 150 S flies superbly. It is a pleasure to fly. It has a gob of power (and I am at 5,400 feet). The 150 S has enormous power. It is beautifully controllable in both SAFE mode (Mode 1) and Mode 2. It is just a joy to fly with no bad habits and predictable. I just love flying this heli. It sounds great too.

If you are looking for a fully aerobatic small and relatively inexpensive heli then the 150 S is the one that you need in the hanger.
On 150 S BNF Basic with SAFE Technology
Mikek0416
5.0 star rating
very stable
Review by Mikek0416 on 5 Sep 2020
review stating very stable
I was apprehensive on buying since the blade 130S seems so bouncy, touchy and it is handful. However, the 150s is smooth, stable and a blast to fly around my back yard. Would highly recommend.
On 150 S BNF Basic with SAFE Technology
Excellent Heli to practice in backyard or Park
Review by Jasond on 3 Apr 2020
review stating Excellent Heli to practice in backyard or Park
Unfortunately San Diego is under lock down because of the deadly Corona Virus. And as a result our local field Chollas RC is closed. So instead of being stuck on a simulator I was able to purchase this little gem of a heli and have been able to fly in my local backyard. The thing really gives good flight times on my 450 batteries. I fly for 4 mins down to storage 4.8V, more than enough time.

Now does this thing fly like a 500 no, but it is realitively stable and believe it or not will teach you good flying skills during the world wide pandemic ;-), and you can't safely fly with your fellow helicopter pilots.

So in a nutshell I would definitely recommend this little gem to anyone who wants to scratch that flying itch during the nationwide lockdown. If your thinking of purchasing this heli, don't hesitate cheap batteries, cheap parts, easy to fix.

Example I was just flying in the Park and in normal mode, I went inverted and well the heli of course went down right on its blades perfectly flat. I didn't even hit throttle hold, till it had already hit. The only damage was feathering shaft, and a main gear, which I just ordered and I should be up and flying again for under $20 and that includes shipping.

Well Blade hit a home run with this one, I enjoy it a lot more that the 180 CFX trio.

Best,

Jason
On 150 S BNF Basic with SAFE Technology
Heliflyer1956
5.0 star rating
You can't go wrong with this one! Amazing.
Review by Heliflyer1956 on 31 Jan 2020
review stating You can't go wrong with this one! Amazing.
I've been flying RC helicopters, planes and drones of various types for over 20 years, and I have to say this is one of the best purchases I have made. This helicopter is extremely stable in S mode which is where I fly. I don't really get into 3d or stunts that much so I can't comment on those aspects, but if it flies anything like as well in those areas as it would be great. It feels totally locked in and predictable, with plenty of power to get out of trouble if you somehow got into a bad spot. I have a 230 s as well, and it is great, but the 150 just has a more tight, locked in feeling, although both are great. If you have been on the fence about this one, order it, you will be thrilled with it. One comment, when I got it and powered it up for the maiden flight, it got light on the skids and began to spin around to the left. I noticed the tail motor was not really doing anything to fight the torque of the main motor. On inspection, the plug that powers the tail motor was completely disconnected and just hanging in the other half of the plug. I plugged it in securely, and everything was great. Always a good thing to check over a new one before you fly it.
On 150 S BNF Basic with SAFE Technology