120AX Ringed 1.20 Airplane Glow Engine with Muffler

120AX Ringed 1.20 Airplane Glow Engine with Muffler
Ideal for 3D, Precision and Sport flying
Mounting Application: Mounts in same space as the .91FX (actual mounting dimensions vary slightly
Internal Construction: Steel piston ring and liner, aluminum piston
Muffler: E-5020 "Power Box" with extension and 90° adapters
Carburetor: 70D with rearward angled needle valve for safety
Glowplug: O.S. #8 supplied with engine, A5 (OSMG2693) will also work
Warranty: Two-year limited
120AX Ringed 1.20 Airplane Glow Engine with Muffler
Earn
points on this item
ⓘ
Product Details
In The Box
O.S. Max Two-Stroke 1.20AX Ringed Engine with E-5020 Power Box Muffler, #8 glow plug, muffler adapter, prop washer and lock nut, needle valve extension cable,instruction manual and decal sheet, two muffler screws, two muffler extension bolts, two long muffler bolts.
Needed to Complete
Fuel: Two-Stroke with 18% lubricant and 5-20% nitromethane
Propeller: 15x10-12 or 16x8-10
Field Equipment: Glow starter, fuel filter, fuel pump, fuel tubing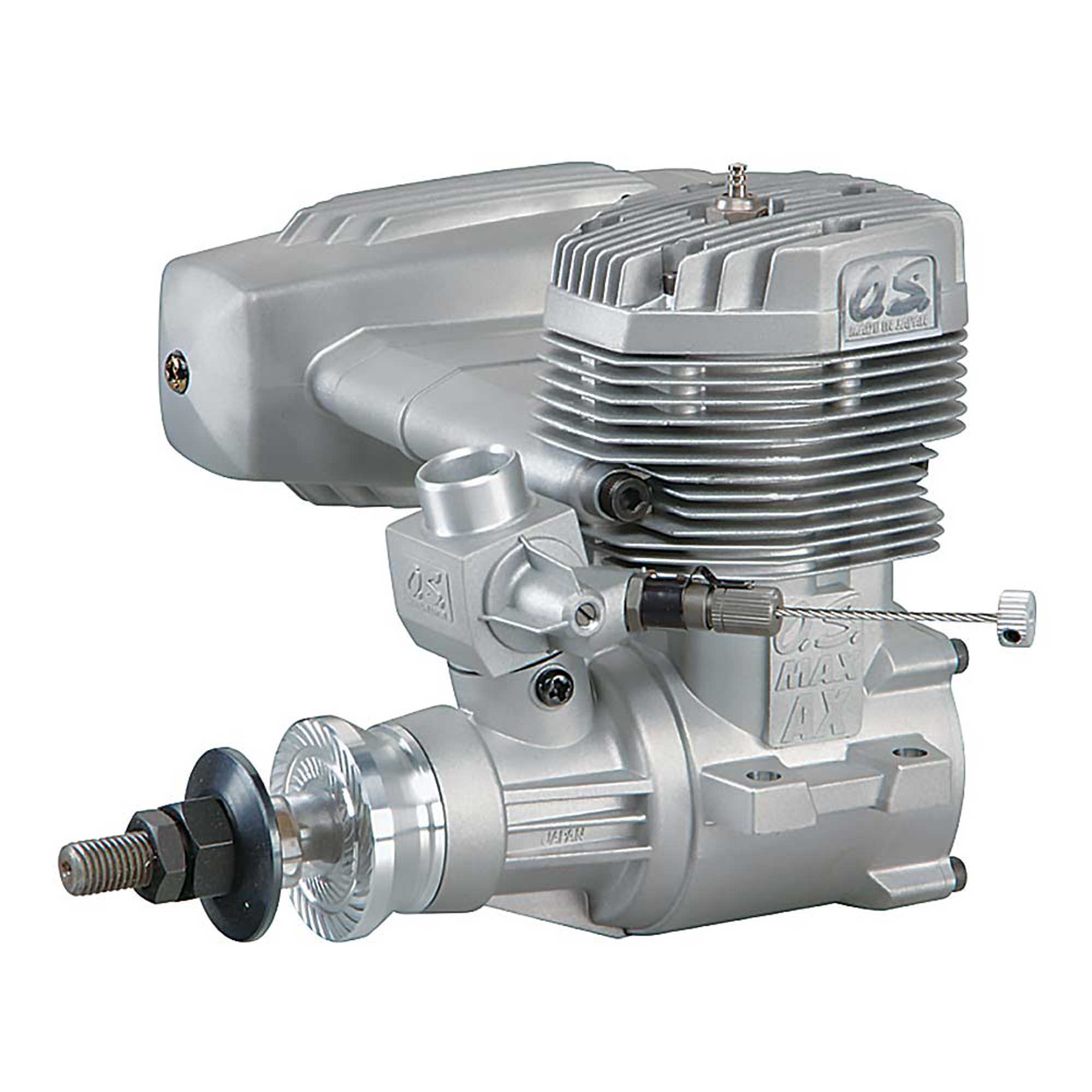 Perfect for 3D, precision and sport flying!
Admit it: if you could ratchet up horsepower without having to increase the mounting space, you'd probably jump at the chance. Well, here it is. The 120AX boasts 25% more displacement than a .91 (think of the bigger props you can swing!) — and bolts into the same space, with almost no extra weight. And that's not all. The 120AX's innovative Power Box muffler offers mounting versatility that translates into value. Plus, the angled heat sink head not only looks sharp, it adds more surface area, for better cooling. Here's a golden opportunity to boost your airplane's flying capabilities — with almost no modification!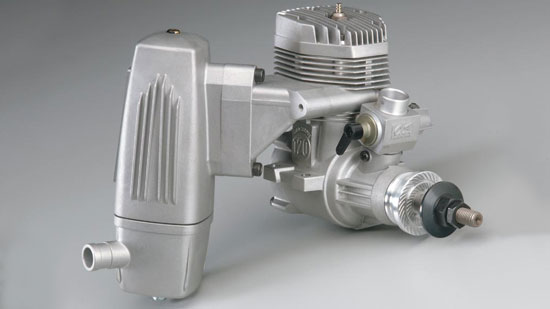 With the 120AX, there's no need to buy an expensive aftermarket muffler!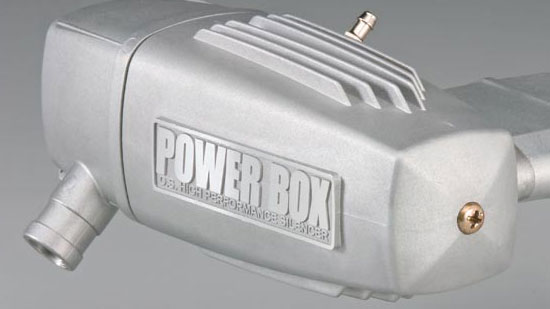 The included Power Box comes with two adapters — one of which turns the muffler 90° to become a "Pitts style".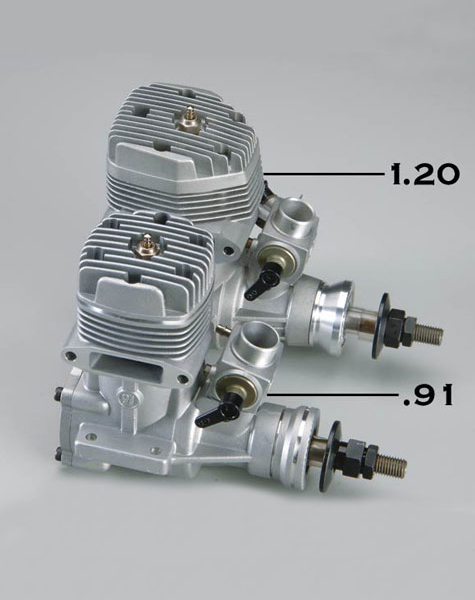 With the 120AX and .91 side by side, you can see how they're virtually identical in size — but you'll enjoy a big difference in performance!
Product Specifications
| | |
| --- | --- |
| Product Height | 4.3" (109.2mm) bottom of crankcase to top of cylinder head |
| Prop Range | 15 x 10-12 or 16x8-10 |
| RPM Range | 1,800 - 9,500 RPM |
| Displacement | 1.218 cu in (19.96 cc) |
| Oil Type & Content | At least 18% synthetic lubricant |
| Product Length | 3.9" (100.2mm) from back plate to front of drive hub |
| Crankshaft Threads | UNF5/16-24 |
| Muffler Weight | 7.07 oz (219.2 g) w/90 deg adapter installed, 7.9 oz (245 g) w/extension installed |
| Cylinders | Single |
| Product Width | 2.6" (67mm) at mounting tabs |
| Bore | 1.197" (30 mm) |
| Crankshaft Type | Threaded |
| Power Type | Glow |
| Plug Type | O.S. #8 |
| Stroke | 1.083" (27.5mm) |
| Carb Type | Rotary |
| Engine (Only) Weight | 1.305lbs (592g) |
| Muffler Type | 2-piece aluminum |