1/8 USA-1 4WD .25 Nitro Monster Truck RTR

1/8 USA-1 4WD .25 Nitro Monster Truck RTR
Under license by USA-1, the newly developed polycarbonate body has been produced to a spectacular level of detail with body size and tire ratio almost identical to that of the real USA-1.
Equipped with a new KE25SP2 engine, the easier-to-adjust low-speed needle makes it easier to produce more power than the previous KE25SP engine.
The time-tested 3-speed automatic transmission effectively utilizes the full power of the engine.
A 5-link suspension platform controls the rigid front and rear axles to minimize drive loss and deliver superior traction and handling over uneven and varying running surfaces.
The reinforced axle housing thrives under high-power and rough road conditions while improving crash resistance.
1/8 USA-1 4WD .25 Nitro Monster Truck RTR
|

Free financing w/Easy Pay

ⓘ
Earn
points on this item
ⓘ
Product Details
In The Box
(1) 1/8 USA-1 Nitro .25 Powered Monster Truck RTR
(1) 2.4GHz Syncro KT-231P+ Transmitter
(4) Hex Wrenches: 1.5, 2.0, 2.5, 3.0mm
(1) Cross Wrench (large)
(1) 17mm Wheel Wrench
(1) User Manual
Needed to Complete
(8) AA Batteries
(1) Engine Glow Heater
(1) Fuel and Fuel Bottle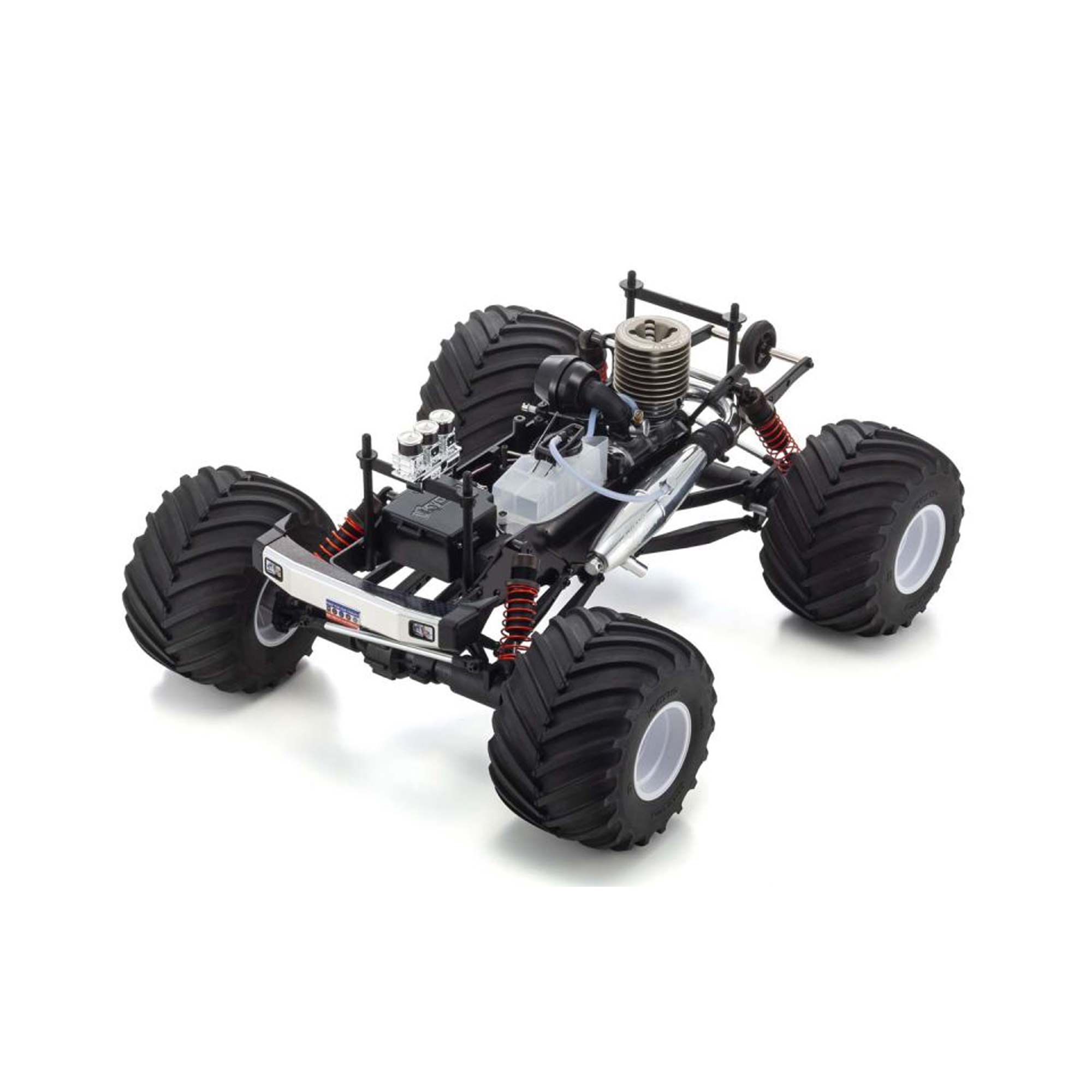 Features
Pre-assembled chassis with R/C system installed and finished body. Includes pistol-grip Synchro KT-231P+ transmitter.
5-link suspension in combination with shaft-type 4WD delivers exceptional stability over rough roads.
Equipped with waterproof KS5031-09MW servos that incorporates durable metal gears.
Ultra-realistic scale body has been recreated under license of USA-1, including the signature color scheme.
Optional LED light set shines bright with LED head and tail lamps and rooftop fog lamps.
Equipped with a new KE25SP2 engine with easy needle setting. Also includes break-in ring to get the engine safely prepared for harder running.
Gleaming polished tuned muffler is equipped as standard.
Front center drive features a telescopic universal shaft to ensure high drive efficiency and prevent shaft dropout issues.
Optional 4WS (four wheel steering) increases turning power. A wide range of other options is also available.
Electric version using the same body and chassis components is also available.
Overview
Built on a pickup truck chassis, large diameter tires and big engines with massive horsepower were installed by fun-loving American off-roaders to create the monster truck. These ever-popular monster trucks can be seen on specially-made racing circuits or jumping rows of cars in stadiums across the USA. Many R/C monster truck models have been produced over the years. First among equals is the legendary 1/8 scale USA-1 that embodied the might of American trucking power during the 1980's and 90's. Officially licensed by Kyosho in the 1990's, the R/C model uniquely captured the power and glory of the USA-1. Now it's 'comeback-time' for the USA-1, with modern chassis and drivetrain technology, upgrades unique to the USA-1 throughout, and a newly-designed 'ULTRA SCALE BODY' with form and detail finished to display-model standards. The iconic American flag graphic emblazoned on the body makes your heart swell with pride! The chassis features shaft-driven 4WD and 5-link suspension based on the Mad Crusher 2.0 & FO-XX models. Most of the suspension components have been uniquely upgraded and reinforced for the USA-1 at each point to handle the powerful new KE25SP2 engine, and the rigors of monster trucking. A 3-speed automatic transmission produces dynamic acceleration, which is enhanced by a true suspension system to produce "scale" running characteristics worthy of the prestigious USA-1, and make you feel like a monster truck driving god. Released as a pre-assembled Readyset, the USA-1 is almost ready for action straight out of the box.
Product Specifications
| | |
| --- | --- |
| Product Weight | 4,990g |
| Vehicle Type | Monster Truck |
| Water-Resistant | No |
| Product Width | 17.91" (455 mm) |
| Radio | Included |
| Body | Pre-cut And Painted Body Complete With Decals Applied |
| Scale | 1/8 |
| Battery | Sold Separately |
| Product Length | 22.32" (567 mm) |
| Chassis | Pre-assembled Chassis With Pre-set Control Linkages |
| Completion Level | Ready-To-Run |
| Drivetrain | 4WD |
| Drive Type | Forward/Brake |
| Product Height | 11.69" (297 mm) |
| Power Type | Glow |
| Servos | Included |
| Wheelbase | 14.17" (360 mm) |
| Charger | Sold Separately |
| Receiver | Included |